Aki Rissanen - Presse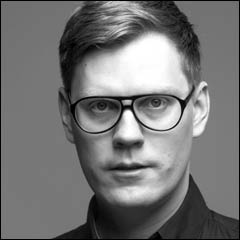 Aki Rissanen
>>> Pressefotos
---
Reviews
Aki Rissanen - Another North
Jazzthing, Februar 2018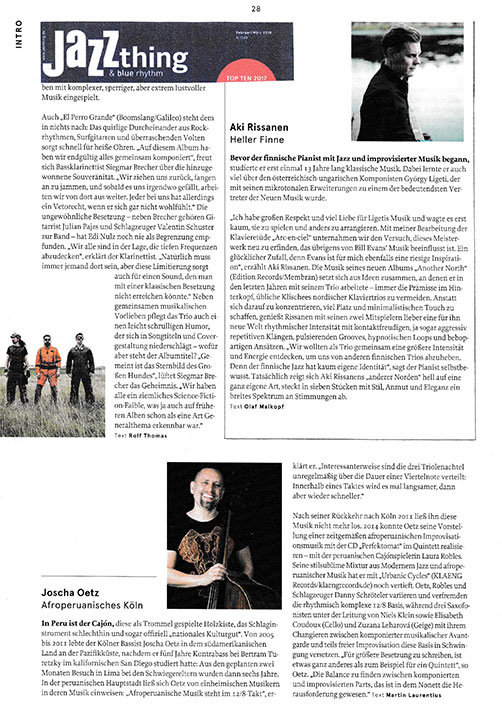 Rondo, Nr. 1029 // 27.01. - 02.02.2018, von Josef Engels
Unlängst vermeldete Spiegel Online, dass in Finnland der derzeit aufregendste Jazz in Europa gespielt werde. Dass der Pianist Aki Rissanen nicht in dem Artikel auftauchte, lag wohl daran, dass er bereits den Status eines lokalen Geheimtipps hinter sich gelassen hat. Seine Alben erscheinen auf dem britischen Label Edition Records, in Deutschland kennen ihn Fans des nordischen Jazz als Partner von Verneri Pohjola oder Dave Liebman auf Produktionen der Labels ACT und Ozella.
Ohnehin ist es Rissanen daran gelegen, nicht auf die wie Schneematsch in den Schuhrillen klebenden Klischees des skandinavischen Jazz reduziert zu werden. Seine neuste Trio-Einspielung trägt den programmatischen Titel "Another North", auf dem Cover zeigt er sich vor einem See in sonniger Atmosphäre. Und in der Tat haben Rissanen, Bassist Antti Lötjönen und Drummer Teppoi Mäkynen alles aus ihrer Musik verbannt, was allzu melancholisch oder winterlich-vergrübelt sein könnte.
Auf "Another North" präsentieren sich die drei Instrumentalisten als eine seltsam konstruierte Maschine, deren Zahnräder, Pumphebel und Federn sich alle in einem eigenen Rhythmus bewegen. Das Klavier verfolgt schnelle repetitive Muster, die sich über gegenläufige Bass- und Schlagzeug-Grooves ständig verschieben. Auch wenn einem beim Zuhören ein wenig schwindlig wird – diese akustische Apparatur bewegt sich kraftvoll und unbeirrbar vorwärts wie ein aufgemotztes Schneemobil.
Wie wichtig es Rissanen, Lötjönen und Mäkynen ist, sich als globaler Übersetzungsriemen zwischen Europa und den USA zu präsentieren, zeigt sich in der zwischen Bach und The Bad Plus schwingenden Bearbeitung von György Ligetis "Étude 5: Arc-En-Ciel Reimagined". Dennoch tritt man dem Trio hoffentlich nicht zu nahe, wenn man in "Another North" auch etwas typisch Finnisches identifiziert: einen lakonischen Humor, der wie dickes Öl aus der Rhythmusmaschinerie tropft.
Stereo, 2/2018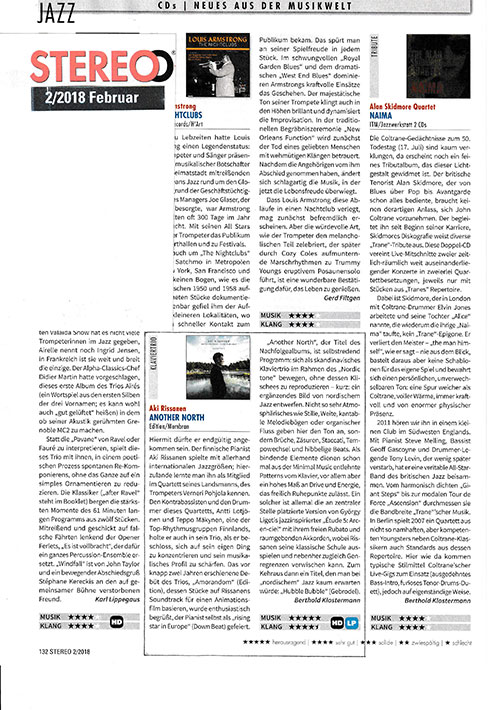 Nordische Musik
Nach der schon sehr guten »AMORANDUM« legt Aki Rissanen noch einen drauf: »ANOTHER NORTH« hat nicht nur Stil und Klasse wie bisher, sondern sprüht vor Drive und Freude am kraftvollen Spiel. Sein Trio mit der grandiosen Rhythmusgruppe aus Antti Lötjönen am Kontrabass und Teppo Mäkynen am Schlagzeug wirkt wie aus einem Guß. Dieses Trio klingt nach Norden und nach Europa, hat aber inzwischen so viel Eigenständigkeit erlangt, dass der CD-Titel seine Berechtigung hat.

Von den sieben Stücken stammen vier vom Pianisten: Rissanen hat seinem Trio einen energetischeren Ansatz verordnet. Es geht hier hauptsächlich um rhythmische Intensität, um pulsierende Grooves und hypnotische Repetitionen. Damit packt er den Hörer zunächst ganz direkt - »Nature Of The Beast« ist das beste Beispiel mit sich wiederholenden Pianofiguren und darunter einem entfesselten Mäkynen an den Drums. Natürlich sind die Kompositionen raffiniert und klar strukturiert. »Blind Desert« verströmt gleich zu Beginn viel Kraft und melodische Einfälle. Seine klassische Ausbildung lässt Rissanen die »Étude 5: Arc-en-ciel« von Györgi Ligeti neu interpretieren – die Grenzen zwischen Klassik und Jazz verschwimmen bei der subtilen Bearbeitung. »Hubble Bubble« schließlich ist eine Komposition aller drei Musiker, auch hier freuen sich die Lautsprecherboxen! (tjk)
---
All about Jazz, 19.10.2017, reviewed by Roger Farbey
Following on from 2016's Amorandom, Finnish pianist Aki Rissanen has produced yet another satisfying album. Born in 1980 he has already released nine albums as leader or co-leader. Rissanen studied classical piano at Finland's Kuopio Conservatory from 1990-2000 and then jazz music at Helsinki Polytechnic School and in 2009 gained a Master's degree in jazz piano and composition from the Sibelius Academy Jazz Department, also in Helsinki. He also studied improvised music at Conservatoire National Superieur de Musique in Paris.

From the outset Another North contrasts notably with its slightly more pastoral predecessor. There's certainly more crackling electrical energy witnessed here. "Blind Desert," as a prime example, evinces shades of Terry Riley and Philip Glass with Rissanen's deployment of streams of obligato piano notes coupled with an oscillating stereo mix. There's a similar device deployed on "John's Sons" but this time with echoey, subtle drums.

A masterly, languid interpretation of György Ligeti's "Étude 5: Arc-En-Ciel Reimagined" is followed by some frenetic action as heard on the aptly named "Nature Of The Beast," again echoing the album's vibrant opener. "Before The Aftermath," which revolves around a stately repeated chord progression, moves a little into early-ish Keith Jarrett country and the set concludes with the lively "Hubble Bubble." The music presented here covers a broad spectrum of moods ranging from cerebral reflection to visceral excitement, but all of it is universally engaging.
---
London Jazz News, 27.11.2017
Finnish pianist Aki Rissanen's second album shows an interesting and very listenable collection of contemporary trio-based music taking in jazz, groove and the classical concert hall.

Following on from his strong 2016 debut Amorandom (winning the Emma Prize in Finland for Best Jazz Album), Rissanen has stuck with the same line-up of musicians for this recording. While perhaps a little less overtly jazz-influenced, this is an ambitious album featuring seven tracks which span many influences. The opening Blind Desert launches into an insistent pattern from the trio, with the drumming of Teppo Mäkynen standing out immediately, solid and always fidgeting and changing in the 2010's style. We are not immediately aware of a head-solos-head format with the tunes turning and shifting as they evolve.

The influence of contemporary music runs through the album, most clearly appearing in a reworking of Gyorgy Ligeti's piano work Etude 5: Arc-en-ciel. Ligeti wrote the piece having been influenced by the music of piano genius Bill Evans, and it offers fertile ground for the trio. The opening lines are taken by Antti Lötjönen's double bass, and the rhythm section add tonal colour and texture as Rissanen takes on the piano part. Here, as in the rest of the album, the piano tone seems to take on an unusually important role, worth listening to carefully and reflectively. I was reminded of the tonality of fellow Finn Iiro Rantala's solo piano takes on John Lennon, Working Class Hero, which I reviewed here in 2015 – this is another album for a late night listen.

Elsewhere, the trio show they are more than capable of tackling more groove-based music. New Life and Other Beginnings starts with a nicely thumping bass and drums passage before Rissanen comes along with some rich chordal textures, before the groove dissolves into a more improvised passage with a lot of communication between the players. Before The Aftermath is laden with anticipation, military style snare drumming helping the piece to build before an explosion of rolling phrases takes over. The most overtly 'jazzy' of the tracks is the closing Hubble Bubble, the only track credited to all three musician as composers, which hits a rolling one-in-a-bar stride with some fine playing all round.

There is a lot of music to enjoy here, from a lot of different angles. It will be interesting to see how it all translates into a live context. Fortunately, London listeners can do just this at the trio's Pizza Express gig on Tuesday 28 November 2017.

LINK: Aki Rissanen at Pizza Express 28 November
---
The Jazz Mann, 02.01.2018, Reviewed by Ian Mann
Rating: 4 out of 5
Finds Rissanen and his colleagues realising an increasingly interactive and individual group sound that demands that they be regarded as one of the world's most exciting & distinctive piano trios.
"Another North" is the second release for Edition Records by the Finnish pianist and composer Aki Rissanen. It follows his acclaimed début for the label, "Amorandom", which was released in 2016.
Born in 1980 Rissanen studied in Finland, France, Germany and the USA and has established a successful career as both a leader and a sideman, collaborating with many leading musicians from both sides of the Atlantic, among them the American saxophonists Dave Liebman and Rick Margitza.
In the UK he first came to public attention as part of the various groups led by his compatriot and label mate the trumpeter and composer Verneri Pohjola. Rissanen appeared on both of Pohjola's albums for ACT, "Aurora" (2011) and "Ancient History" (2012) before making his Edition début on Pohjola's first album for the label, "Bullhorn" (2015). In 2013 he appeared as part of Pohjola's quartet at that year's EFG London Jazz Festival.
Away from the Pohjola group Rissanen co-leads the international Frozen Gainsbourg Quintet with saxophonist Mikko Innanen. He also leads the trio Aleatoric featuring drummer/percussionist Markku Ounaskari and Belgian born saxophonist Robin Verheyen. This group's 2013 début album, then released under the name of the Aki Rissanen Trio, is reviewed elsewhere on The Jazzmann. http://www.thejazzmann.com/reviews/review/aki-rissanen-trio-aleatoric/
Currently Rissanen also leads a quartet entitled Sininen Syksy featuring classical soprano Mari Palo, guitarist Teemu Viinikainen and drummer Joonas Riippa which performs the music of the Finnish composer Leevi Madetoja.
"Amorandom" is a hard act to follow with that album attracting a compelling amount of critical acclaim and garnering a number of prestigious awards, among them a Finnish Grammy and the Emma Award for the Best Jazz Album in 2016.
Unsurprisingly Rissanen has stuck by the same personnel that helped to make "Amorandom" such a success. He is joined once more by bassist Antti Lotjonen, with whom he also worked in the Pohjola quartet, and by drummer Teppo Makynen, leader of the acclaimed Finnish band Five Corners Quintet.
Reviewing "Amorandom" I wrote of the trio's "tightly focussed energy" and that's a quality that is readily apparent again here as Rissanen and his colleagues seek to subvert the clichés normally associated with "Nordic jazz" and the 'Nordic' piano trio in particular. Taking its lead from "Bird Vision", one of the more energetic pieces on the "Amorandom" album the trio have been developing that side of their music with Rissanen declaring " our desire to delve deeper in this direction became stronger. As a trio we wanted to collectively discover a greater intensity and energy, to stand out as a trio from the North. This music is the sum of that exploration"
As the pianist explains further in his liner notes;
"We're not in the business of re-inventing the wheel when it comes to piano trios. However we're confident enough to re-imagine a piano trio from the North, one that storms the conventional Nordic jazz barricades! The music on this album circulates around the ideas we have been developing for the last few years, framed within the Nordic tone as we hear it. Slowly evolving harmonic and rhythmical textures,, unhurried but highly energetic intensity and compositions designed to blur the line between the composed material and the improvisation have been the means by which we define the sound of our trio. My goal as a composer and improviser has always been to explore different genres of music and to look at the points of contact between traditions. Jazz, contemporary classical and non-Western musics have been my resources to widen and enrich the palette of my possibilities. Over time I've tried my best to internalise these goals and taken pains in my writing to avoid any self-conscious fusion of playing styles drawing on my playing experiences in diverse idioms. We hope that those who subscribe to the stereotype of the Nordic piano trio will be both rewarded and pleasantly surprised. This is our 'Another North'."
The busy opener "Blind Desert" packs a lot of information into its 6.47 duration as it combines driving rhythms with darker, more reflective episodes. Darting, rapidly repeated piano phrases borrow from the concepts of minimalism but invest them with a very contemporary energy and urgency. Rissanen's playing becomes increasingly percussive, Makynen's drumming is busy and inventive and constantly evolving, while Lotjonen's muscular bass lines both anchor the group while periodically breaking cover and coming into the foreground. There are no jazz solos as such but there is the sense that the music is constantly unfolding via the shifting emphases.
"John's Son's", written by the late Finnish pianist Jarmo Savalainen (1961-2009), maintains the energy levels with its vaguely Jarrett-ish gospel style vamps and urgent, skittering drum grooves. Structurally it's similar to the opener but the trio still find plenty of fresh territory to explore in a highly interactive performance that sees various individuals coming to the fore at different junctures, but still eschewing conventional jazz soloing as such.
There's no let up with "New Life and Other Beginnings" with its taut rhythms echoing the worlds of rock and hip hop. There's a bristling, pent up energy about the piece that is perhaps best exemplified by the urgent snap and crackle of Mykanen's bustling drum work.
Effectively bisecting the album is Rissanen's arrangement of Gyorgy Ligeti's fifth piano etude "Etude 5: Arc-en-ciel Re-imagined" with the pianist stating; "the composition was influenced by the music of Bill Evans and the polyrhythmic elements found in jazz – a happy happenstance as Evans has been a huge inspiration for me". The classically trained Rissanen delivers a highly satisfying interpretation on the most straightforwardly lyrical piece on the album. Lotjonen's melodic bass also features while the hitherto busy Makynen offers sparse, subtle but effective percussion shading.
Solo piano introduces "Nature Of The Beast" before Lotjonen's bass briefly takes over the melodic lead. However the gentle introductory passages are soon left far behind as the piece develops a bustling energy with piano and drums particularly active. However there are still elements of light and shade with more reflective episodes briefly punctuating the feverish, hurtling activity.
"Before The Aftermath" features a martial drum pattern from Makynen and another Jarrett-like melody from Rissanen which provides the basis for further extemporisation with the pianist delivering joyously rolling blues / gospel phrases. In the context of the album as a whole it's one of most obviously orthodox jazz pieces.
The album closes with "Hubble Bubble", a composition jointly credited to Rissanen, Lotjonen and Makynen that builds on the brief opening piano motif to good effect. Rissanen's repeated phrase underpins Makynen's neatly energetic drum explorations before the piano takes on a more central role as the piece continues to develop, gradually gaining momentum and incorporating a relatively conventional piano solo supported by Lotjonen's rapid bass walk and Makynen's brisk, inventive, highly detailed drumming. There's also a sparkling dialogue between bass and drums as the music continues to embrace an orthodox jazz structure before resolving itself with an energetic closing passage of spirited group interplay.
"Another North" builds upon the promise of both "Aleatoric" and "Amorandom" while developing further some of the ideas first explored on the latter. It's a more energetic, more intense recording than either of its predecessors and its rhythmic drive and sharp focus are sometimes reminiscent of the music of label mates Phronesis, an Anglo-Scandinavian trio led by Danish bassist Jasper Hoiby who also transcend the typical 'Nordic' template.
But "Another North" finds Rissanen and his colleagues realising an increasingly interactive and individual group sound that demands that they be regarded as one of the world's most exciting and distinctive contemporary piano trios.
---
Aki Rissanen is the one to watch - A Man For All Seasons
Jazzwise May 2016 by Stuart Nicholson
Finnish pianist Aki Rissanen's chameleonic virtuosity has seen him play with an enviable list of luminaries that includes, among others, Randy Brecker, Barry Guy, Michael Gibbs, the UMO Jazz Orchestra and Mats Gustafsson. Yet, as Stuart Nicholson finds, such versatility has been a blessing and a curse and it's only now that the pianist's own distinct identity is emerging on his latest long-player, Amorandom.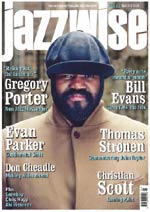 Pianist Aki Rissanen is a self-confessed piano junkie with the ability to play in almost every style of jazz known to man. It's meant his telephone never stops ringing. The freelance life is something he has thrived on, with fresh musical challenges every day of the week, but now, at 36 years of age, he's doing a bit of soul searching.
"I have this problem," he says. "I have played in literally hundreds of different bands and different styles from avant-garde, big band, ragtime and everything in-between. And that's what I like to do, what I wanted to do until this point. Finland is not that big a country, so there's always jobs for guys who can play everything, like me. But I have been drifting to find my own voice because I have had so many paths to follow. I'm not being objective when I say this, but I think I'm going to find it some day; now is a good point in my career, I'm getting somewhere I think."
Evidence that he is indeed getting somewhere comes with his debut for the Edition label, Amorandom, with his trio featuring Antti Lötjönen on bass and Teppo Mäkynen on drums.

"I feel mature enough at last not to hide my musical influences," he says. "They're pretty evident anyway, but at the same time I feel that my own voice is present more than ever before. When one gets older on tries to go back to one's roots, that's important for me- all the music I have listened to and read over the years. I have avoided writing certain types of songs that sound too 'fusion' or too 'classical' or anything like that, but this time when I wrote the music for this album- or the score for the animation movie which was the first step of this album- I just forgot about writing certain type of music and left myself free, to use all the influences from over the years. So, I'm going back to my roots to come back to the present day."
On the album, Rissanen lives up to the claim in Downbeat magazine last year that he's a "rising star around Europe" and more. An assured performance, Rissanen has the capacity to surprise with an occasional dash of polytonality that's rather like encountering an unexpected spice in a familiar meal-
"It's a bit of craziness. I want to explore different things and present two distantly different things at the same time. That comes from listening to the music of Messiaen, that kind of stuff, with four harmonies present at the same time and, yeah, I like to have that sound in what I do."
With his often minimalistic developmental technique Rissanen is a musical storyteller, a jazz musician with something to say.
"I like to play things that don't reveal themselves on the first beat," he explains. "They need like eight minutes to flourish, and minimal music is great for that- it evolves into something which wasn't apparent at the beginning."
As you might expect from someone who's not afraid to reference Messiaen, there is a lot more going on in this album than initially greets the ear, such as an oblique nod to Charlie Parker on 'Bird Vision', for example.
"I tried to avoid a 'too direct reference'. It's not that obvious it's a bebop melody and, of course, the harmonies and rhythms are extended from the bebop language. I felt it was a homage to Charlie Parker in the first place, then I felt like playing Thelonious Monk with this angular, dissonant approach which is also there, and also like a minimalist in a way, I like to play things that don't reveal themselves on the first beat, they need longer to really flourish".
But there's also something else that underpins Rissanen's approach, something that gives whatever he plays, whether it's acknowledging the influence of Giuffre on 'For Jimmy Giuffre' or the minimalistic approach of 'Paysages pas sages', and that's his desire to allow his Finnish identity to shine through.
"I feel it's very important for Finnish musicians to use the roots of their music, the folklore- not that everybody should do that- but for me it's always been a great influence. Of course, my classical music studies are important, but also the folk music, psalms, Finnish hymns which my grandmother used to play for me. She was a keyboard player, and yes, I try to use all these formative influences and my music from there."