Jeff Lorber Fusion - Galaxy
Trailblazing keyboardist/composer/producer Jeff Lorber revisits a sound he helped pioneer on his latest recording, Galaxy. Lorber again culls from his early catalog but gives a fresh approach to some of his most highly requested compositions, including "Wizard Island," "City," "The Samba" and "The Underground."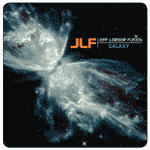 Jeff Lorber Fusion - "Galaxy"
"Essentially this album is a part two," Lorber says. "It features the same rhythm section, but it's even more into the jazz fusion direction. It's more energetic and the performances are tighter."
"Galaxy" spotlights 11 originals - all instrumentals - that cover the scope of electrified jazz. The disc opens with "Live Wire"
"At over seven minutes long, it's a real powerful, up-tempo song," says Lorber. "It's fun to play and hopefully just as fun to listen to."
Yellowjackets' bassist Jimmy Haslip joins him in this 21st century version of the Jeff Lorber Fusion along with saxophonist Eric Marienthal, trumpeter Randy Brecker, percussionist Lenny Castro, guitarists Paul Jackson Jr. and Larry Koonse, and drummers Vinnie Colaiuta and Dave Weckl. Haslip also co-produced the album and co-wrote five tunes with Lorber. "Live Wire," like most of Galaxy, is a showcase for the work of renowned drummer Vinnie Colaiuta.
"We had three days with Vinnie to cut basic tracks," Lorber says. "Basically, he's the best drummer on the planet, so once he lays down his drum parts - which are like the foundation - you're ready to go. His work really inspired the rest of us."
| | | |
| --- | --- | --- |
| 1. | Live Wire | 7:03 |
| 2. | Big Brother | 4:50 |
| 3. | Montserrat | 4:58 |
| 4. | Singaraja | 4:37 |
| 5. | Galaxy | 5:16 |
| 6. | City> | 4:29 |
| 7. | Horace (Dedicated to Horace Silver) | 5:34 |
| 8. | The Samba | 4:49 |
| 9. | Rapids | 4:25 |
| 10. | Wizard Island | 4:50 |
| 11. | The Underground | 4:39 |
---
Recorded and mixed by Jeff Lorber at JHL Sound, Pacific Palisades, CA
Engineered and mixed by Jeff Lorber except where otherwise indicated
Tracks mixed by Michael H. Brauer at Electric Ladyland, New York, NY
Assistant engineer: Ryan Gilligan 2nd assistant: Lewis Pickett
Mastered by Chris Bellman at Bernie Grundman Mastering, Hollywood, CA