The Erskine Trio- Live in Italy
Aufgenommen "live" im Konzert auf dem Höhepunkt der ersten Tournee des Trios seit Beginn des Lockdowns, spiegelt dieses Set die Begeisterung wider, die man beim Spielen vor einem hungrigen Publikum in einer wunderschönen Konzerthalle empfindet. Mit acht Eigenkompositionen und 2 Standards ist dieses Album in audiophiler Qualität dazu bestimmt, ein fester Bestandteil in Ihrer Musiksammlung zu werden. Gute Pasta, großartige Akustik, ein wunderbares Klavier mit ebenso großartigem Schlagzeug und Bass zum Mitspielen ... "Live In Italy", das Erskine Trio in Bestform.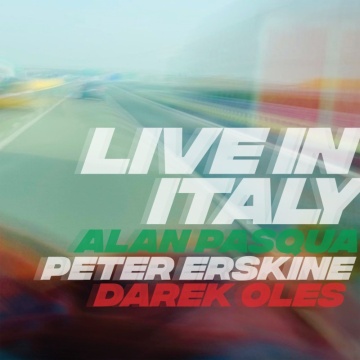 Live in Italy
Release date: May 20, 2022
Label: Fuzzy Records

Line-up

Peter Erskine – drums
Alan Pasqua - keys
Darek Oles- bass

Live in Italy
Recorded "live" in concert at the culmination of the trio's first tour since the lockdown began, this set reflects the exhilaration found in playing for a hungry audience in a beautiful concert hall.
Jazz icon Peter Erskine presents Live in Italy. This dynamic live album was recorded at a concert engagement in Camogli, Italy on November 19, 2021, following a two-week Italian tour. On Live in Italy, the trio performs gorgeously cinematic original material composed by each of the celebrated trio members, as well as some stellar arrangements of jazz standards and a particularly moving tribute to late piano titan Chick Corea. Joining forces with Erskine on this trio release is his long-standing trio with Alan Pasqua on keys and Darek Oles the bass. At the helm of this trio outing, Erskine masterfully shapes the arc of each composition and brings his full set of colors to the evocative works displayed here.
Speaking to the longevity and to the excellence of the Peter Erskine Trio, renowned bassist John Patitucci remarks in the liner notes: "It should come as no surprise that Peter Erskine, Alan Pasqua and Darek Oles, who have played together for many years now, are, indeed, a perfect illustration of why trio playing in jazz is so important, beautiful, vulnerable and, ultimately, moving and powerful."
Capturing all of the beauty, nuance and grace of an evening in Camogli, Italy, and reflecting the exhilaration found in playing before a hungry audience in a beautiful concert hall, Live in Italy is a veritable masterclass in interplay. The trio context allows each musician the opportunity to create from their personal point of view and yet, it only really works when all involved are interconnected on a high level – this is certainly a fine example of such a musical situation, documenting the seamless coalescence of three performers of this echelon, the first tour of the trio since prior to the coronavirus lockdown.
"Live in Italy" begins with Pasqua's tender piece "Agrodolce". Translating to "bittersweet" in Italian, the composition captures a distinct wistfulness. A rhapsodic piano introduction sets up a simply unforgettable melody. Erskine compliments Pasqua's sultry harmonic refrains as only he can, with sensitive brushwork and thoughtful utility of his instrument to further develop the musical narrative. This piece is one of five poignant pieces presented here that were composed by Pasqua. "New Hope", the pianist's poetic tribute to Keith Jarrett, exemplifies the lyricism and unity of this trio. Pasqua's "Old School Blues" is a soulful ensemble piece, featuring each player trading choruses on a blues form. Erskine's rhythmic invention is perhaps more fresh and tasteful than ever, and is well complemented by his esteemed bandmates. The bright, jubilant "The Turnaround" transitions seamlessly from a shuffle feel to deep swing. Pasqua's melodic lines soars over these changes, and Erskine delivers a fantastic solo with background figures from Pasqua and Oles.
Erskine's stunning triple-meter composition "Three-Quarter Molly" is presented here, John Patitucci remarks "["Three-Quarter Molly"] is a beautiful composition and the performance here is stunning. The use of space and restraint makes one think of a gorgeous Japanese Brush painting. Each player has such an equal voice and there is always ample room for every idea to be expressed. The title, by the way, is a sly reference to the Elvin Jones tune "Three Card Molly"."
Darek Oles contributes two wonderful pieces, the first is "Snowglobe", a harmonically rich piece that features his melodic invention with a superb bass intro. Oles' "The Honeymoon" brings the group back into a heavy swing-feel driven by Mr. Erskine. Patitucci notes "This tune swings with lots of exuberance and, yet, it still has that " Dry Martini" subtlety to it. The Drum and Bass trading is organic and so very connected. The feeling is joyous indeed." "Live in Italy" concludes with Pasqua's "Dear Chick", a tribute to the fallen jazz icon Chick Corea. Patitucci remarks that the piece itself "has the creative spark, bright energy, harmonic beauty and joy of creating that reminds us of the Master himself." This spark certainly motivates a stellar performance from each of the trio members, ending the evening on a surge of creativity and ebullience.
With "Live in Italy", Erskine offers listeners a chance to immerse themselves in a moment of time – a post-covid 19 return to performance for the institution that is the Peter Erskine Trio. The outfit delivered a performance marked with jubilance, gratitude, wistfulness and deep intention, feeding off of the tremendous energy of Italian audiences, and their bucolic surroundings. As Patitucci indicates: "…this entire set of music shows that although Jazz is known for its freedom and individual expression, it is the power of the group, the community, the family, history and stories passed down by the elders that make it so important and unique."
Sound
"The Honeymoon" / Peter Erskine Trio