Daniel Karlsson Trio - 5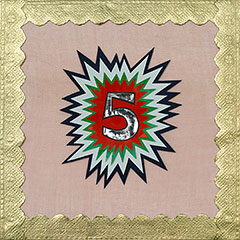 Daniel Karlsson Trio - 5
Info

|

| Tracklisting | Sounds
Besetzung
Daniel Karlsson - Piano, Keyboards
Christian Spering - Kontrabass, Cello, Dilruba & Tar Shehnai
Fredrik Rundqvist - Schlagzeug & Percussion
Info
Das Daniel Karlsson Trio hat sich seit ihrem Album-Debüt "Das Taxibåt" im September 2013 als eine der interessantesten Konstellationen im schwedischen und europäischen Jazz etabliert. Und das nicht zuletzt durch den "Hattrick" ihres zweiten Album "Fusion für Fish", mit dem sie als Swedish Radio Jazz Group of the Year 2014 ausgezeichnet wurden, die Golden Disc 2015 des schwedische Jazz-Magazin OJ sowie den schwedische Jazz Grammy 2015 gewannen.
Ihr 2016er Release "At the Feel Free Falafel" sorgte mit guten Reviews und umfangreichem Airplays für viel Aufmerksamkeit. Dasselbe galt auch für ihren vierten Titel "Ding Dong", der 2017 veröffentlicht wurde. Ein Album, das ihnen im Jahr 2018 eine weitere Nominierung für einen schwedischen Grammy als bestes Jazz-Album einbrachte.
Ungeachtet früherer Lorbeeren, geht ihre beeindruckende Produktivität an neuen Kompositionen ungebrochen weiter. Fünf Jahre nach dem Debüt des dynamischen Trios sind wir stolz, ihr fünftes Album mit dem passenden Titel "5" zu präsentieren. In sieben neuen Stücken aus der Feder von Mastermind Daniel Karlsson erzählt das Trio ihre Geschichte voller Kreativität und Melodik und das vielleicht gehaltvoller und ausdruckstärker als je zuvor. Von den nachdenklichen Eröffnungsstücken "Dubious Whisper" und "Let Me Tell You One More Thing" über das wild swingende "Meet the Moiners" mit seinem stürmischen Mittelteil bis zur finalen "No Answer Ballad" beweist sich das Trio einmal mehr als eine Kraft, mit der man rechnen muss. Das klingt in einem Moment nach klassischer Musik, im anderen nach Jazz und anschließend nach elektronischer Musik und plötzlich nach allem zugleich. Daniel Karlsson versucht die Grenzen des Piano-Trios auszuloten und muss erneut feststellen, es gibt sie nicht. Neben der gewohnt intimen Besetzung hat das Trio die Instrumentierung dieses Mal punktuell erweitert. Auf zwei Stücken ist Loredana Karlsson an der Violine zu hören. Christian Spering greift neben Kontrabass und Cello auch zu Dilruba und Teer Shehnai, zwei indischen Streichinstrumenten.
Das Cover des Albums wurde wieder eigens von Richard Johansson designt und erscheint auf CD und Vinyl.
---
The Daniel Karlsson Trio has since their album debut Das Taxibåt in September 2013 established themselves as one of the most interesting constellations in Swedish and European jazz. Not least through the magnificent hat trick brought home by their sophomore album Fusion for Fish, released in August 2014 that won the Swedish Radio's Jazz Group of the Year Award 2014, Swedish jazz magazine OJ's Golden Disc 2015 as well as the Swedish Jazz Grammy 2015. Ears were opened abroad as well, their music met with press accolades and frequent airplay in Germany, Switzerland, Austria, Belgium, Italy, in the UK and Ireland.
Their 2016 release, their third album, At the Feel Free Falafel also garnered a lot of attention with favourable reviews and extensive radio play. The same is also true about their fourth full length title Ding Dong released in 2017. An album that has just given them another nomination for a Swedish Grammy Award for best jazz album in 2018.
As before their flow and rather astonishing production of new music continue… Five years after the dynamic trio's record debut we are proud to present their fifth album aptly titled No. 5. Positively brimming with creative music in seven new songs from Daniel Karlsson's prolific pen, as melodic and powerful as always, maybe even more so this time. From the pensive opening tracks Dubious Whisper and Let Me Tell You One More Thing over the wildly swinging Meet the Moiners with its maelstrom middle part to the final No Answer Ballad the trio once more prove themselves as a force to be reckoned with.
Tracklisting
| | | |
| --- | --- | --- |
| 1. | Dubious Whisper | 6:09 |
| 2. | Let Me Tell You One More Thing | 5:16 |
| 3. | Salzburg | 6:25 |
| 4. | Days Long Lost And Gone | 4:14 |
| 5. | In The Tambourine Forge | 8:20 |
| 6. | Meet The Moiners | 7:50 |
| 7. | No Answer Ballad | 6:08 |
Sound