Peter Erskine Trio - Pressestimmen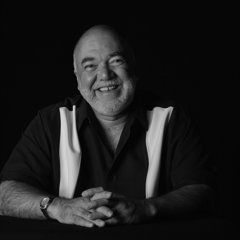 Peter Erskine
---
All About Jazz, 05.10.2010
Amanda Nagle
Concert: An All-star Trio Returns To Their Roots
Los Angeles, CA—The brilliant and highly versatile drummer Peter Erskine attended the Interlochen Arts Academy in 1968 as a high school student, graduated in 1971 and returned a few months later to play a gig there with college classmate pianist Alan Pasqua in the fall of that year. On April 8, 2009, Erskine, Pasqua were joined by bassist Darek Oles and performed at Interlochen again for the first time in 37 1/2 years. The results, heard on The Interlochen Concert, are being released by Fuzzy Music and distributed by BFM Digital.
John Ephland wrote this about The Interlochen Concert in his review of the CD for Downbeat: ..."audible proof of Erskine the consummate trio accompanist who somehow, tastefully manages to steal the show...a mix of covers and fetching originals by Erskine and Pasqua, featuring creative reinterpretations of Dizzy Gillespie's sweet 'Con Alma,' Jimmy Webb's heartfelt 'Wichita Lineman' and an elegant, swinging take on Jaki Byard's blues 'Chandra.' Erskine's 'Autumn Rose' is a quiet, meditative piece that hearkens back to his trio days at ECM in '90s, when delicacy and controlled passion were the rule."
Recorded without any editing or overdubbing, The Interlochen Concert is heard exactly as it took place. Beginning with a heated medium-tempo blues by Jaki Byard ("Chandra"), the set also includes the lyrical ensemble ballad "Autumn Rose," a fresh take on Dizzy Gillespie's "Con Alma," the sunny feel of calypso on "Stickslap" and a rendition of "Wichita Lineman" that removes the song from its original pop context and reinvents it as a floating and meaningful ballad. Erskine's "The Music Of My People" has danceable bass lines and parade rhythms. "Barcelona" brings out the band's European leanings with close interplay between the musicians, "Bulgaria" features the players at their most adventurous and "I Hear A Rhapsody" swings this memorable concert to its conclusion.
Throughout the consistently exciting yet thoughtful performances, Peter Erskine sounds quite happy accompanying Alan Pasqua and Darek Oles while taking short solos that add to the music's vitality. He has returned to his roots both geographically and musically, clearly enjoying the opportunity to explore straight ahead jazz and sophisticated ballads with two of his favorite players.
About The Musicians:
Peter Erskine has been a major drummer for nearly 40 years. After graduating from the Interlochen Arts Academy and studying percussion at Indiana University, he was a member of the big bands of Stan Kenton (1972-75) and Maynard Ferguson (1976-78). Erskine became famous for his work withWeather Report (1978-82) where he played alongside Jaco Pastorius. Since then he has worked with Steps Ahead, the Bob Mintzer Big Band, Diana Krall and many others, appearing on over 500 albums. Erskine has led 19 albums of his own for such labels as Contemporary, ECM and Denon. In 1991 he founded the Fuzzy Music label to document his music and that of musicians who he admires.
Alan Pasqua also attended Indiana University. He earned a degree in jazz studies from the New England Conservatory. He worked with the New TonyWilliams Lifetime opposite guitarist Allan Holdsworth with whom he still occasionally works. Since moving to Los Angeles, Pasqua has played with many famous names including Bob Dylan, Santana, Aretha Franklin, Joe Cocker, Aretha Franklin, Burt Bacharach, Quincy Jones and on numerous soundtracks. As a jazz pianist and composer he has recorded for several labels and has worked with Joe Henderson, Stanley Clarke, Gary Burton, James Moody, Eddie Daniels, Tom Scott, Gary Bartz, Sam Rivers, Sheila Jordan, Joe Williams and many others. Pasqua has co-led a trio with Peter Erskine for several years.
Darek Oles is the newest member of the trio, making his debut with Erskine and Pasqua on The Interlochen Concert. Born as Darek Oleszkiewicz in Poland, he played piano, guitar and electric bass before settling on acoustic bass. In the 1980s he worked with the top musicians in Poland before moving to Los Angeles in 1988. Oles studied with Charlie Haden at the California Institute of the Arts, graduating in 1992. Since that time he has worked with the who's who of jazz including Charles Lloyd, Brad Mehldau, Pat Metheny, Joe Lovano, Lee Konitz, Dave Grusin, Horace Silver, Art Farmer, Ravi Coltrane, Lew Tabackin, Toshiko Akiyoshi, Tom Harrell, Chris Potter, Billy Childs, AnthonyWilson and countless others. Together, Peter Erskine, Alan Pasqua and Darek Oles form a tight but spontaneous trio that has limitless potential. They play modern American chamber music that swings. The Interlochen Concert features the group at its best.