Bill Evans Soulgrass
Saxophonist Bill Evans first joined Miles Davis group in 1980 at the age of 22, and went on to record six records and tour the world with Davis numerous times over a four-year period.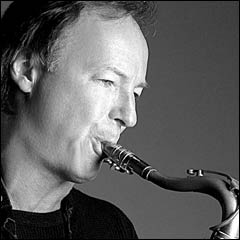 Bill Evans
ProTon books Bill Evans in co-operation with Tapstep European Agency.
---
Line-Up:
Bill Evans - sax, keyboard, voice
Mitch Stein - guitar, voice
Ryan Cavanaugh - electric banjo
Etienne Mbappe - bass
Josh Dion - drums
---
He then toured and recorded three CDs with John McLaughlin and the Mahavishnu Orchestra, and later played with Herbie Hancock, Lee Ritenour, Dave Grusin, Steps Ahead and Mick Jagger, among others, garnering a few Grammy Awards® along the way.
The sax man has been touring almost exclusively with his own band since 1990, playing well over 100 concerts worldwide per year. He has recorded 19 solo CDs, including his latest, "Dragonfly", and received two Grammy® nominations for his solo releases, one for "Soul Insider" (2002) and the other for "Soulgrass" (2006).
Throughout his more than 20-year career as a solo artist, saxophonist Bill Evans has explored a variety of musical settings that go well beyond the confines of traditional jazz, including rock, hip-hop, jam, fusion, reggae, Brazilian and slamming funk. Evans stepped into more adventurous territory with his 2006 Grammy®- nominated release "Soulgrass", blending jazz, funk and bluegrass into a seamless and wholly unique hybrid of quintessentially American styles. He collaborated on the project with an exciting and eclectic group of all-stars, including Vinnie Colaiuta, Stuart Duncan, Jerry Douglas, Bela Fleck, Bruce Hornsby, John Scofield, Victor Wooten and Mark Egan.
His follow up to that widely acclaimed project found him pushing the envelope a little further in that direction on 2008's "The Other Side of Something".
It's an extension of "Soulgrass". I am always trying to take the music somewhere it hasn't been before. I am just beginning to explore all of the possibilities. I had been touring a lot, using the banjo and fiddle as my rhythm instruments, so by the time I started writing new music I was over-flowing with ideas. One of the first I had was to sing for the first time on one of my CDs. The saxophone and voice are very similar in range so it seemed like a very natural thing for me to do.
Bill Evans
"The Other Side of Something" features Bela Fleck, Sam Bush, Richard Bona, Victor Wooten and Dennis Chambers, as well as Chris Howes, Ryan Cavanaugh and Joel Rosenblatt.
"Van's Joint", the 2010 live release, features eight of Bill Evans' tunes arranged for and played by the WDR Big Band Cologne featuring Evans, bassist Mark Egan and drummer Dave Weckl out front. Recorded over two nights in Germany during Soulgrass' 2008 tour, the performances are spectacular and the unique collaboration one of which Evans is particularly proud.
Evans returned to the studio to produce and record the third Soulgrass album "Dragonfly", his latest effort. Recorded between April and June of 2011, "Dragonfly" features Evans (saxes, vocals); dynamic drummer and new lead singer Josh Dion; audience favorite Ryan Cavanaugh on banjo; Mitch Stein on guitars; Clifford Carter on keyboards; and Andy Hess on bass.
On "Tit for Tat" the musicians are: Bill Evans, tenor sax; song co-writer Warren Haynes (Allman Brothers Band, Gov't Mule and Warren Haynes Band) on guitar; Keith Carlock on drums; Tim Lefebvre on bass; and Danny Louis on B3.
Other special guest appearances on Dragonfly include: guitar legend Steve Lukather on two tracks; Vaneese Thomas, background vocals on several tracks; John Medeski on organ for a track; Mickey Raphael on harmonica for two tracks; and percussionist Roger Squitero on six. Four of the songs on "Dragonfly" were co-written with Josh Dion and have a distinct "rock-soul" edge.
"Dragonfly" is a melting pot of styles that work very well together. I have been working with banjo together with the guitar for over six years and, at this point, we have created our own sound. It is Americana-meets-soul meets-jazz in a new kind of way. There are no boundaries here. Audience reaction is fantastic.
Bill Evans
The bluegrass-inflected "Dirt Country Breakdown," was co-written with Ryan Cavanaugh, the remaining four titles by Bill alone. As we've come to expect from an Evans' release, several musical genres are covered and melded in ways that are both startling and compelling. On "Dragonfly" his sax and Cavanaugh's banjo frequently propel the tunes as if lead guitars. On the torrid title track, the two instruments actually duel.
Josh Dion sings the lead vocals, and everyone else sings background. There is just something about the human voice that really touches an audience. Something primal. After people have witnessed Josh playing the drums and singing at the same time, at the level at which he is doing it, they usually give him a standing ovation after the first song! It really is quite amazing. There is not much this band can't do. To see this vision come to life is a dream come true for me.
Bill Evans