Sistanagila - Biographien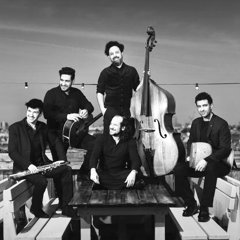 Sistanagila
Yuval Halpern – Gesang
Jawad Salkhordeh – Persische Perkussion
Hemad Darabi – Gitarre
Avi Albers Ben Chamo – Kontrabass
Omri Abramov - Saxophon
---
Yuval Halpern (Komponist)
Yuval Halpern wurde 1980 in Israel geboren. Sein Studium in Zeitgenössischer Komposition hat er in der Klasse von Gilius van Bergeijk am Königlichen Konservatorium in Den Haag, Holland abgeschlossen, Er hat in der Hanns Eisler Musikhochschule in der Klasse von Prof. Maria Baptist weiter studiert und ein Diplom bekommen . Er hat schon zwei Musicals komponiert und hat mit dem Film "Batman at the Checkpoint", wo er die Filmmusik komponierte, das Today Award in der Berlinale bekommen. Seit 2009 dirigiert er den Gospel Chor Sense of Touch in Berlin.
Jawad Salkhordeh (Tombak/Daf)
Jawad Salkhordeh, Jahrgang 1980, wuchs in einer Künstlerfamilie in der Provinz Mazandaran am Kaspischen Meer im Norden des Iran auf. Sein Onkel Abolhasan Khoshro ist einer der prominentesten Sänger der Mazandaranischen Volksmusik. Jawad fing schon im jungen Alter an, Tombak, die persische Handtrommel, zu studieren. Zu seinen Lehrern gehört u.a. die Tombak-Legende Bahman Rajabi. Nach einer Reihe von erfolgreichen Konzerten im Iran reiste er im Jahre 2007 nach Deutschland. Seitdem hat er u.a. mit internationalen Formationen in ganz Europa und Armenien konzertiert.
Hemad Darabi (Gitarre)
Hemad Darabi wurde 1988 in Abadan/Iran geboren und lebt seit 2010 in Berlin. Im Alter von 8 Jahren hatte er den ersten Gitarrenunterricht. Er genoss eine exzellente Ausbildung sowohl in der klassischen Gitarre als auch in der E-Gitarre. Mit 12 Jahren spielte er sein erstes öffentliches Konzert im Iran. Es folgten weitere Auftritte mit namhaften iranischen Musikgruppen. Musikalisch ist Hemad in verschiedenen Genres wie Rock, Pop, Metal und Flamenco zu Hause, wobei er stets versucht, iranische Melodien und Themen in seine Musik einfließen zu lassen. Seine Musik wurde vor allem durch berühmte westliche und iranische Gitarristen wie John Petrucci, Joe Satriani und Armik beeinflusst.
Avi Albers Ben Chamo (Kontrabass)
2011-2016 Berlin: Musiker und Eventmanager für Jazz-Veranstaltungen
2008 bis 2011 Design, Grafik und Druck Musik-Merchandise-Produkte (Band-Aufträge)
2004 bis 2008 Industrie-Design für Musiker und Musikinstrumente-Fachverkäufer
2001 bis 2003 Künstlerischer Direktor und Produzent des "White Night Festival" (Stadt Haifa); Komponist am Haifa Theater; Jugendarbeit im Kulturzentrum in Haifa (Open Stage, Musik und Kunst)
1994 bis 2001 Haupt-Schaufensterdesigner für Solgar in Israel, für die SHEKEM Gallery in Haifa und für ID-Design in Nazareth;
freier Ausstellungs-Designer (verschiedene Unternehmen)

Bands
2010 - 2011 The Cinematic Show
(Original Jazz Show)
2008 - 2011 Kostiza (Blues, Rock)
1999 - 2010 Two Men (Folk, with Ronen Pinkas)
1995 - 2000 The stonecold Gentlemen
(original Jazz Theatre Show)
1990 - 1995 Vitrage (Bass und Komponist)
1988 - 1990 Musa Ashkenazi Folkband (Tour)
Ausbildung
2003 - Haifa-Boston-Membership: einjährige Schulung junger Führungskräfte im sozialen Bereich
2000 - Musikstudium (Kontrabass)
in Palma de Mallorca
1997 - Kulissenbau am Theater Haifa
1994 - Studium Schaufenster-Design an der Wizo
(Haifa Schule der Künste)
1991-1988 - C&C, Computerdesign
1987 - Anfang Studium Bass