Daniel Karlsson
Daniel Karlsson Trio
Daniel Karlsson - piano
Christian Spering - bass
Fredrik Rundqvist - drums & percussion
---
The three musicians Daniel, Fredrik and Christian were musically raised and formed on the Stockholm jazz scene were musicians like Bobo Stenson, Palle Danielsson, Esbjörn Svensson a. o. used to appear and inspire every week. The Daniel Karlsson Trio is sprung out of this flourishing environment and was founded 2010. In 2013 the trios second outing "Fusion for Fish" brought them a hattrick in awards, the Swedish Grammy Award for their fifth album "5" in 2015, the Swedish Radio award "Jazzkatt" and Magazine OJ's "Gyllene skivan". This in combination with airplay and acknowledgment in European and North American press opened the door to the international market.
The sound in the band has a wide spectra of influences across genres. They've been described as playful and fearless of tabus. You can sense the Nordic melancholy between the flirts with rhythms from other continents as well as soul from the sixties. All played in an unmistakable personal way and with a sound sparsely enriched by electronics. Presence on stage has become their earmark.
During the last years and numerous of tours all over Europe the band has developed it's relation to it's music and audience, focusing on telling the unwritten story to the listener. There is always a message in music, unique for each and every receiver. Communicating this inner journey is the core of the trio´s current work. Not chasing for the hippest chord or trying to live up to jazzy expectations.
In 2019 the trio released their album "Fuse Number Eleven" at Playgrounds Music Scandinavia and in October 2022 their new – seventh – album "Climing The Ladder" at Swedish label "Bark At Your Owner".
With Michael Wollny Daniel Karlsson performed in duo at two grand pianos at sold out Stockholm Municipal Theatre in November 2021. In spring and autumn the band was on on several-week tours in Europe and Canada and presented the music of their new release at - among others - Beethoven Festival in Bonn (Germany) and the International Jazz Festivals in Bydgoszcz/Poland and Quebec-City/Canada. For November 2023 the band is invited to Polish International Komeda Jazz Festival.
Daniel Karlsson has already played with jazz greats such as Michael Wollny, Till Brönner, Nils Landgren, Rigmor Gustavsson, Viktoria Tolstoy, Ernie Watts und Peter Erskine. He is one of the founding members of Oddjob und member of Magnus Öström Band.
As an experienced music educator Karlsson regularly gives clinics and lessons solo as well as together with Fredrik and Christian on the band´s national and international tours.
The band´s concerts are financially supported by the "Swedish Council of Cultural Affairs".
"Karlson´s riveting playing and compositional flare mark him out as one of the most exciting of contemporary pianists" Ian Patterson, All about Jazz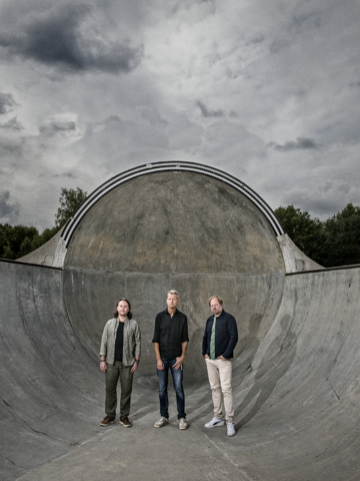 Their 2016 release, their third album At the Feel Free Falafel, also garnered a lot of attention with favourable reviews and extensive radio play. The same is also true about their fourth full length title Ding Dong released in 2017. An album that has just given them another nomination for a Swedish Grammy Award for best jazz album in 2018.

As before their flow and rather astonishing production of new music continue. Five years after the dynamic trio's record debut mastermind Karlsson presented their fifth album aptly titled "5". Positively brimming with creative music in seven new songs from Karlsson's prolific pen, as melodic and powerful as always, maybe even more so this time, and once more proved themselves as a force to be reckoned with.

With their sixth studio album, produced by Göran Peterson and recorded in Runmarö in Stockholm's archipelago the trio continue to explore the boundaries and inner workings of jazz, with band leader Daniel Karlsson's dynamic piano in the center, Fredrik Rundqvist on drums and percussion and Christian Spering on contra bass. The album title alludes to the fuse box in the studio, where fuse number eleven must be screwed out before recording, if not, there would be a total mess of things. As always it comprises a well-balanced set of original songs by bandmaster Karlsson. At the core, the acoustic piano trio with a topping of electronics added to the mix. But perhaps not so generously spread this time around. Fuse Number 11 is set in a more pensive mood and is also more ballad oriented than the trio's previous titles. The cutup, collage oriented working process of its five predecessors not so accentuated. Still the soundscapes are present on this one as well.
In October 2022 the trio released their new – seventh – album "Climing The Ladder" at Swedish label "Bark At Your Owner".