Fuchsthone Orchestra
The FUCHSTHONE ORCHESTRA consists of more than 20 outstanding musicians, many of whom having won awards and are long-standing members of the jazz scene, making up this masterful body of sound that takes the audience to new places in an inspiring way. Together they pursue the goal of establishing a contemporary orchestral sound that points beyond previous listening habits, musical styles and boundaries, taking its listeners on a spectacular soundscape journey.
Even the lineup is different from traditional big bands. The jazz ensemble has a female co-leadership: in addition to leading and conducting the orchestra, Christina Fuchs and Caroline Thon are also in charge of the compositions for FUCHSTHONE.
The two musicians have long stood for a modern and unconventional style. An essential part of their compositions is the use of electronics, noisy sound generators and computer samples. Eva Pöpplein is a sound artist who has a longstanding reputation in this field. And of course the two FUCHSTHONE leaders have put together the ORCHESTRA with great care. A team that can master the challenges of their complex arrangements with ease: Jens Düppe, for example, one of the most respected drummers of the German jazz scene… or the outstanding saxophonist Roger Hanschel… as well as the warm, great voice of Filippa Gojo, who crowns everything… just to mention a few names of this brilliant ensemble.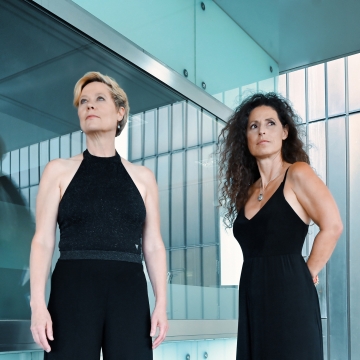 Fuchsthone Orchestra
In November 2019, the musicians and composers Christina Fuchs and Caroline Thon presented their new large ensemble for the first time: the FUCHSTHONE ORCHESTRA. The highly acclaimed concert in Cologne's Stadtgarten marked the start of a unique project that has been constantly evolving ever since. Now, FUCHSTHONE reviews the results and creates an epochal work of sound art with their debut album "Structures & Beauty".
Recorded in June 2022 at the broadcast hall of the Deutschlandfunk in Cologne, the material effortlessly was sufficient for a powerful sounding double CD - none of the notes, compositions or solos should have been less. And the result, there is no other way to put it, turned out to be sensational: Their debut album "Structures & Beauty" proves to be a masterpiece of sound art that will find its place in the history of jazz. Fuchs and Thon found equals and allies for their large ensemble, outstanding, multi-award-winning musicians who represent both: outstanding soloistic quality and the distinctive, orchestral FUCHSTHONE-Sound. This music tells sound-dramatic stories like a world theater, sometimes powerful and dynamic, sometimes sophisticated and lyrical, with a great deal of finesse and subtlety.
Christina Fuchs and Caroline Thon masterfully combine jazz, classical, rock and avant-garde with pointed use of electronics in their complex arrangements - and offer even more at the same time: "Structures & Beauty" isn't "just" a sound event, but a socio-political statement. Reflective, worried, even anxious, the artists respond to current experiences of catastrophe, social conditions and frictions. They explore the meaningfulness of the world in rich soundscapes, seek and find ways to express their scepticism and perplexity, grief and rage. And yet "Structures & Beauty" represents resilient strength and unbreakable hope: as a hymn to the beauty of the world and the joy of existence. Rich in textures, brilliant arrangements and soloistic highlights, "Structures & Beauty" fascinates as an outstanding musical drama, clear-sightedly grounded in the present and at the same time the outline of a visionary world theater directed towards the future. Intoxicating and touching, thrilling and challenging.
Horst Peter Koll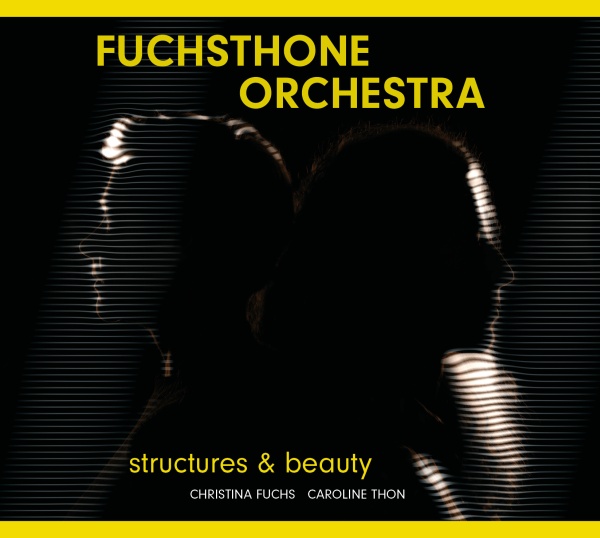 www.fuchsthone.com
FUCHSTHONE ORCHESTRA "Structures & Beauty"
Release date: 28.4.2023
ENJA Records
The FUCHSTHONE ORCHESTRA represents a contemporary, large-scale orchestral sound that exceeds genre-specific boundaries and takes the listener on a spectacular sound journey. The ensemble features 22 outstanding and multi-award-winning musicians from Cologne and Essen. Both composers, Christina Fuchs and Caroline Thon, have long been recognized as leading exponents of contemporary, large-scale jazz and share two decades of experience leading large ensembles (United Women's Orchestra, Thoneline Orchestra, Soundscapes Orchestra)
Lineup
fuchsthone.com/ensemble