Daniel Karlsson - Press reviews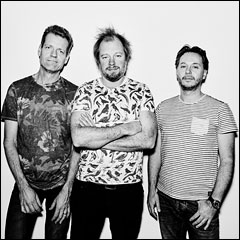 Daniel Karlsson Trio
---
International Press Quotes
Jazz Online, 07. November 2018
Q&A: Daniel Karlsson
We first heard Daniel Karlsson and his trio featured on a Spotify playlist a few months back. The track was "Salzburg" from the trio's recording entitled 5 and we were immediately mesmerized. We have since listened to all five albums recorded by the Swedish trio and have become enthusiastic fans of their music. The leader Daniel Karlsson, who composes all of the music and is featured on piano and keyboards, is no rookie to the scene. He has been a prominent player for decades in the group Oddjob, a member in Magnus Oström's band and has worked with Til Brönner, Nils Langren and many others. We caught up with Daniel during a break from touring to learn more about him and his exciting trio.
(Jazz Online) What was your first recollection of jazz growing up?
(Daniel Karlsson) One particular memory that pops up is me listening to the Swedish national radio P2. There was a jazz concert with a hammond organ broadcasted. I remember the whining sound of the organ and the continuous hammering on the ride cymbal thinking that it all sounded awful. This must be the most boring music existing.
What was the first jazz recording you ever purchased?
I grew up in a small town, Kristinehamn, with only one existing record store called Duvan (the Dove). The jazz selection was far from comprehensive. Instead I got some cassettes from my music teachers with stuff like Yellowjackets to complete my parent's collection of older jazz. I do remember though that I wished for Miles Davis' Amandla for my 16th birthday and I got it!
One of our favorite jazz albums from Sweden is Jan Johansson's Folkvisor – Jazz på Svenka. Did that recording have an impact on you and your playing?
That's probably the first jazz music I learned to appreciate. That record was among my parent's vinyls. I listened to it a lot and finally started to do my own Jazz på Svenska. I recorded a double bass that I borrowed from school with a mic. Then I played my noisy bass recordings loud on my parents stereo while playing piano in addition and recording everything on another smaller cassette player with a small built in mic. It was a riot of noise! I wonder if those tapes are still somewhere in the house.
Who are your main influences on piano and keyboards?
Keith Jarrett. One of my teachers living in the neighborhood stuck My Song into my hands one summer when I was 15. Luckily i was on a school leave because I didn't sleep at all that night.
Sweden has produced many profound and talented jazz artists (ie: Lars Gullin, Bobo Stenson, Palle Danielsson, Anders Jormin, Ulf Wakenius, Esbjörn Svennson and others), how would you describe the Swedish approach and influence on the music?
The Swedish approach to jazz is probably springing from lack of jazz tradition. I guess that back in the days Swedish musicians did what they could to sound as American as possible, but they were always identified as Nordic in their tonal language, timing and harmonics. Most likely because of their own tradition of Swedish folk music and the fact that they where usually educated in classical music. Nowadays Swedish musicians in general have given up the aim to sound American. Instead we're widening the conceptions.
How has working with Oddjob and Magnus Oström influenced your playing and composing?
My 20 years with Oddjob have taught me not to be scared of criticism and expectations. We've grown a confidence together which I can bring into my trio. Magnus has thought me that odd meters doesn't necessarily sound odd and are not necessarily hard to play once you base them on riffs.
Can you tell us how you started your trio?
Actually, I got the final spark for really getting started at the memorial ceremony for Esbjörn Svensson. This was held at Rival in Stockholm. I never really followed the trio before Esbjörn's tragic passing, and what they showed at the ceremony in terms of videos from their career was astonishing. Their commitment to their work and the music was really something else. And they managed with the impossible to reach out! I was really touched and of course emotional that sorrowful evening even though I didn't really know him personally. However, a couple of nights later me and a friend spent one entire night in front of the screen intensively watching all the YouTube clips of E.S.T. (Esbjörn Svensson Trio) we could find. That was probably the start of my own trio.
One of the exciting and identifiable aspects of your trio is its sound and specifically your use of acoustic piano and electronic elements. How do you approach incorporating those sonic elements into the trio?
All the additional stuff, like keyboards and effects, are ideas that are coming once we listen to the recordings of the trio playing the songs. It's always depending on what the clean trio sounds like. The concept is probably a fruit of my previous years with Oddjob and as a keyboard player and studio musician on various occasions. We've had the intentions to release a more acoustic album during the last 3 releases but it always ends up the other way around. Maybe this is a fetish I cannot control.
How has trio evolved since your first recording Dax Taxibåt.
We've matured in a way that brings more depth into our musical expression. The more happy straight forward heads from our first outings are nowadays mixed with tunes of more melancholic nature. A quote from a review of our second album Fusion for Fish was "modern happy jazz." By then I realized that all the songs where in major keys on that album. Despite that Fusion For Fish won the Swedish Grammy. On our third album, At The Feel Free Falafel, we needed a new bass player since Kristian Lind moved to Turkey. That of course brought other spices to our sound.
What is the best thing about playing jazz?
My instant thought is all the fantastic food we usually get invited for during tours.
Name one recording that cannot live without.
My Song – Keith Jarrett
What is your favorite escape?
A long jog in a city I don't know. I love getting lost for a while! I also love sailing in the Stockholm archipelago, but then I don't appreciate getting lost the same way. Spending time with my kids totally on their conditions is always a big relief from my daily issues as a musician.
"5"
"Their continuous search for musical perfection has taken the Daniel Karlsson Trio, through the years, to an intense and fascinating journey, culminated in a record like this that celebrates the band's great understanding and appreciation for music and the will to continue to explore the never ending highways of sound." Giovanni Pilato, Bluebirdreviews
"Looking for music to brighten your day but also energise you with the power of an ocean storm? Number 5 could be what you need" Rob Mallows kind of jazz (GB)
"Al met al is dit vijfde album van dit Zweedse trio een magnifiek groeiplaatje en een absolute aanrader." Moors magazine (NL)
"Warm en spontaan, dat zijn de lemma's, die in mij opkomen bij het beluisteren van deze alweer heerlijke plaat" Rootstime (BE)
"Det är personligt men tål även att projiceras utanför individen, som på en duk där musiken ges utrymme för mer än bara ett intimt tilltal och ett format knutet till jazzen som genre" DN (SE)
Fusion for Fish
"Musik wie ein Reisebericht." Schwäbische Zeitung (DE)
"Traumatisch schön" KultKomplott (DE)
"A very welcome hour of fusion-tinged power jazz." London Jazz News
"…ett rejält kliv framåt på den europeiska jazzscenen." DN (SE)
"Rakt igenom bibehåller herrarna en helt suverän energi." Lira (SE)
Das Taxibåt
"In a market where piano trios abound, the Daniel Karlsson Trio stands out as a trio brimming with ideas …one of the most exciting of contemporary pianists" All about jazz (GB)
"Es gibt derzeit wenig andere Musik, die so ökonomisch das Maximum aus den eingesetzten Mitteln herausholt " Süddeutsche Zeitung (DE) – Review live gig at Unterfahrt, Munich Feb. 2017
At The Feel Free Falafel
"Synnerligen raffinerat och hippt" DN (SE)
Ding Dong
"Another bull's eye by Daniel Karlsson Trio, one of Sweden's most creative bands right now" Lira (SE)
"Five words to sum it up? Riveting. Cool. Playful. Unconventional. Most of all, enjoyable" Rob Mallows, Kind of Jazz (GB)
"Há um factor experimental na música que leva o projecto muito além dos paradigmas estabelecidos… com uso de dissonâncias e de métricas intrincadas que vão sofrendo súbitas mudanças, o que faz com que sejamos continuamente surpreendidos" Rui Eduardo Paes, jazz.pt (PT)
"Un evento ricco di sfumature a lizzano suona il trio che ha conquistato l'Europa" La gazzetta del Mezzogiorno (IT)
"Un bon exemple de cette musique libre, inventive, dont le rayonnement et l'influence s'affirment toujours plus au fil des années" Jacques Aboucaya, Le salon littéraire (FR)
"With Spering and Rundqvist, Karlsson has a trio one can listen to for a long time, and constantly discovering something new" Johannes Cornell, DN Review Live at Fasching April 2017
Bluebird Reviews, Giovanni Pilato, 15.05.2018
Daniel Karlsson Trio - 5
There are not many bands around able to materialize, through their music, not just their individual talent as musicians but also the Scandinavian rhythm of life and human nature as well as the Swedish collective Daniel Karlsson Trio does.

The band's new album, simply called 5 (being this indeed the band's fifth release), is one of those records that, straight from the first notes of the dreamy opening tune Dubious Whisper, captures immediately everyone's attention, intrigues and entertains the listener thanks to an instinctive, eclectic and imaginative sonic blend of Jazz, Ambient and occasionally, even Electronica.

The Trio, formed by Daniel Karlsson on Piano and Keyboards, Christian Spering on Double Bass, Cello, Dilruba & Tar Shenhai and Fredrik Runqvist on Drums and Percussion, has been together since 2013, when they debuted with the album called Das Taxibat. With each new record, their music has always been on a plateau of constant evolution, with the band searching constantly for the best way to spread their wings of creativity, every time in different directions. Something that has contributed, undoubtedly, to give a new and fresh dimension to every release of the Swedish collective.
With this new record, though, the Daniel Karlsson Trio reaches an even higher level of musical brilliancy. The band displays, through the 8 instrumentals included in the album, a fantastic craftmanship, switching from time to time from their trademark, free-form Jazz and Ambient signature sound to moment of elegant Cool Jazz (like in the tune called Let Me Tell You One More Thing) or more contemporary uptempo Jazz forms (Meet The Moiners), where the band introduces layers of Electronica and even low measures of Drum'N'Bass, to beautify even further a tune already splendidly conceived and executed.
One of the greatest aspects of 5, from a conceptual point of view, is for the band to be able to reach to the soul of the listeners solely through the melodic and, at times, abstract language of their compositions, without adding any lyrics at all to them. The depth of their sonic improvisations applied in each of the album's songs is mesmerisingly inspired and their erratic but captivating interplay is, truly, something of great artistic beauty
Among the all around great tunes present on 5, the track called Salzburg deserves a special, separate mention. This smooth Jazzy tune pulsates with the rhythms of the city life, with Karlsson & Co. laying down a monochromatic melody that fits perfectly the colors and the feeling of a vibrant city like Salzburg. The playing techniques and the variations used in the second part of the tune are greatly inventive, verging towards a more Fusion type of sound, something that does not alter the joyous and uplifting feeling of the tune but it adds, instead, an extra added spice to it.
Sometimes tender, other times ethereal, or dissonant, unpredictable or occasionally dark, 5 is an album that displays the true identity and talent of the Swedish collective. Their continuous search for musical perfection has taken the Daniel Karlsson Trio, through the years, to an intense and fascinating journey, culminated in a record like this that celebrates the band's great understanding and appreciation for music and the will to continue to explore the never ending highways of sound. If 5 is the shape of things to come for the Daniel Karlsson Trio, the musical future of this band is going to shine very brightly from now on.
Kind of Jazz, Rob Mallows, 28.03.2018
Daniel Karlsson Trio - 5
Swede Karlsson hand crafts seven well-constructed tracks. The anti-IKEA of jazz, if you will
Daniel Karlsson has been a busy musical bee in the last five years. From his first album Das Taxibåt to this newly released fifth album - appropriately named 5 - Daniel Karlsson has produced an album a year. But he has not sacrificed quantity for quality; crucially, each album has been strong, often with two or three outstanding tracks, and 5 is no exception.
The Daniel Karlsson Trio is one of European jazz's hidden gems. Keyboardist Karlsson, bassist Christian Spering and drummer Fredrik Rundqvist are rightly lauded in their home market (they have won one Gramis (Swedish Grammy) and been nominated for their fourth album) but still sit below the radar in the UK. Number 5 adds another thump to the drumbeat making the case for them to receive wider acclaim.
Why do I say this? Is the Daniel Karlsson Trio on a Miles Davis-like creative mission, shattering jazz convention? No. Are they forging new alliances between jazz and the world of hip-hop or grime, say? Again, no.
I say it because the Trio has, well, something. They have a capacity to produce albums and tracks which, in most cases, just work and appeal to the ear and the soul. In the same way that you don't wonder why a flower is beautiful or a bird-song attractive. You just understand they are. So, the band is not aiming to be musical iconoclasts, but has a more modest goal of producing well-wrought, beautifully composed tunes that, at times, surprise but more often, subdue and soothe.
Karlsson has mastery of his instrument, so he has a lot of options open. But virtuosity is not the quality which makes this a strong album. He is like an honest craftsman, a builder of musical boats: in the luscious arrangements and the effective harmonic choices, he is builds musical vessels designed to float on the stormiest of jazz seas or the flattest of musical lakes, but to do so effortlessly. In Spering and Rundqvist, he has on board two of the ablest seamen.
His studio is on the small Swedish island of Runmarö, the 'artist's island' surrounded by the Baltic sea that has provided a calm oasis for forebears such as Strindberg and Forsell. There is a salty-cleanliness to much of Karlsson's writing which, like a morning sailing the headlands of the archipelago, has the power to cleanse and revive the soul. That's the 'something' at the heart of 5; it is a tremendously vivifying collection of tunes.
Opener Dubious Whisper is a shuffling track which has a morning feel, like a long spring walk along the dunes with the sand blown around and the deep blue see beckoning you. You want to proceed.
Second cut Let Me Tell You One More Thing takes musical economy to the limit. Spering and Rundkvist start with kindergarten-simple rhythms, over which Karlsson picks out sparse notes and ringing chords with the intensity of a grandmother picking out fresh fish at the market. At its heart linger pensive minor chords which nod to the cliché of Nordic melancholy, yet leave one strangely uplifted.
Salzburg contains no waltz rhythms, but tumbles along with charming rolling arpeggios over which Spering picks out a simple motif with a little distortion, sounding like a seal pup whining for its mother.
Days Lost and Gone opens with a lovely descending chord pattern that laps the ears like waves on a boat's prow heading towards a harmonic island that's deserted, but with a melancholy secret. Both Spering and Rundkvist propel the song along with rhythms and interjections that are barely noticeable but operate with the efficiency of any good sailing crew, knowing when to tack, when to wind in and when to let out more musical rope.
Fifth track, the bizarrely named In the Tambourine Forge, contains precisely zero tambourines, forged or otherwise. Spering's bowed bass however does have a droning, industrial quality as Rundqvist and Karlsson tap away on the anvil to mould the notes rather before plunging the track into a bucket of cold water, transforming it into a more dynamic piece with a steel-like centre, that grows in complexity as the material is worked, re-worked, folded, heated and left to cool.
The best track is Meet the Moiners. No, I don't know who or what the Moiners are, but I do want to meet them after hearing this gloriously swinging track. It has an opening string motif that hits the spot, creating a splash into which Karlsson's piano jumps right in. It's not complicated or particularly challenging; this ain't Bitches Brew. But, it's thoughtful, moving and makes you want to explore - like finding a mysterious map on the pavement, you want to see where it leads. Where it does so is to is a left-field middle section, all tough drums and mournful bass that suggests a squall is breaking and the seagulls are getting nervous. It's tempestuous, the perfect contrast to what has gone before.
This album is strong but it's not critic bait. You won't find a collaboration with Stormzy or African polyrhythms on it. If you want hipness, go to Shoreditch.
No, this is an album for the listener, for those who want to lie back and luxuriate in great, well constructed music. Looking for music to brighten your day but also energise you with the power of an ocean storm? Number 5 could be what you need.
All About Jazz, Ian Patterson, 15.01.2014
Daniel Karlsson Trio: Das Taxibat
When not driving a taxi boat around Stockholm's archipelago, pianist Daniel Karlsson is best known as the pianist/organist in drummer Magnus Ostrom's band and the award-winning, Swedish jazz-fusion quintet Oddjob. The latter's chameleon-like shifts have encompassed funk and chill-out, jazz takes on Ennio Morricone's Western themes and, on JAZOO (Headspin Records, 2013), jazz—of a sophisticated kind—for kids. Das Taxiboat, however, marks Karlsson's first outing as a leader since his promising debut Pan Pan (Caprice Records, 2005), though this time he heads a trio. The conception and execution of these ten originals is impressive—the fruit of the trio's half-decade of labor.

The title track reveals the depth of Karlsson's musical make-up with its blend of classical and folkloric influences, colored by occasional blues accents. Karlsson's melodic, flowing solo places him in a lineage that stretches from Keith Jarrett through Brad Mehldau to Esbjorn Svensson. The pianist' strong vamps and innate lyricism, bassist Kristian Lind's ostinatos and arco work and drummer Fredrik Rundqvist's driving rhythms lean more towards Svensson's trio e.s.t. as a frame of reference, particularly on the smoldering "Sergio's Giorgini," which juxtaposes a delicate collective approach with brooding intensity.

Karlsson pays homage to two of Sweden's greatest jazz pianists, Jan Johansson and Bobo Stenson on "Johansson's Temptation" and "Bobo's Temptation," though he resists any temptation to overtly reference their respective styles. The former tune's rhythmic intensity stems chiefly from Karlsson's relentless left-hand ostinato, while his right hand roams up and down the keyboard with giddy freedom. By way of contrast, Rundqvist's gently probing brushwork and Lind's quasi-baroque bass lines underpin Karlsson's contemplative playing on the lovely "Bobo's Temptation"—an album highlight.

Karlsson manipulates the trio dynamics with a deft hand, varying the pace, intensity and layering of instruments with assurance. Low-key keyboard and organ touches vary the sonic texture on the elegant "Cowboy Song," which stems from a wonderfully catchy piano motif. Karlsson's solo organ interlude sounds with cathedral-like grandeur before the trio returns to the original motif. A bass drum and keyboard pulse conjures an Indians-on-the-warpath vibe, underpinned by Lind's deeply resonant arco.

The trio loosens up on "Christney's Bass Lesson," where choppy bass, uninhibited drum improvisation and slightly dissonant piano runs are sandwiched between the grooving intro and outro. Groove also characterizes the catchy "Positiv Man," which fades just as Karlsson gets a little wind in his sails. The slower-paced "Safir"—with Rundqvist on brushes—is a fine example of lyricism trumping virtuosity. Lind's winning bass riff and Rundqvist's lightly skipping rhythms drive "Quickly," allowing Karlsson bags of room to stretch out. The jaunty "Gone Fishing," the longest track, fairly bristles with energy and closes a fine set with collective swagger.

In a market where piano trios abound, the Daniel Karlsson Trio stands out as a trio brimming with ideas. As for Karlsson, whilst he's not afraid to show his influences he certainly isn't defined or confined by them. His riveting playing and compositional flare mark him out as one of the most exciting of contemporary pianists and states his case as a worthy successor to Svensson