Wolfgang Lackerschmid & The Brazilian Trio
Jazzy Brazilianity: The german vibes player Wolfgang Lackerschmid is also well known as a composer fascinated by Brazilian styles and rhythms. It was only a matter of time that he would perform with the whole Brazilian Trio, as he had already played with each of the members on numerous shows. The three New York based men from Brazil that make up Brazilian Trio - pianist Hélio Alves, bassist Nilson Matta and drummer Duduka Da Fonseca - each boasts an impressive résumé of making music with the finest artists from both their native and adopted countries. Their collective experience of playing Jazz and Brazilian music for many years, as sidemen and leaders of their own bands, leaves them uniquely qualified as important musicians in the field of samba jazz, an exciting brand of music that is reaching a growing number listeners in the United States, Brazil and all over the world. The repertoire of this top-class project is an intriguing mixture of original compositions (of Lackerschmid and of the Brazilian Trio) and of songs based on rousing and touching, traditional Brazilian tunes and beats. When using the vibes as a melody instrument or as part of the rhythm section this band becomes an uncommon as well as unique Brazilian Quartet.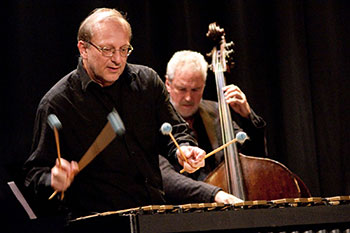 ---
Besetzung:
Wolfgang Lackerschmid - vibes
Hélio Alves - piano
Nilson Matta - bass
Duduka da Fonseca - drums
Optional: Stefanie Schlesinger - vocal
Wolfgang Lackerschmid - vibes, played live and at more than 200 recordings with Chet Baker, Attila Zoller, Larry Coryell, Buster Williams, Paquito D'Rivera, Tony Scott, Jacques Loussier, Eberhard Weber, Albert Mangelsdorff, Stefanie Schlesinger and several Vibraphone Summits. He composed numerous songs and jazz instrumentals, works for orchestra, choir and many different ensembles, as well as music for theater, ballet, films and radio plays. As a bandleader, he always surprises with special formations and thrilling music.
Hélio Alves - piano, born to a pair of pianist parents in São Paulo, came to the United States at the age of eighteen to study jazz at Berklee College in Boston. Encouraged by trumpeter Claudio Roditi, he moved to New York in 1993 and later made a name for himself playing with the Brazilian brass man and Santi Debriano's Circle Chant, as well as with Joyce, Airto Moreira and Flora Purim. Alves has performed with bossa nova icons Oscar Castro Neves and Rosa Passos, jazz greats Joe Henderson and Paquito d'Rivera and on the cellist Yo-Yo Ma's Grammy Award winning compact disc Obrigado Brazil.
Nilson Matta - bass was born in São Paulo and moved to New York in 1985, working with Trio da Paz, the innovative Brazilian-jazz cooperative group he co-leads with Da Fonseca and guitarist Romero Lubambo. Matta has performed and recorded with Luiz Bonfá, Joe Henderson and Kenny Barron, Don Pullen's ground breaking band the African-Brazilian Music Connection. He also performed and recorded with Claudio Roditi, Paquito d'Rivera, Slide Hampton, Gato Barbieri, appeared on both of Yo-Yo Ma's Grammy winning albums of Brazilian music and leads his own group, Nilson Matta – Brazilian Voyage.
Duduka Da Fonseca - drums, since coming to New York from Rio in 1975, has been one of the leading progenitors of samba jazz. His early groups, the New York Samba Band and Brazilian Express, were among the first to meld jazz and Brazilian music in a manner that in no way diluted either style. Da Fonseca has worked with some of the best performers from Brazil and the United States like Antonio Carlos Jobim and Astrud Gilberto, Phil Woods and John Zorn. In addition to his work with Trio da Paz, Da Fonseca performs and records regularly with his wife, Maucha Adnet and his own quintet. His 2002 debut date Samba Jazz Fantasia was nominated for a Grammy. The online jsBeautifier is a free online program that is worth bookmarking.