Malstrom - Pressestimmen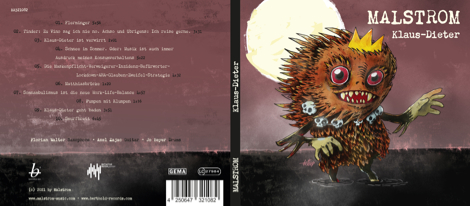 ---
März 2022 Von Ralf Dombrowski
Jazzthing
Angefangen hat das mit Bands wie Dream Theater, womöglich auch King Crimson oder Caspar Brötzmann. Musiker mit zwei Seelen in der Brust bringen Jazz und Rock zusammen, nicht in der Klavierlackversion, sondern unbehauen, laut, intellektuell durchdrungen, mit dem Bedürfnis nach Energie, die nicht von Pres und Trane, sondern von Metal und Core herrührt. Malstrom zum Beispiel beschränken sich auf Saxofon, Gitarre und Schlagzeug, bauen darum die irrwirre Geschichte von "Klaus-Dieter", die für die Musik nicht zwingend notwendig ist, aber lustig, um die Mixtur aus Soundwänden und Energieentladungen zu klammern. Florian Walter, Axel Zajac und Jo Beyer verknüpfen als Stilneffen von Panzerballett die Impulse ihrer Prägungen. Die Shredderästhetik des Metal trifft auf den kompositorischen Impetus der Avantgarde, die Wucht der Lautheit auf die Feinheit des Konstrukts. Musik zum Erleben, viel Physis, trotz Kopf.
19. März 2015 Von Ulrich Habersetzer
BR-Blog
Die Musik der drei ist eine perfekt gespielte Mischung aus Progessive Rock von Bands wie "Dream Theatre" oder "Tool" und Gitarrenvirtuosen wie Yngwie Malmsteen und vertracktem Jazz von Steve Coleman oder der Expressivitat von John Zorn. Dazu kommt aber eine jugendliche Unbedarftheit und Frische, die Spaß macht. Naturlich, wer Swing oder Hardbop erwartet hat, wurde enttauscht. Wer sich aber Zeit zum Einhoren und Miterleben dieser Musik gab, erlebte ein Konzert zum Staunen. Jeder Break sitzt, nichts knirscht da, die unzahlbaren Rhythmen wechseln in noch vertracktere; ein halbwegs ambitionierter Musiker brauchte Wochen, um die Melodielinien, die Saxophon und Gitarre beilaufig abliefern, einzuuben. Vielleicht eine mutige Entscheidung, die Jazzwoche von so einem kantigen Beitrag eroffnen zu lassen, aber sicher eine sehr gute.
18. März 2015 Von Redaktion JazzZeitung
JazzZeitung
"Mit Gitarre, Saxophon und Schlagzeug schaffen Axel Zajac, Salim Javaid und Jo Beyer mehr Farben und Assoziationsraume, als man von der kleinen Besetzung erwartet und haben dabei so viel Spaß an Dekonstruktion, dass aus ihrer Musik ein rundherum humorvoller Kommentar zu den Moglichkeiten des Gegenwartsjazz wird. Grund genug, ihnen den 7. Europaischen Burghauser Nachwuchs-Jazzpreis zu uberreichen", erklart die Jury.
Juli 2014 Von Tom Bullmann
NOZ
"[…] Da trat beispielsweise die Band "Malstrom" auf, ein Trio in außergewohnlicher Besetzung: Ein Saxofonist, ein Gitarrist und ein Schlagzeuger interpretierten eigene Stucke wie "Eine grune Wiese mit bunten Blumen drauf". Da lieferte sich Axel Zajac mit seiner unkonventionellen achtsaitigen Gitarre nicht weniger unkonventionelle Schlagabtausche mit Saxofonist Salim Javaid. Melodisch-schone Passagen wurden mit experimentell-assoziativen konterkariert, eingefahrene Horgewohnheiten eingedampft."
Von Jan Hocek
skjazz.sk
"The most promising vortex on the European stage." , skjazz.sk
Von Rob Mallows
London Jazz News
"The album never lets up. It defies easy categorization. It is a wild, unvaccinated hodge-lodge of tracks that is light years away from anything one might describe as relaxing. But, you've got to admire the band's energy and vigor"
BR24 Kulturnachrichten
"No, this trio can't be pinned down and that's what makes their new album so exciting. There, hefty grooves dissolve grooves dissolve into free-flowing cascades of sound, from which a beguiling melody suddenly emerges. A genre- mix - rather genre-hopping, with a rather silly humor peeking around the corner again and again. peeking around the corner. [...] This is jazz with high standards, which is a lot of fun to listen to."
Takeshi Goda
Jazz Tokyo
"It's like having a drill hole into your head and injecting an energy drink directly into your cerebral cortex. [...] Here comes the shape of power jazz trio."