Dotschy Reinhardt - Biography
"Reinhardt" - a name that enjoys a very distinctive sound within the international music scene. There's blessing in it, and a little bit of curse as well. How will a young woman be able to break free from this big family name and the big patron Django without rebelling against his legacy?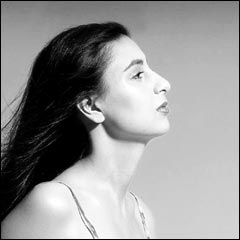 Dotschy Reinhardt
Dotschy herself says her childhood and adolescence were a stroke of luck. She grew up near Ravensburg in Southern Germany and had the chance to listen to the music of her relatives from a very young age on as the most natural thing in the world.
There's music all around, the "typical" gipsy swing repertoire, always closely linked to jazz standards, mixing with influences from the Great American Songbook and Frank Sinatra, the vocabulary of people like Joe Zawinul and Alan Holdsworth, mingling with Brazilian sounds by Jobim, Sergio Mendes and Ivan Lins.
One of her uncles is guitar player Bobby Falta, long time companion of Schnuckenack Reinhardt in his quintet and musical partner of Joe Pass and Chuck Loeb. The dynamic Zipflo Reinhardt counts among her cousins. Dotschy carries her education as an autodidact - and in jazz she discovers a counterpart to her love of freedom, dedicates herself to the guitar and especially to her voice.
Eventually she leaves the idyll of her parent's home: "I've become an adult in Berlin", she reflects. "Coming to grips with this big city, with its many resistances, has given me self-confidence. And with this many wonderful musicians around here you get the feeling of being in a new family."