Rabih Abou-Khalil - Hungry People
Der mit internationalen Preisen überhäufte libanesische Komponist, Oud-Spieler und Bandleader beeindruckt auf seinem neuen Studio-Album "Hungry People" mit einer ganzen Reihe brandneuer Kompositionen, die seine charakteristische Handschrift tragen, aber zugleich unmissverständlich frisch, faszinierend komplex und mitreißend virtuos daherkommen.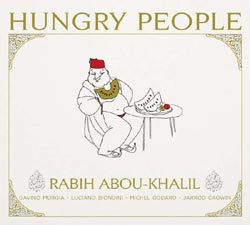 "Hungry People"
Label: WorldVillage, 2012
>>> Hörproben
| | |
| --- | --- |
| 1. | Shrilling chicken |
| 2. | When the dog bites |
| 3. | A better tomorrow |
| 4. | Banker's banquet |
| 5. | Dreams of a dying city |
| 6. | Fish and chips and mushy peas |
| 7. | Hats and cravats |
| 8. | When Frankie shot Lara |
| 9. | Si tu me quittes |
| 10. | Shaving is boring, waxing is painful |
"Im Quintett mit dem US-Weltmusik-Perkussionisten
Jarrod Cagwin entstanden zehn Songs mit prallem
mediterranem Flair."
(Audio, Dezember 2012)
Auf seinem neuen Werk "Hungry People" besinnt sich Rabih Abou-Khalil einmal mehr auf seine originären Qualitäten. Rhytmusgeladene, lyrische Kompositionen, die die Energie des Jazz atmen, die Tradition der Arabischen Musik inne haben und vor allem Melodiebögen, denen man folgen kann.
Die kongeniale Band besteht aus vertrauten Mitstreitern wie Michel Godard (Tuba, Serpent), dem großartigen Percussionisten Jarrod Cagwin, dem wunderbaren Akkordeonisten Luciano Biondini und dem sardischen Saxofonisten Gavino Murgia. Ganz besondere Aufmerksamkeit sollte man seinen Qualitäten als Sänger widmen: Murgia setzt seine Stimme als schnarrendes Bassinstrument ein, das seinesgleichen sucht. Auf "Hungry People" weiß eine Band eine eigene Stilistik zu repräsentieren, die man gut und gerne als zeitlos titulieren darf.