Scott Henderson Trio - Info
Scott Henderson is considered as one of the most important guitarists of the jazz history of the last 40 years, being an inspiration for millions of musicians all around the world. He cooperated with such jazz greats as Miles Davis, Chick Corea, Joe Zawinul und was co-founder of the jazz-rock band Tribal Tech.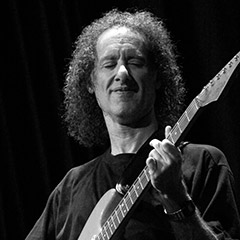 Scott Henderson
>>> press photos
Born in 1954, Henderson grew up in an era where blues-rock was at it's peak. His formative musical years took place in South Florida where he played the clubs with various bands, playing everything from Led Zeppelin to James Brown. As he was learning his instrument, Henderson was influenced by Jimmy Page, Jeff Beck, Jimi Hendrix, Ritchie Blackmore, and his favorite blues guitarist Albert King.
Even though Henderson claims to be more of a blues-rock player, it was the influence of jazz that led him to the style of playing and composing that he is now famous for.
Scott studied arranging and composition at Florida Atlantic University, then moved to Los Angeles in 1980. He toured and recorded with Chick Corea's Elektric Band, violinist Jean-Luc Ponty, and was pleased to get the opportunity to work for four years with one of his favorite musicians, Weather Report's Joe Zawinul. He recorded two albums with the Zawinul Syndicate, "The Immigrants" and "Black Water". Henderson formed the legendary band Tribal Tech in 1984 with bassist Gary Willis, and recorded ten critically acclaimed albums. The most recent recording is "Tribal Tech X" released in March 2012.
In 1991, Scott was named by Guitar World as the #1 Jazz Guitarist, and in January 1992, he was named #1 Jazz Guitarist in Guitar Player's Annual Reader's Poll. His first solo blues album "Dog Party", a welcome retreat to his musical roots, won best blues album of 1994 in Guitar Player Magazine. His next solo albums "Tore Down House" and "Well to the Bone" paired Henderson with legendary vocalist Thelma Houston. "Vibe Station", Henderson's latest and most accomplished work as a leader, is an instrumental trio record featuring Travis Carlton on bass and Alan Hertz on drums. The trio has toured extensively throughout the world in over 50 countries, playing music from the solo albums as well as some of Henderson's music recorded by Tribal Tech.

Scott has also released two albums with "Vital Tech Tones", a trio collaboration with bassist Victor Wooten and former Journey drummer Steve Smith. In 2009 he began touring worldwide with the HBC Trio, featuring bassist Jeff Berlin and drummer Dennis Chambers. Their first record "HBC" was released in October 2012.
His latest worldwide accoladed album "People Mover" was recorded with French bass player Romain Labaye and French drummer Archibald Ligonniére and released in July 2019.
---
Line-Up:

Scott Henderson - guitar
Romain Labaye - bass
Archibald Ligonnière - drums