Wolfgang Lackerschmid Connection
Das Repertoire dieser Formation besteht vorwiegend aus Kompositionen von Wolfgang Lackerschmid, deren geschmackvolle Melodien sich über ein Harmoniegerüst spannen, das jeden Mitmusiker zu ambitionierten Soli inspiriert. Die abwechslungsreichen, oft brasilianisch beeinflussten Rhythmen grooven derart, dass auch die anspruchsvollsten Passagen den Hörer einfach mitreissen. Die kongenial aufeinander eingespielte Band besteht durchweg aus hochkarätigen internationalen Jazzvirtuosen, die gerade in dieser Zusammensetzung besonders zur Geltung kommen.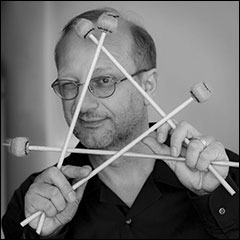 Wolfgang Lackerschmid
>>> Pressefotos
---
Besetzung:
Wolfgang Lackerschmid - Vibrafon
Ryan Carniaux - Trompete
Stefan Rademacher - Bass
Guido May - Schlagzeug
Wolfgang Lackerschmid
ist seit den siebziger Jahren gleichermaßen als Vibrafon-Virtuose und Komponist erfolgreich. Besondere Aufmerksamkeit erfuhren u.a. seine legendären Duoaufnahmen mit Chet Baker sowie seine Zusammenarbeit mit Attila Zoller. Von Lackerschmid stammen zahlreiche Songs und Jazztitel, die sich im Repertoire vieler seiner Kollegen etabliert haben, weiterhin konzertante Werke für Orchester, Chor und viele andere Formationen, sowie Musik für Theater, Hörspiele und Filme.
Ryan Carniaux
Schüler von Tiger Okoshi, wurde innerhalb kurzer Zeit zu einem der gefragtesten Trompeter, unter anderem in den Bands von Mark Murphy, Benny Golson, Peter Herbolzheimer, Dave Liebman. Mit Manfred Schoof, Gerd Dudek und Wolfgang Lackeschmid spielt er gemeinsam in der Band TTT von Markus Lüpertz. Seine kürzlich erschienene Debüt-CD "Refections Of The Persevering Spirit" erhielt durchweg enthusiastische Resonanz bei den Medien und Jazzfans.
Stefan Rademacher
war von 1994 bis 2007 Mitglied der Billy Cobham Band und spielte unter anderem mit Lee Ritenour, Don Grusin, George Duke, Hiram Bullock, Dave Samuels, Tom Coster. Als Virtuose an Kontrabass und zahlreichen E-Bass Varianten wurde er unter anderem als Gastsolist beim WDR Bigband und den Bochumer Symphonikern eingeladen. Er ist Professor an der Hochschule der Künste Bern.
Guido May
ist einer der gefragtesten europäischen Schlagzeuger. Neben der jahrelangen Zusammenarbeit mit Funklegende Pee Wee Ellis spielte er u.a. mit Größen wie Fred Wesley, Maceo Parker, Diana Krall, Chico Freeman, Don Grusin, Manu Dibango, Claudio Roditi, Kenny Wheeler und den New York Voices.