Daniel Karlsson - Biographie
Der Pianist und Komponist Daniel Karlsson wurde 1973 in der Kleinstadt Kristinehamn im Mittelwesten Schwedens geboren. Heute lebt er auf der vor Stockholm gelegenen Schäre Runmarö. Er begann mit dem Klavierspiel im Alter von vier Jahren, von 1992 bis 1994 besuchte er die Musikkurse der Skurups Folk High School und studierte anschließend am Königlichen Musikkonservatorium in Stockholm.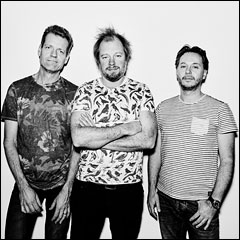 Daniel Karlsson
Karlsson gehörte in den früheren Jahren mehreren wichtigen schwedischen Jazzbands an, darunter der "Fredik Noren Band", dem Quintett und der Bigband von Lennart Åberg sowie Dwarf ´n Tony. Er tourte auch mit international gefeierten Musikern und Gruppen wie Ernie Watts, Andreas Pettersson oder Peter Erskine und war bei deren CD-Einspielungen beteiligt. Von 1996 bis 1999 war er Kopf des Funk-Projekts "Karlsson's Headache".
2005 erhielt er die Auszeichnung als "Schwedischer Jazzmusiker des Jahres". Schon seit 2004 spielt Karlsson bei Till Brönner, auch arbeitete er unter anderem mit den schwedischen Sängerinnen Viktoria Tolstoy, Rigmor Gustafsson und Lisa Nilsson.
Sein Trio hat sich seit dem Album-Debüt "Das Taxibåt" im September 2013 als eine der interessantesten Konstellationen im schwedischen und europäischen Jazz etabliert. Und das nicht zuletzt durch den "Hattrick" seines zweiten Album "Fusion für Fish", mit dem es als Swedish Radio Jazz Group of the Year 2014 ausgezeichnet wurden, die Golden Disc 2015 des schwedische Jazz-Magazin OJ sowie den schwedische Jazz Grammy 2015 gewann.
Seine 2016er Release "At the Feel Free Falafel" sorgte mit hervorragenden Reviews und umfangreichem Airplay für große Aufmerksamkeit. Dasselbe galt auch für seinen vierten Titel "Ding Dong", der 2017 veröffentlicht wurde. Ein Album, das ihm im Jahr 2018 eine weitere Nominierung für einen schwedischen Grammy als bestes Jazz-Album einbrachte.
Ungeachtet früherer Lorbeeren, geht die beeindruckende Produktivität des Trio an neuen Kompositionen ungebrochen weiter. Fünf Jahre nach dem Debüt des dynamischen Trios präsentiert die Band ihr fünftes Album mit dem passenden Titel "5".
Daniel Karlsson ist zudem Gründungsmitglied von Oddjob und Mitglied der Magnus Öström Band.
---
Diskographie:
Das Taxibåt (2013)

Fusion for Fish (2014)
At the Feel Free Falafel (2016)
Ding Dong (2017)
5 (2018)