Wolfgang Lackerschmid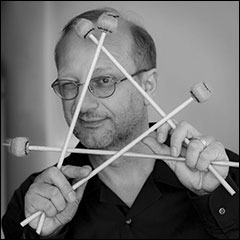 Wolfgang Lackerschmid
Wolfgang Lackerschmid is equally successful as a vibraphonist, bandleader and composer. On over 200 recordings and countless live concerts he has played with Chet Baker, Attila Zoller, Larry Coryell, Buster Williams, Paquito D'Rivera, Tony Scott, Jacques Loussier, Eberhard Weber, Albert Mangelsdorff, Wolfgang Dauner, Stefanie Schlesinger, Andy Bey, Lynne Arriale, Mark Soskin, Duduka da Fonseca as well as at various international Vibraphone Summits. He has written numerous songs and jazz titles, concertante works for orchestra, choir and ensembles, as well as music for theater, ballet, films and radio plays. As a bandleader, he always surprises with thrilling music of his quartet formations "Wolfgang Lackerschmid Connection", "Wolfgang Lackerschmid & The Brazilian Trio" and with his duo "Wolfgang Lackerschmid & Stefanie Schlesinger".
Lackerschmid grew up in Ehingen/Donau. From 1975 to 1980 he studied composition/music theory with Martin Gümbel and percussion with Gyula Rasz at the Stuttgart University of Music and Performing Arts. In 1976 he founded his Mallet Connection, with which he recorded the LP of the same name in the same year. On this LP he worked with artists like Rocky Knauer, Gerhart Ziegler, Janusz Stefanski, Dieter Bihlmaier, Leszek Zadlo and Herbert Joos. In 1978 Joachim Ernst Berendt brought him to the first Vibraphone Summit together with Karl Berger, David Friedman and Tom van der Geld.
Through these engagements and collaborations, Lackerschmid gained increasing fame in the European jazz scene. In January 1979 came the lastingly important collaboration with trumpeter Chet Baker. When the two met at a festival, Lackerschmid suggested Baker to record a duo album. Enthusiastic about the idea, the two found themselves in the studio in Stuttgart a few months later and recorded the LP Ballads for Two, followed by Chet Baker/Wolfgang Lackerschmid, with Larry Coryell, Buster Williams and Tony Williams.
After the Lackerschmid concentrated more on his record company Sandra Musik in the early 1980s, in 1988 he received his first major commission from a theater stage. He wrote the ballet music for Snow White at the Augsburg City Theater. Since he moved his residence to Augsburg, there were more and more projects there. He wrote commissioned works for the Augsburg Theater (Faust, Peer Gynt) and the Augsburger Puppenkiste (Paula and the Box Goblins, A Midsummer Night's Dream. He also set to music poetry by the famous Augsburg writer Bertolt Brecht and the Bäsle letters by W.A. Mozart and dedicated the composition Stone Sound, History of a City to the city.
Since 1980 he has also been touring outside of Europe, mainly in the United States of America. Alongside Chet Baker, Attilla Zoller is one of his most important companions.