Scott Henderson Trio - Info
Scott Henderson (Jahrgang 1954) gilt weltweit als einer der renommiertesten Fusion-Gitarristen. Er wurde bekannt durch seine Zusammenarbeit mit Größen wie Miles Davis, Chick Corea, Joe Zawinul und war Mitbegründer der Jazz-Rock-Band Tribal Tech.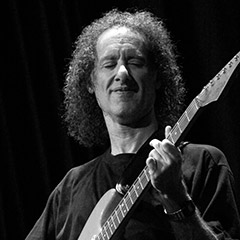 Scott Henderson
>>> Pressefotos
Henderson wuchs in West Palm Beach in Florida auf, wo er auch seine ersten Auftritte in Clubs bestritt. Seine musikalischen Einflüsse waren unter anderem Jimi Hendrix, Jeff Beck und Jimmy Page. Nachdem er sein Musikstudium an der Florida Atlantic University absolviert hatte, zog er 1980 nach Los Angeles, wo er das Guitar Institute of Technology (GIT) besuchte. Später wurde er an der Akademie selbst Dozent für Gitarre. 1984 gründete er zusammen mit dem Bassist Gary Willis die Band Tribal Tech. 1985 war er mit Chick Coreas Electric Band auf Tournee, von 1987 bis 1989 arbeitete er mit Joe Zawinuls Syndicate zusammen, um sich danach vollends auf Tribal Tech zu konzentrieren. Seit 1994 hat er vier Solo-Alben veröffentlicht, namentlich Dog Party (1994), Tore Down House (1997), Well To The Bone (2002) und Live! (2005), alle zusammen mit Tribal Tech-Schlagzeuger Kirk Covington. Auf Tore Down House und Well To The Bone ist die Soul-Sängerin Thelma Houston zu hören. Hendersons weltweit begeistert gefeiertes aktuelles Album "People Mover" wurde mit dem französischen Bassisten Romain Labaye und dem französischen Schlagzeuger Archibald Ligonniére aufgenommen und im Juli 2019 herausgebracht.
Hendersons Musikstil ist zwischen Blues, Jazz und Rock anzusiedeln. Während die Musik mit Tribal Tech eher in Richtung Fusion geht, sind seine Solo-Projekte durchweg vom Charakter des Blues geprägt, auch wenn immer einige jazzige Passagen zu finden sind. Henderson legt in seiner Musik stets großen Wert auf den Rhythmus.
---
Line-Up:

Scott Henderson - Gitarre
Romain Labaye - Bass
Archibald Ligonnière - Schlagzeug