Diego Piñera
German-Uruguayan drummer and composer Diego Pinera merges with his prominent line-ups the groove and Vibe of three worlds: The percussive diversity of his Latin-American origine, the ambition for freedom in his new hometown Berlin and the energy of metropolis New York. On his albums "Odd Wisdom" (Act Music 2020) with saxophonist Donny McCaslin, guitarist Ben Monder und bassist Scott Colley, three big names of current US-American Jazz as well as with his quartet "Berlin Odd Wisdom" with Peter Ehwald on saxophones, Igor Osipov on guitar and Marcel Krömer on bass Piñera creates an exciting exchange of unusual energy, sound, complexity and tension. For his album "My Picture" he was award the German ECHO 2017 in the category "Best Instrumentalist National Drums/Percussion". His album "Odd Wisdom" feat. Donny McCaslin released at renowned German label ACT Music was nominated for GRAMMY 2021.
In April 2023 Diego Piñera won the German Jazz Prize in category "Arrangement Of The Year". Moreover, he was nominated for this prize in category "Composition Of The Year".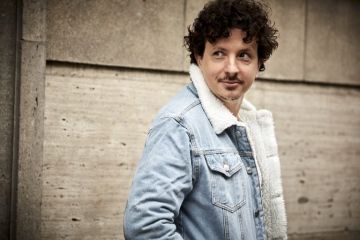 Diego Piñera
Piñera's encounters with Latin American music, and with jazz in all its breadth, have led him to develop an unmistakable style. Through the combination of his advanced conception of rhythm, a jazz sound with a Latin touch, and the freedom of improvisation his strong character comes across vividly. In Piñera´s music there is musical complexity and virtuosity in abundance, but it is imbued with great subtlety.
With "Berlin Odd Wisdom" the Uruguayan drummer has gathered around him a very prominent selection of Berlin musicians. The formation has existed since 2019 and developed its very own sound. The pieces composed especially for this band create a modern synthesis of European and Latin American aesthetics. The rhythmic concept of Pinera's compositions is based on the clave principle and is transferred in a virtuoso manner into the world of odd time signatures. In addition, there is the harmonic understanding of jazz with its large space for improvisation which allows each musician to add his very own personality and sound as an important ingredient to the formation.
Piñera's first album with this new musical approach was released by ACT MUSIC in 2021. It was recorded in New York with Donny McCaslin, Scott Colley and Ben Monder and was nominated for the GRAMMY 2021. Berlin Odd Wisdom band is now continuing this development. While the Act release shows a strong influence of US jazz, the Berlin formation now expands the music with the influence of European classical modernism. Above all, the work of Béla Bartók currently plays a prominent role in Piñera's compositions. A first live session of this formation, expanded to an octet with a string quartet, can already be found on Piñera´ s YouTube Channel. Berlin Odd Wisdom´s debut album will be released in summer 2023, and in December 2023 Diego Piñera 4 + 4 will present another album with octet line-up .
Piñera has already performed on numerous tours worldwide with jazz greats such as Donny McCaslin, Jerry Bergonzi, Danilo Perez, Scott Colley, Hans Glawischnig, Miguel Zenon, Tony Lakatos, Joe Gallardo, Nils Wogram und Rolf Kühn. In October 2022 he received a lecture assignment at renowned Dresden University of Music Carl Maria von Weber.
Line-Ups

Odd Wisdom
Diego Piñera - Drums, Percussion
Donny McCaslin - Saxophon
Ben Monder - Gitarre
Scott Colley - Bass

Berlin Odd Wisdom
Diego Piñera - Drums, Percussion
Peter Ehwald - Saxophon
Igor Osypov - Gitarre
Marcel Krömker - Bass