Diego Piñera - Pressestimmen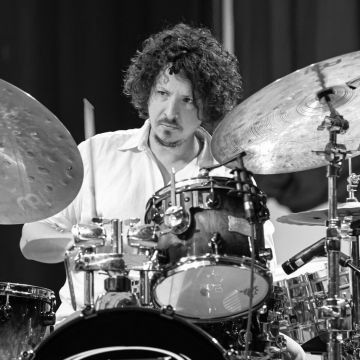 >>> Pressefotos
---


FAZ 27.04.2023Durch die Hölle..
Durch die Hölle..
Diego Pinera leitet sein Quartett vom Schlagzeug aus. Im Instituto Cervantes Frankfurt stellt es seine Musik vor..


Downbeat, Feb. 2021
Diego Pinera - Odd Wisdom (ACT)
By Peter Margasak
Uruguayan drummer Diego Pinera has followed an accretive path, studying music in the States, Cuba and Germany, the country he's called home since 2003. Now based in Berlin, Pinera has compounded his mastery of jazz and Latin-American music with Eastern European traditions through his work with performers from Greece and Bulgaria. And for his latest album, he visited New York to work with a band that brings a dazzling cogency to his multicultural post-bop vision.
Saxophonist Donny McCaslin has favored an airless fusion sound since he worked with David Bowie on the singer's final album, Blackstar, in 2016, but here his stunning lyrical imagination sparkles. Guitarist Ben Monder also excels, especially on "Clave Tune," where he nails the corkscrewing unison melody, but also adds lovely bossa nova-like comping and coloristic washes against the theme's Afro-Cuban groove.
The real credit, though, belongs to the leader, who composed everything here apart from "Blue Monk." Pinera is a seriously skilled drummer (his solo on "Mi Cosmos" is a jaw-dropper); his writing is complex; and the band consistently brings a breezy quality to the performances, never drawing attention to the difficulty of the material. On the ballad "Conversation With Myself," the leader gamely takes a backseat, coaxing splendid improvisations from McCaslin and Monder. "Domingo" pivots between a skittering unison melody and slinky folk-flavored refrain, and on "Space," Pinera contributes endearing vocals that convey a Latin pop fluency. The drummer's previous efforts have been solid, but his personality has never emerged so strongly before.
Odd Wisdom: Clave Tune; Domingo; Conversation With Myself; Robotic Night; Mi Cosmos; Space; Away; De Madrugada; Easter In Puglia; Blue Monk. (57:06)
Personnel: Diego Pinera, drums; Donny McCaslin, saxophone; Ben Monder, guitar; Scott Colley, bass.


Süddeutsche Zeitung, 19. August 2022
Jazz: Am Puls der Welt
Der deutsch-uruguayische Schlagzeuger Diego Pinera gastiert im Quartett in der Unterfahrt.
Der Schlagzeuger Diego Pinera ist ein exzellentes Beispiel für die Globalisierung des Jazz und die dadurch angestoßene Öffnung des Genres. Schon mit vier Jahren begann er zuhause in Montevideo an seinem Instrument. Das Studium führte ihn erst nach Havanna, dann ans Berklee College of Music in Boston und schließlich nach Leipzig. Seit 2003 lebt er in Berlin, doch hat er über den Tellerrand der dortigen Szene immer hinausgeblickt.
Bester Beweis ist sein zweites Act-Album "Odd Wisdom", das er am Sonntag, 21. August, in der Unterfahrt vorstellt. Das dafür zusammengestellte, gleichnamige Quartett ist mit den US-Cracks Donny McCaslin, Ben Monder und Scott Colley (für den in der Unterfahrt der Österreicher Hans Glawischnik spielt) besetzt. Und so klingen die Melodielinien sehr amerikanisch, rhythmisch freilich geht es weit komplexer, nach allen Kontinenten ausgreifend zu. Ein faszinierender Welt-Jazz.
Diego Pinera's Odd Wisdom, So., 21. Aug., 20.30 Uhr, Unterfahrt, Einsteinstr. 42, Telefon 4482794
FAZ, 27.04.2023
Durch die Hölle..
Jazzthing, Februar/März 2021
Drei-Komponenten Kleber..
Jazzthetik, Januar/Februar 2021
Rhythmische Klangbänder..
Drums & Percussion, Februar 2021
Die krumme Seite der Clave..
Concerto, Februar 2021
"Odd Wisdom" Review
Aachener Zeitung, Februar 2021
"Odd Wisdom" Review
Jazzthing, Februar/März 2018
Abseits aller Klischees..
Jazzthetik, Januar 2018
Blick zurück ohne Zorn..