Diego Piñera - Biography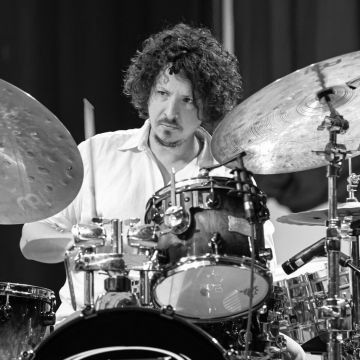 Diego Piñera was born 1981 in Montevideo, Uruguay, but has lived in Germany since 2003. He studied at the Berklee College of Music (USA), the University of Music in Havana (Cuba) and the University of Music and Theatre in Leipzig (Germany). Piñera's encounters with Latin American music and with jazz in all its breadth, have led him to develop a distinctive and unmistakable style. Through the combination of his advanced conception of rhythm, a jazz sound with Latin touch and the freedom of improvisation his distinctive musical character comes across vividly. In Piñera´s music there is musical complexity and virtuosity in abundance, but it is imbued with great subtlety. For his album "My Picture" he was award the German ECHO 2017 in the category "Best Instrumentalist National Drums/Percussion". His album "Odd Wisdom" feat. Donny McCaslin released at renowned German label ACT Music was nominated for GRAMMY 2021.
Piñera has already performed on numerous tours worldwide with jazz greats such as Donny McCaslin, Jerry Bergonzi, Danilo Perez, Scott Colley, Hans Glawischnig, Miguel Zenon, Tony Lakatos, Joe Gallardo, Nils Wogram und Rolf Kühn. In October 2022 he received a lecture assignment at renowned Dresden University of Music Carl Maria von Weber.
In April 2023 Diego Piñera won the German Jazz Prize in category "Arrangement Of The Year". Moreover, he was nominated for this prize in category "Composition Of The Year".