Laura Kipp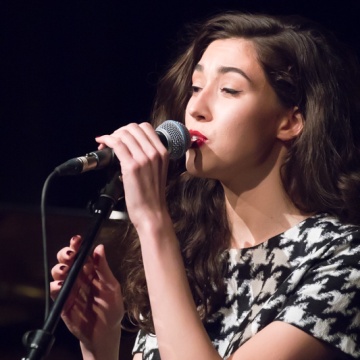 You should be able to trust the opinion of a man, who has not only shaped the world of Jazz on and off the stage but who has also, as a producer, propelled Michael Jackson "The King of Pop" to fame. Quincy Jones says about Laura, "This young woman doesn't need to worry about her career, she is amazing and I am sure we will be hearing more from her in the future." What, when they met for the first time at the Stuttgart Jazz Open in 2017, appeared to be a prophecy about the 21 year old singer Laura, has today been confirmed. Created in her mind on balmy evenings on a sunny balcony in Paris, in 2013 she has presented on GLM Music her new album "Sunset Balcony".
In her new release Laura´s far reaching travels from her homeland in Swabia/Germany to Paris, from New York to Los Angeles are reflected in her broad range of styles, from brilliant songwriter ballads to punchy jazz vocalese, from soulful blues to string saturated glamorous Hollywood sounds: She has already internalised that unique power of jazz which she combines with her own individual expression together with collaborative creativity. She builds on this with an inner confidence in her wonderful voice, her songwriting as well as the combined skills of her band members, the arrangements of both her mentor and bassist Jens Loh along with the expertise of Cornelius Claudio Kreusch as the producer and distributer.
Inspired by her fourth floor Parisian apartment, Laura views her balcony as a nexus of safety and freedom, as for her it provides the feeling of being at home whilst being exposed to the outside world. With strong undercurrents of Norah Jones-esque contentment and positivity, the record embraces a number of varied styles and textures with confidence and joy. From the country/pop-tinged title track, to the hip-hop influenced "Poke Bowl", blues/funk energy of "Johnny the Fly" and folky mood of "Bartender", the 14 tracks are united by Laura's universally relatable storytelling and captivating melodies.
"Sunset Balcony" is an album whose music moves toward the future, but along the way nostalgically glances back over its shoulder, into the real and emotional contradictions between melancholy and optimism.
Lineup:
Laura – voice
Jens Loh – bass
William Lecomte – piano
Eckhard Stromer – drums