Peter Erskine - Info
Peter Erskines Name ist mit 700 Alben und einer ebenso beeindruckend umfangreichen Anzahl an Beiträgen für Filmmusik verbunden. Sein unermüdliches Schaffen brachte ihm 2 Grammys und die Ehrendoktorwürde der Berklee School of Music ein. 50 Alben wurden unter seinem eigenen Namen oder als Co-Leader veröffentlicht. Er stand auf der Bühne mit u. a. mit der Stan Kenton und Maynard Ferguson Big Band, Weather Report, Steps Ahead, Joni Mitchell, Steely Dan, Diana Krall, Kenny Wheeler, Mary Chapin Carpenter, The Brecker Brothers, The Yellowjackets, Pat Metheny & Gary Burton und John Scofield.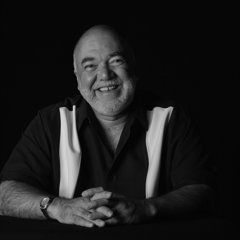 Peter Erskine
>>> Pressefotos
Erskine gilt als weltweit als einer der vielseitigsten und meistbeschäftigten Jazzschlagzeuger und Komponisten. Sein Spiel zeichnet sich durch raffinierte Rhythmen, herausragende Musikalität und Interaktivität und kraftvolle Soli aus. Er begann mit dem Schlagzeugspielen im Alter von vier Jahren. Nach dem Besuch der Interlochen Arts Academy in Michigan studierte er Perkussion an der Indiana University. Seit 1972 ist er als professioneller Musiker tätig. Nach drei Jahren im Orchester von Stan Kenton spielte er für zwei Jahre bei Maynard Ferguson.
Einer größeren Öffentlichkeit ist er vor allem durch seine Mitarbeit in der Fusion-Gruppe Weather Report (ab 1978; zu hören u. a. auf "Mr. Gone") bekannt geworden, die er nach fünf Jahren verließ, um dann bei der Fusionband Steps Ahead zu spielen.
Zusammen mit Bassisten wie Jaco Pastorius, John Patitucci, Michael Formanek, Marc Johnson, Eddie Gomez, Dave Holland, Michel Benita, Palle Danielsson, Dave Carpenter und Buell Neidlinger bildete er legendäre Rhythmusgruppen.
Erskine hat als Schlagzeuger bislang an über 700 LP- oder CD-Produktionen mitgewirkt. Er hat neben dem Jazz auch mit Musikern aus Pop und Rock zusammengearbeitet. Seit den 1980er Jahren nahm Erskine auch als Leiter eines eigenen Trios eine Reihe von Alben für das Münchner Label ECM auf, an denen der Pianist John Taylor und der Bassist Palle Danielsson mitwirkten.
Als Solist trat Erskine mit dem Beethoven Orchester Bonn auf, ebenso wie mit den Symphonieorchestern in London, Los Angeles und Chicago, mit dem Tokio Metropolitan Orchestra und den Berliner Philharmonikern.
Gemeinsam mit dem Bonner Beethoven Orchester realisierte er die Uraufführung von Mark-Anthony Turnages "Erskine - Concerto für Drumset & Orchestra", der eine weitere Aufführung bei der "Hollywood Bowl" mit dem Los Angeles Philharomic Orchestra folgte.
Auch als Verfasser von Lehrbüchern und Lehrvideos hat sich Erskine verdient gemacht. Die DVD, "The Erskine Method for Drumset" (Alfred Publishing Co. Inc.) dokumentiert sein pädagogisches und musikalisches Talent sehr nachdrücklich.
Erskine wurde zehn Mal von den Lesern des "Modern Drummer Magazine" zum "Best Jazz Drummer of the Year" gewählt, eine Ehrung, die zu seiner Aufnahme 2017 in ihre Hall of Fame führte. Zu seinen jüngsten Veröffentlichungen gehören mehrere innovative Mitspiel-Apps für iOS sowie seine Autobiografie "No Beethoven".
---
Peter Erskine Trio: Line-Up

Peter Erskine - Schlagzeug
Alan Pasqua - Piano
Darek Oles - Bass