Cyminology - Biographies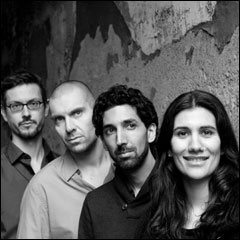 Cymin Samawatie - vocals
Benedikt Jahnel - piano
Ralf Schwarz - double bass
Tobias Backhaus - drums, percussion

Guest:
Martin Stegner - Violine
---
Cymin Samawatie - Gesang

Born to Iranian parents in Germany, Cymin Samawatie was raised bilingually and bi-culturally. She studied classical music in Hannover, focusing on percussion and piano, as well as jazz voice and composition in Berlin, where teachers included Jerry Granelli and David Friedman.
She founded Cyminology in 2002. Since 2010 she has also been collaborating with musicians from the Berlin Philharmonic Orchestra.

Benedikt Jahnel - Piano, Komposition

Born in France and raised in southern Germany, pianist Benedikt Jahnel studied Jazz at the University of Arts in Berlin and City College New York. He is also an ECM bandleader in his own right, recording the trio album Equilibrium in 2011 with Antonio Miguel and Owen Howard.
He has played with many international jazz musicians including Phil Woods, Charlie Mariano, David Friedman, Wolfgang Muthspiel, Dave Liebman and John Abercrombie.

Ralf Schwarz - Kontrabass

Ralf Schwarz has collaborated with Cymin Samawatie in diverse projects for more than twenty years. After playing first organ and then guitar he took up double bass and electric bass in 1999, and from 2000 studied at the Hochschule für Künste in Bremen. Since 2003 he has been based in Berlin.

Tobias Backhaus - Drums, Percussion

Tobias Backhaus began drumming at the age of 5 years. He learned from jazz greats like John Riley, Ari Hoenig, Jim Black, Jeff Ballard and Keith Copeland and is currently studying percussion and composition at the Jazz Institute Berlinwith Prof. John Hollenbeck.

Martin Stegner - Violine
Martin Stegner, violist with the Berlin Philharmonic, has also participated in Diwan der Kontinente, the "world orchestra" established by Cymin and percussionist Ketan Bhatti. He has had a deep interest in jazz and improvisation since his youth and has investigated music of other cultures in his own projects. In 2008 he founded the chamber group Bolero Berlin to explore Latin American repertoire.