Dotschy Reinhardt - Sprinkled Eyes
"Sprinkled Eyes" gathers multi-coloured impressions from the richness of her diary, becoming new adventures here and now. There's a relaxed swinging tribute to the Brazilian guitarist Toninho Horta., the amazing serenades "In Town" and "Love's Shore" with flattering, whispering timbre, or the bluesy stroke of genius "Home – Kehre" with a reverence to Donald Fagen.
---
CD: Dotschy Reinhardt - "Sprinkled Eyes"
Lineup:
Dotschy Reinhardt (voc), Ulli Bartel (mand, viol), Christian von der Goltz (rhodes, p) Armando Chuh (perc), Alexej Wagner (g), Gregoire Peters (fl)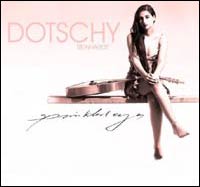 Katalog-Nr.: GMC018
Label: Galileo MC (LC-12661)
© + (P) 2006 Galileo M C
www.dotschy.com
With flexible and sensual phrases she gets a very female perspective out of one of her all time favourites, Sinatra's "The Moon Was Yellow". The title track is a dreamy acoustic pop pearl, dedicated to her uncle. On "Dschinea Du Gar / Without You" a Wes Montgomery-solo is cleverly woven in and reveals one more pillar of her inspirations.
And the metamorphosis of Django at times happens rather veiled and tongue-in-cheek, like in "Gaj Rath" and "Girls Like Me", then candidly like in her new version of "Nuages": Being relieved from the usual gipsy swing line-up, and instead of that welcoming a Fender Rhodes and the "simple and truthful" (Dotschy) lyrics by Tony Bennett, it presents itself as a newly dressed masterpiece. "It is very important for me to have a personal opinion, a personal rendition to every song. After a long time I've found my own version of 'Nuages' with this arrangements"; she affirms.
But it is not exclusively on a musical level that "Sprinkled Eyes" offers new insights. For Dotschy the decision to sing in Romanes, the idiom of her people, does matter. "Singing in our language, which goes very beautifully along with music, I am able to decrease prejudices. At the same time it is important to me to hold on to traditions. Many people fear to show that they are different, to approve their identity, and that's what the lyrics of 'Sinto' talk about. It's an appeal to vouch for your roots."
"Roots" to the Sinti people means being on the road, home is not defined by a certain place or country, it is rather to be found in "the taste of wine, the sound of the ocean waves, in the security that your family and your own faith gives to you", she says almost poetically. And you can add: Home is also to be found in music. With her brilliant debut Dotschy Reinhardt has created for herself - and surely for many listeners – a new place where you can feel at home.
Stefan Franzen
Sound