Daniel Karlsson: Pressestimmen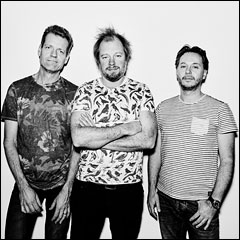 Daniel Karlsson Trio
---
Internationale Pressestimmen
Süddeutsche Zeitung, 27.02.2020
Von Ralf Dombrowski
Gruppenenergie
Pianist Daniel Karlsson und sein Trio im Night Club
Seine Schultern erzählen die Geschichte. Sie ziehen sich zusammen, wenn Daniel Karlsson in sich hineinhört, bilden mit den Händen am Klavier und dem nach vorne gesenkten Kopf ein Oval, eine in sich geschlossene Form, wenn die Klanglinien feine, persönliche Motive andeuten. Dann, in Phasen der pianistischen Eruption, wenn die Töne nur so perlen und sich stellenweise zu wuchtigen Kaskaden aufhäufen, öfnen sie sich nach oben, bilden asymmetrische Formen, nie ganz ofen, stets ein wenig kontrolliert, als wolle der schwedische Pianist zwar sein Publikum im Bayerischen Hof an den Ideen und Assoziationen teilhaben lassen, zugleich aber immer ein Stück für sich behalten.
Das wiederum passt zum Gesamteindruck, den er und sein Trio vermitteln. Denn das Programm, vor allem in der zweiten Hälfte des Konzertes, ist ein sich über lange Stecken entwickelndes Wechselspiel der Stimmungen und wirkt wie ein an einzelnen vorüberlegten Elementen sich entfaltender Musikstrom mit wechselnden Zuständen gestalterischer Freiheit. Auf der einen Seite stehen klare, eingängige Melodien, die Karlsson selbst sogar gelegentlich mitpfeift und womit er in hörbarer Vertrautheit die Basis der Kommunikation mit dem Bassisten Christian Spering und dem Schlagzeuger Fredrik Rundquist als Höranker schaft.
Er spielt gerne mit weiten Hallräumen, kleinen kosmetischen Efekten, die den Naturklang des Klaviers verfremden, doppeln, im Echo irisieren lassen und liebt dabei vor allem die Herausforderung, auf das stellenweise vehemente rhythmische Geflecht der anderen zu reagieren. Dann aber kippen die suitenartig kombinierten Stücke in ausladende Improvisationen, die, von der Gruppenenergie getragen, hypnotische Momente erreichen. Karlssons Kunst ist dabei nicht stilbrechend, sondern verbleibt innerhalb des harmonisch- melodisch Tonalen. Aber sie ist sein Ding. Es sind seine Geschichten, die er mit inwendiger Kraft erzählt und manchmal mit einem Lächeln krönt.
Frankfurter Allgemeine Zeitung, 29.02.2020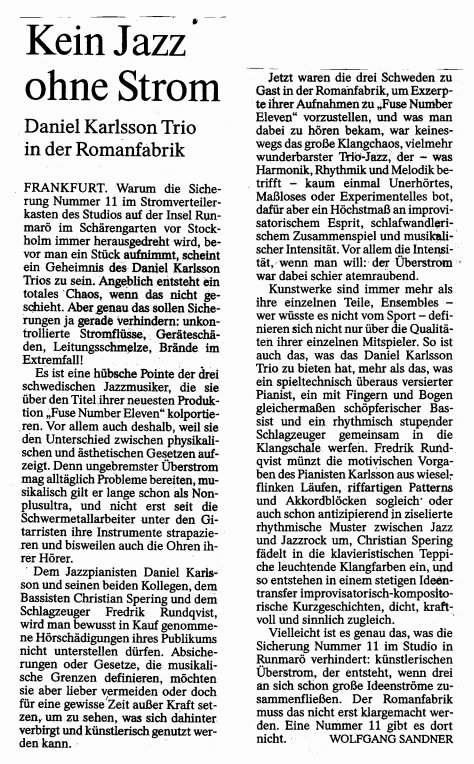 Passauer Neue Presse, 27.01.2020
Das Mantra vornehmer Schweden
Daniel Karlsson-Trio verzückt im ausverkauften Café Museum
Wenn drei musikalische Könner auf der Bühne gemeinsam zu meditieren scheinen, in ihren Instrumenten versinken wie Comic-Pianist Schroeder bei den Peanuts, dann zelebriert das Daniel Karlsson-Trio seine ganz eigene und wunderschöne Jazz-Klangwelt. Die Schweden füllten mit ihrem Gig am Freitag mühelos das Café Museum.
Mühelos ist zugleich ein Stichwort, um den kompositorischen, dramaturgischen und wendungsreichen Ausdruck von Ausnahmepianist und Frontmann Karlsson zu markieren. Ein Hauch Folklore weht mit hinein in die hier dramatischen, dort pop-blumigen Melodien, die plötzlich noch minimalistischer, zarter oder aber krass härter, rhythmischer, funkiger werden können. Manche Stücke boten, stets ohne Notenblatt, mit Karlsson Kontrabassist Christian Spering, der die Saiten zu Gitarrenklang zu verkürzen versteht, und der zartfeine, phantasievolle Schlagzeuger und Perkussionist Fredrik Rundqvist nahtlos aneinandergereiht. Zwischen anderen schlug der Pianist, der zuweilen auch elektronische Effekte beisteuerte, eine Klangbrücke oder übernahm die Moderation.
Gleich drauf meditieren sie schon wieder virtuosest, alle nach demselben verinnerlichten Mantra, mitunter in drei unterschiedlichen Modi, diese einnehmenden, vornehmen Schweden. Und dieses Mantra ist kraftvoll, oft fließend, aber schon auch getupft, pfiffig, verträumt, bassseitig mal gezupft, mal gestrichen, kurvig und abholend zugleich, eingängig. EinWohlfühl-Abend auf enorm hohem Niveau.
Christine Pierach
Jazz Online, 07. November 2018
Q&A: Daniel Karlsson
We first heard Daniel Karlsson and his trio featured on a Spotify playlist a few months back. The track was "Salzburg" from the trio's recording entitled 5 and we were immediately mesmerized. We have since listened to all five albums recorded by the Swedish trio and have become enthusiastic fans of their music. The leader Daniel Karlsson, who composes all of the music and is featured on piano and keyboards, is no rookie to the scene. He has been a prominent player for decades in the group Oddjob, a member in Magnus Oström's band and has worked with Til Brönner, Nils Langren and many others. We caught up with Daniel during a break from touring to learn more about him and his exciting trio.
(Jazz Online) What was your first recollection of jazz growing up?
(Daniel Karlsson) One particular memory that pops up is me listening to the Swedish national radio P2. There was a jazz concert with a hammond organ broadcasted. I remember the whining sound of the organ and the continuous hammering on the ride cymbal thinking that it all sounded awful. This must be the most boring music existing.
What was the first jazz recording you ever purchased?
I grew up in a small town, Kristinehamn, with only one existing record store called Duvan (the Dove). The jazz selection was far from comprehensive. Instead I got some cassettes from my music teachers with stuff like Yellowjackets to complete my parent's collection of older jazz. I do remember though that I wished for Miles Davis' Amandla for my 16th birthday and I got it!
One of our favorite jazz albums from Sweden is Jan Johansson's Folkvisor – Jazz på Svenka. Did that recording have an impact on you and your playing?
That's probably the first jazz music I learned to appreciate. That record was among my parent's vinyls. I listened to it a lot and finally started to do my own Jazz på Svenska. I recorded a double bass that I borrowed from school with a mic. Then I played my noisy bass recordings loud on my parents stereo while playing piano in addition and recording everything on another smaller cassette player with a small built in mic. It was a riot of noise! I wonder if those tapes are still somewhere in the house.
Who are your main influences on piano and keyboards?
Keith Jarrett. One of my teachers living in the neighborhood stuck My Song into my hands one summer when I was 15. Luckily i was on a school leave because I didn't sleep at all that night.
Sweden has produced many profound and talented jazz artists (ie: Lars Gullin, Bobo Stenson, Palle Danielsson, Anders Jormin, Ulf Wakenius, Esbjörn Svennson and others), how would you describe the Swedish approach and influence on the music?
The Swedish approach to jazz is probably springing from lack of jazz tradition. I guess that back in the days Swedish musicians did what they could to sound as American as possible, but they were always identified as Nordic in their tonal language, timing and harmonics. Most likely because of their own tradition of Swedish folk music and the fact that they where usually educated in classical music. Nowadays Swedish musicians in general have given up the aim to sound American. Instead we're widening the conceptions.
How has working with Oddjob and Magnus Oström influenced your playing and composing?
My 20 years with Oddjob have taught me not to be scared of criticism and expectations. We've grown a confidence together which I can bring into my trio. Magnus has thought me that odd meters doesn't necessarily sound odd and are not necessarily hard to play once you base them on riffs.
Can you tell us how you started your trio?
Actually, I got the final spark for really getting started at the memorial ceremony for Esbjörn Svensson. This was held at Rival in Stockholm. I never really followed the trio before Esbjörn's tragic passing, and what they showed at the ceremony in terms of videos from their career was astonishing. Their commitment to their work and the music was really something else. And they managed with the impossible to reach out! I was really touched and of course emotional that sorrowful evening even though I didn't really know him personally. However, a couple of nights later me and a friend spent one entire night in front of the screen intensively watching all the YouTube clips of E.S.T. (Esbjörn Svensson Trio) we could find. That was probably the start of my own trio.
One of the exciting and identifiable aspects of your trio is its sound and specifically your use of acoustic piano and electronic elements. How do you approach incorporating those sonic elements into the trio?
All the additional stuff, like keyboards and effects, are ideas that are coming once we listen to the recordings of the trio playing the songs. It's always depending on what the clean trio sounds like. The concept is probably a fruit of my previous years with Oddjob and as a keyboard player and studio musician on various occasions. We've had the intentions to release a more acoustic album during the last 3 releases but it always ends up the other way around. Maybe this is a fetish I cannot control.
How has trio evolved since your first recording Dax Taxibåt.
We've matured in a way that brings more depth into our musical expression. The more happy straight forward heads from our first outings are nowadays mixed with tunes of more melancholic nature. A quote from a review of our second album Fusion for Fish was "modern happy jazz." By then I realized that all the songs where in major keys on that album. Despite that Fusion For Fish won the Swedish Grammy. On our third album, At The Feel Free Falafel, we needed a new bass player since Kristian Lind moved to Turkey. That of course brought other spices to our sound.
What is the best thing about playing jazz?
My instant thought is all the fantastic food we usually get invited for during tours.
Name one recording that cannot live without.
My Song – Keith Jarrett
What is your favorite escape?
A long jog in a city I don't know. I love getting lost for a while! I also love sailing in the Stockholm archipelago, but then I don't appreciate getting lost the same way. Spending time with my kids totally on their conditions is always a big relief from my daily issues as a musician.
---
"5"
"Their continuous search for musical perfection has taken the Daniel Karlsson Trio, through the years, to an intense and fascinating journey, culminated in a record like this that celebrates the band's great understanding and appreciation for music and the will to continue to explore the never ending highways of sound." Giovanni Pilato, Bluebirdreviews
"Looking for music to brighten your day but also energise you with the power of an ocean storm? Number 5 could be what you need" Rob Mallows kind of jazz (GB)
"Al met al is dit vijfde album van dit Zweedse trio een magnifiek groeiplaatje en een absolute aanrader." Moors magazine (NL)
"Warm en spontaan, dat zijn de lemma's, die in mij opkomen bij het beluisteren van deze alweer heerlijke plaat" Rootstime (BE)
"Det är personligt men tål även att projiceras utanför individen, som på en duk där musiken ges utrymme för mer än bara ett intimt tilltal och ett format knutet till jazzen som genre" DN (SE)
Fusion for Fish
"Musik wie ein Reisebericht." Schwäbische Zeitung (DE)
"Traumatisch schön" KultKomplott (DE)
"A very welcome hour of fusion-tinged power jazz." London Jazz News
"…ett rejält kliv framåt på den europeiska jazzscenen." DN (SE)
"Rakt igenom bibehåller herrarna en helt suverän energi." Lira (SE)
Das Taxibåt
"In a market where piano trios abound, the Daniel Karlsson Trio stands out as a trio brimming with ideas …one of the most exciting of contemporary pianists" All about jazz (GB)
"Es gibt derzeit wenig andere Musik, die so ökonomisch das Maximum aus den eingesetzten Mitteln herausholt " Süddeutsche Zeitung (DE) – Review live gig at Unterfahrt, Munich Feb. 2017
At The Feel Free Falafel
"Synnerligen raffinerat och hippt" DN (SE)
Ding Dong
"Another bull's eye by Daniel Karlsson Trio, one of Sweden's most creative bands right now" Lira (SE)
"Five words to sum it up? Riveting. Cool. Playful. Unconventional. Most of all, enjoyable" Rob Mallows, Kind of Jazz (GB)
"Há um factor experimental na música que leva o projecto muito além dos paradigmas estabelecidos… com uso de dissonâncias e de métricas intrincadas que vão sofrendo súbitas mudanças, o que faz com que sejamos continuamente surpreendidos" Rui Eduardo Paes, jazz.pt (PT)
"Un evento ricco di sfumature a lizzano suona il trio che ha conquistato l'Europa" La gazzetta del Mezzogiorno (IT)
"Un bon exemple de cette musique libre, inventive, dont le rayonnement et l'influence s'affirment toujours plus au fil des années" Jacques Aboucaya, Le salon littéraire (FR)
"With Spering and Rundqvist, Karlsson has a trio one can listen to for a long time, and constantly discovering something new" Johannes Cornell, DN Review Live at Fasching April 2017
---
Jazz Thing 118, Ralf Dombrowski, März 2017
Daniel Karlsson Trio: Ding Dong
Längst haben die Nullerjahre ihre Spuren hinterlassen. Wenn sich ein Pianist wie Daniel Karlsson ans Klavier setzt und zusammen mit dem Bassisten Christian Spering und dem Schlagzeuger Fredrik Rundqvist ein Album aufnimmt, ahnt man Musiker wie Esbjörn Svensson oder Ethan Iverson im stilistischen Stammbaum. Dazu kommen andere Einflüsse, etwa aus der Fusion der 1980er, als singende Keyboards zum Inventar vieler Combos gehörten, oder von der rockigeren Band Oddjob, mit der Karlsson zuweilen arbeitet. Das vierte Album "Ding Dong" führt die Schweden nun weiter auf ihrem Weg in die Eigenständigkeit, anhand ungewohnter Soundeffekte etwa des präparierten Klaviers, darüber hinaus aber durch die konsequente Reduktion des musikalischen Materials auf karge und zugleich extravagante Themen. Damit überschreitet das Daniel Karlsson Trio zwar keine Grenze des Unerhörten, verweigert sich aber auch der lauernden Gefälligkeit des klassischen Triospiels.
---
Süddeutsche Zeitung, Oliver Hochkeppel, 05. Februar 2017
Daniel Karlsson Trio spielt in der Unterfahrt
Tempobolzereien
Das "Taxibot" hat er immer noch, die kleine Fähre, mit der er zwischen Stockholm und der Schäreninsel pendelt, auf der er mit 250 anderen Bewohnern lebt. Doch Daniel Karlsson fährt sie inzwischen seltener, seit er der feste Pianist von Oddjob und der Band von Magnus Öström ist, dem ehemaligen e.s.t.-Schlagzeuger. Und auch sein eigenes Trio schiebt Daniel Karlsson wieder verstärkt an, nachdem er für sein letztes Album "Fusion For Fish" den schwedischen Grammy gewann. Mit dem soeben erschienenen Nachfolger "Ding Dong" ist er jetzt auf Tour, und in der Unterfahrt demonstrierte er, dass er in mehrerlei Hinsicht der legitimste der vielen Nachfolger von e.s.t. ist.
Das beginnt schon mit dem Gespür für minimalistische, dafür umso eingängigere Themen und Melodien. Die werden wie einst bei e.s.t. schleifenförmig umspielt, variiert, dynamisch aufgeladen und - auf den Alben mehr als live - mit Sounds angereichert. Wobei Daniel Karlsson als Spezialität gerne zwei überlappende, mitunter gegenläufige Motive auf linke und rechte Hand verteilt, von denen eines dann oft von Christian Sperings Bass gedoppelt wird. Ohnehin ist die Rhythmik ganz auf dem aktuellen Stand, oder wie es ein anwesender Musiker so schön formulierte: 15 ist die neue 4. Soll heißen, dass Karlssons Trio allerlei ungerade Metren verwendet. Allerdings absolut flüssig und im Zusammenspiel bis auf die Tausendstel exakt, weshalb das alles völlig "gerade" klingt. Ohnehin verleiht der großartige Schlagzeuger Frederik Rundqvist noch den vertracktesten Wechseln einen federnden Groove.
Ob also alte Hits wie "Cousin Cuisine" oder neue Stücke wie "A Man And His Umbrella", ob Balladen oder Tempobolzereien, es gibt derzeit wenig andere Musik, die so ökonomisch das Maximum aus den eingesetzten Mitteln herausholt, die so atmet und einen derart in Schwingung versetzt. Wenn Nachfrage nach Qualität ginge, müsste ein weltweit wachsendes Publikum Karlsson noch weit weniger Boot fahren lassen.
---
Nordische Musik
Das Taxibåt
Daniel Karlsson ist Pianist bei der famosen Band »Oddjob«, arbeitete auch schon in Magnus Öströms Band und mit vielen anderen Musikern. Er wird gelegentlich als Erbe Esbjörn Svenssons gesehen, stilistisch sind sich die beiden Schweden durchaus ähnlich. Wie bei e.s.t. geht es Karlsson weniger um die Zurschaustellung instrumenteller Meisterschaft, sondern um einen Gruppensound und einprägsame Melodien auf griffigen Rhythmen. Folgerichtig gibt es nicht allzu viele Soli von Bassist Kristian Lind und Drummer Fredrik Rundqvist.

Der eröffnende Titelsong ist ausgesprochen catchy und zeigt Karlssons Nähe zu Svensson. Ganz wunderbar ist der »Cowboy Song«, an dessen Ende Rundqvist mit den Trommeln klingt wie heranreitende Indianer. In »Johansson's Temptation« streut Karlsson spröde Improvisationen über wenige Akkorde, eher elegant und behutsam gehen alle in »Sergio Giorgini« zu Werke. Dazu kontrastiert perfekt »Christney's Bass Lesson« mit nervös-freien Passagen. »Positiv Man« ist dann wieder so ein fast rockig groovendes Stück – könnte eben doch von Svensson sein. (tjk)