Daniel Karlsson
The trio have since their album debut "Das Taxibåt" in September 2013 established themselves as one of the most appreciated constellations in European jazz. In many respects their music reminds audiences and critics of legendary Swedish trio e.s.t., not least through the magnificent hat trick brought home by their sophomore album "Fusion for Fish", released in August 2014. It ended up winning the Swedish Radio's Jazz Group of the Year Award 2014, Swedish jazz magazine OJ's Golden Disc 2015 as well as the Swedish Jazz Grammy 2015. Both their fourth release "Ding Dong" in 2017 and their fifth album "5" in 2018 were nominated for the Swedish Grammy Award for best jazz albums. In October 2019 their sixth album "Fuse Number Eleven" was released by Playgrounds Music Scandinavia and selected by internet platform All About Jazz as "Jazz Album of the Week" in the last week of February.
Daniel Karlsson has already played with jazz greats such as Nils Landgren, Rigmor Gustavsson, Viktoria Tolstoy, Till Brönner, Ernie Watts und Peter Erskine. He is one of the founding members of Oddjob und member of Magnus Öström Band.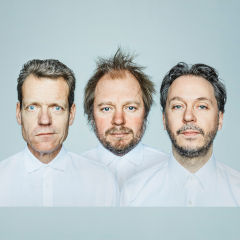 Daniel Karlsson Trio
>>> Pressefotos
Daniel Karlsson Trio
Daniel Karlsson - piano, keyboards
Christian Spering - bass
Fredrik Rundqvist - drums & percussion
---
Their 2016 release, their third album At the Feel Free Falafel, also garnered a lot of attention with favourable reviews and extensive radio play. The same is also true about their fourth full length title Ding Dong released in 2017. An album that has just given them another nomination for a Swedish Grammy Award for best jazz album in 2018.

As before their flow and rather astonishing production of new music continue. Five years after the dynamic trio's record debut mastermind Karlsson presented their fifth album aptly titled "5". Positively brimming with creative music in seven new songs from Karlsson's prolific pen, as melodic and powerful as always, maybe even more so this time, and once more proved themselves as a force to be reckoned with.
With their sixth studio album, produced by Göran Peterson and recorded in Runmarö in Stockholm's archipelago the trio continue to explore the boundaries and inner workings of jazz, with band leader Daniel Karlsson's dynamic piano in the center, Fredrik Rundqvist on drums and percussion and Christian Spering on contra bass. The album title alludes to the fuse box in the studio, where fuse number eleven must be screwed out before recording, if not, there would be a total mess of things. As always it comprises a well-balanced set of original songs by bandmaster Karlsson. At the core, the acoustic piano trio with a topping of electronics added to the mix. But perhaps not so generously spread this time around. Fuse Number 11 is set in a more pensive mood and is also more ballad oriented than the trio's previous titles. The cutup, collage oriented working process of its five predecessors not so accentuated. Still the soundscapes are present on this one as well.