Gebhard Ullmann: ullmann/swell 4
G. Ullmann (bcl, sax), Steve Swell (tb), Hill Greene (b), Barry Altschul (dr)
The 'ullmann/swell 4' is the new format of Gebhard Ullmann and Steve Swell with bassist Hill Greene and legendary drummer Barry Altschul.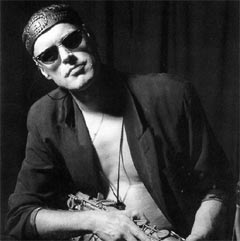 This emotional and intense quartet toured in the U.S. and Canada and recorded their first cd for the cimp label in 2004.
In October and November of 2006 the 'ullmann/swell 4' will be performing in europe for the first time.
Tourneezeitraum: 27.10.06 - 16.11.06
Bookinganfragen: booking@proton-berlin.de
---
Press Voices
Scott Yanow (Allmusic Guide, USA '05)
about 'desert songs and other landscapes'
" this is a fiery set full of explorative colorful solos and dynamic group interplay."
---
Jay Collins (one final note, usa 1/'05)
about 'desert songs and other landscapes'
" the road-tested results that define these absorbing compositions verify the deep commitment that these players have to the music. with each undertaking of desert songs and other landscapes, the group's goal of earnest communication proves quite compelling."
---
Laurence Donohue-Greene (All about jazz, new york 10/'05)
about a concert of the 'ullmann/swell 4 featuring barry altschul'
" ...forthright in their solos, uptempo and ballads alike - ullmann and swell's thick, dynamic harmonies melded seamlessly, showing why trombone and tenor have had such a lucrative relationship in jazz. for this group, ullmann consciously and impressively showcases his flexibility and expertise on tenor over his other 'first' instrument - the bass clarinet. reminiscent of the ny art quartet this quartet's tight heads and arrangements, intertwining improvisations around highly structured pieces, demanded undivided attention."
---
The Band
Steve Swell - trombone

Born in Newark, New Jersey, Steve Swell has been living, working and performing in New York City for all of his adult life. He has toured and recorded with such diverse jazz personalities as mainstreamers Lionel Hampton and Buddy Rich, to so-called outsiders like Anthony Braxton, William Parker and Jemeel Moondoc. Swell has twelve recordings as a leader or co-leader and is a featured artist on more than sixty other releases.
He first came to public attention performing with Makanda Ken McIntyre in the multi-instrumentalist's concert at carnegie recital hall in 1985. he toured and recorded with altoist Tim Berne and his group 'caos totale.' (two cds on the jmt label). During this time steve also toured and recorded with joey baron's 'barondown' who released three cds on jmt, new world and avant.
Even though he is identified with the 'downtown scene' swell has been developing his style in the more so-called 'traditional avant-garde' arena. Co-leading projects such as 'space, time, swing' with perry robinson, being a sideman in William Parker's 'little huey creative music orchestra' and working with other similar people has kept him on this circuit.
His newest cd, 'unified theory of sound, this now' featuring Jemeel Moondoc, Cooper-Moore, Wilber Morris, Kevin Norton and Matt LaVelle, was released on the cadence label in march 2003. swell was a featured soloist in Anthony Braxton's opera, 'shala fears for the poor.
---
Hill Greene - bass

Hilliard 'Hill' Greene is an extraordinary musician and composer. for the past fifteen years, he has served as bassist and musical director for the great Jimmy Scott and the jazz expressions. Notably, he has also played and recorded with Dave Douglas, Charles Gayle, Oliver Lake, Jack Walrath, and Kenny Barron. A rare bassist who not only exemplifies the art of swing through his masterful walking bass lines, Hill Greene also brings something entirely new and fresh to the instrument.
---
Barry Altschul - drums

Barry Altschul is a magnificent drummer who gained fame in the late 60's with pianist Paul Bley. He has beautiful traditional chops and when he recorded with Chick Corea, Anthony Braxton and Dave Holland during the circle era, Barry had a high-pitched Gretsch kit with add-on drums and percussion instruments, which he integrated seamlessly in a whirlwind of sound. No one sounded quite like him at the time, and his nuclear energy served him well when he teamed up with Sam Rivers and Anthony Braxton throughout the seventies. Barry also made a few excellent solo albums.