Gebhard Ullmann: Clarinet Trio
Jürgen Kupke (cl) Michael Thieke (acl, cl) Gebhard Ullmann (bcl)
Das Trio hat sich auf das Abenteuer eingelassen, ohne Begleitinstrumente auszukommen. Aus dieser Freiheit ist eine faszinierende Mischung aus Komposition und Improvisation entstanden, die sich musikalisch keine Grenzen setzen lässt.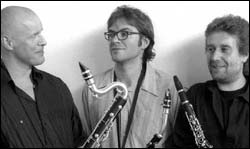 Clarinet Trio (Foto: J. Lepage)
>>> Pressefoto
Nicht zuletzt aufgrund seiner ungewöhnlichen und humorvollen Inszenierungen begeisterte das Trio bereits weltweit das Publikum bei zahlreichen großen internationalen Festivals wie beispielsweise in Montreal, Vancouver, Grenoble, Nîmes, Nevers, Apt en Province, Bath, Groningen und Rudolstadt und Potsdam. Als Repräsentant des deutschen Jazz trat das Trio beim Euro-Jazz-Festival in Mexiko City auf.
---
the downbeat
about the trio's performance at the vancouver jazz festival 2002:
"germany's gebhard Ullmann clarinet 3 was one of the most rollicking small-groups of the festival. the clarinetists raced around each other's upper-register counterpoint on material that ranged from film composer nino rota's themes to an outrageous version of "tea for two." the band proved that italian and dutch improvisers don't have a european monopoly on humor."
---
" ...en un mot, le choc libérateur et subversif des cultures"
(roger fontanel, france)
quotes on the second cd "translucent tones"
(leo records april 2002.)
"this is a standout cd. a group which establishes a genre. on-one else will be able to play in this field without comparison with the Ullmann clarinet 3"
(tim dorset, jazzreview, uk)
"...their latest effort rings like a comprehensive study in modern jazz clarinet/improvisational fare. a superb effort ! fervently recommended !"
(glenn astarita, allabout jazz, usa)
"ausgeklügelt, klasse - und ein Dokument der moeglichkeiten des klarinettenspiels an sich."
(carina prange jazzdimensions.com, berlin)
"...this trio has reached a peak. the ease of conversation is remarkable as the three make the complex arrangements flow effortlessly. highlights include both of Ullmann's "translucent tones"-they stand among his best compositions. the trio is witty, playful, tender when necessary and quite fun to listen to - no poise, no rigid concept, just three clarinets with an all-encompassing knowledge of their instrument's legacy, led by a skilled avant-garde jazz composer."
(francois couture allmusicguide, usa)
---
steve day
(avant magazine, uk) about the cd "the clarinet trio, oct. 1, '98" (leo lab records 1999)
"oh boy, good news! calling michael moore and tony coe, here is some stuff to listen to which will be healthy for your digestive systems! two exclamation marks in as many sentences, i must be getting excited. my only previous encounter with gebhard Ullmann was an early 90's cd that he recorded with ellery eskelin for soul note called "basement research". it was a friend's copy and i always meant to get myself one but never got round to it.
it is probably now too late, however this absolutely superb recording from the great home of the inquiring mind, leo records, is just the ticket. what's it like? it goes something like this: imagine the clusone trio were all clarinets, han bennink did not play drums but blew bassclarinet instead. imagine the great tony coe had finished hunting standards and was back in the business of experimentation for its own sake.
perhaps also conceive of an art ensemble of chicago where famoudou don moye had gone on holidays and there are only clarinets left in the arsenal. or how about steve beresford cocktail club with clarinet accompaniment? well, take all that lot together and it is somewhere near where the clarinet trio have pitched their reeds. in other words this is fun music with serious intentions. music that moves between formal german classical song form, european "free" music values, blues and gospel, new composition and a little tin pan alley.
if that sounds like a total mish mash of bits and pieces then i need to keep on writing. what juergen kupke, gebhard Ullmann and theo nabicht achieve on this october date is a bringing together of these varied forms so that they follow on from one another like an integrated suite of music. a totally joyous rendition of a "tea for two" which would have had all the cups spilling over and a need for a new table cloth is actually preceded by a "scratch" improvisation that takes each of the three clarinets to the outward bounds of the individual instruments capabilities.
once the cups of tea are served, messers Ullmann, kupke and nabicht do not give away the sharp experimentation of the previous piece, rather it is held in a kind of relief. likewise, "brywzc", which follows the tea ceremony, is a dark, hollow incantation that is powerful in its restraint and purpose. the "suite" finishes with a quirky little waltz that at first does not seem to know whether to laugh or cry. in the end it does neither, instead our ears are led into the kind of epilogue that signs the trio off with a poignant flourish. i suppose 'poignant flourish' could be considered as a leap of genuine joy. i started this review with announcing a bit of good news. it does not come that often. some people would say that the way the so-called civilized society of europe is imploding in parts of the balkans right now, announcing a berlin recording of a (the) clarinet trio cd as a piece of good news is an act of bourgeois nonsense. perhaps before the final war dance of this century is over we will need to feel a little glad that, at least somewhere, in the ruins of past disasters, there are still people who can find a cause for considered celebration."
---
infos/discography of kupke and thieke
Jürgen Kupke:
born 1960
works in a wide range of musical projects from composed contemporary music to oldtime.
cd's:
with frigg: "dust diary" (99records '97), "doenerfressing woman" (99 records '96), "isn't it a tango" (99records '95) with hermann keller (wergo '95) with ta lam zehn: "moritat" (99records '95), "ta lam" (songlines recordings '98), "vancouver concert" (leo records '00)
Michael Thieke:
born 1971
is a member of (a.o.): "nickendes perlgras" (with michael anderson, tp, eric schaefer, dr), "zoofago" (with michele rabbia, dr, antonio iasevoli, g), "dok wallach" (the music of charles mingus with daniel erdmann, ts, johannes fink, b, heinrich koebberling, dr), "schiik" (with stephan meinberg, tp, ralph beerkircher, g, christian thomé, g) his other collaborations include: steve lacy, jim black, sabine vogel, gary peacock, john schroeder, herb robertson, billy bang, alessandro bosetti, rudi mahall, ed schuller, joe williamson, gregor hotz ...
cds:
with Adam Noidlt Intermission:
"eine permanente helle flaeche" (jazzhausmusik)
with Nickendes Perlgras:
"die hintere vase" (jazzhausmusik '00)
with Andreas Schmidt feat. Gary Peacock:
"berlin 1999" (zerozero '99)
with Eric Schaefer:
"demontage" (jazzhausmusik)