Current Focus: Gebhard Ullmann
>>> Gebhard Ullmann: Biographie, deutsch
Gebhard Ullmann, born in 1957 has recorded more than 20 cd's including final answer, kreuzberg park east and basement research (soul note), translucent tones, vancouver concert and clarinet trio, oct 1, '98 (leo rec), essencia (between the lines) and tá lam (songlines recordings) (nominated best jazz cd of the year by the german schallplattenkritik).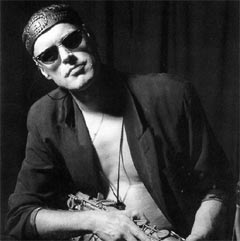 Gebhard Ullmann
He received several awards for his work i.e. the "julius hemphill composition award" ('99), the deutsche phonoakademie award ('83), one of the first swf (german radio) jazz awards ('87), several awards from the city of berlin ('90's) and toured with his music europe as well as africa, australia, new zealand, the u.s., south east asia, canada, mexico ...
Since 1993 Ullmann is a recording artist for soul note and commutes between new york and berlin. his releases for soul note, leo records, songlines and between the lines have been widely critically acclaimed on both sides of the atlantic ocean and have all been listed in the us-college-radio-jazz-charts.
Ullmann's working bands are: the new york quartet basement research (with tony malaby, drew gress, phil haynes), the berlin woodwind / accordion ten-piece project tá lam zehn, the cooperative band conference call (with michael 'jefry' stevens, joe fonda, han bennink/george schuller), the clarinet trio (with juergen kupke and theo nabicht), the trio essencia (with carlos bica and sylvie courvoisier) and the transitional erasers (with herb robertson and frank moebus). he is also a member of the guenter lenz springtime and does appear in several programs with the actor otto sander.
Ullmann worked together with paul bley, andy emler, han bennink, satoko fujii, marvin 'smitty' smith, laurent cugny, ellery eskelin, bob moses, keith tippett, tiger okoshi, bobby previte, ernst ludwig petrowsky, glen moore, trilok gurtu, kevin norton, lauren newton, steve argueelles, lee konitz, alexander v. schlippenbach, hans hassler, willem breuker, tom rainey, enrico rava, michael riessler, rita marcotulli, michael moore, bob stewart, dieter glawischnig, the ensemble "percussion de guinee", the european radioorchestra and many others.

Ullmann/Swell 4