Reis/Demuth/Wiltgen - 1ère album
Haben Musiker wie Michel Pilz und Roby Glod seit Jahren nur vorsichtig ihre musikalische Qualität bewiesen, so scheint die luxemburgische Szene die Grenzen ganz neu zu setzen und sich völlig zu emanzipieren...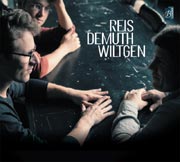 REIS / DEMUTH / WILTGEN – 1ère album
| | | |
| --- | --- | --- |
| 1. | | |
| 2. | No Stone Left Unturned | |
| 3. | A Block Apart | |
| 4. | Floppy Disk | |
| 5. | If Only You Would Know | |
| 6. | Straight Circle | |
| 7. | Wishing Well | |
| 8. | Pacific Coast Highway | |
| 9. | Neel Mat Käpp | |
Laborie Jazz LJ 21
Unter diesen Musikern, die die Welt für sich gewinnen wollen, findet sich der Pianist Michel Reis, der Kontrabassist Marc Demuth und der Schlagzeuger Paul Wiltgen. Dieses Trio, das nun seit 2002 gemeinsam spielt, ist fest entschlossen, sich heute als die originellste und beste Klavier-Kontrabass- Schlagzeug-Formation einen Namen zu machen. Eine sehr europäische Art und Weise, die Melodien zu schreiben, trifft dabei auf eine einwandfreie und solide Konstruktion mit einer kräftigen amerikanischen Rhythmik. Luxemburg – die neue Wiege des Jazz?
---
Michel Reis - "Point of No Return"
As Michel Reis plays, he tells a story. Not just in a broad cinematic sense, but in an intimate sense as well. The 28-year-old pianist and composer creates with flourish, unfolding visions in our ears like spring reveals newness and freshness over tired ground.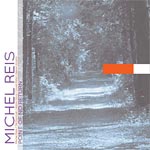 Michel Reis - "Point of No Return"
For Reis, the album is especially of interest. His Point of No Return exists as a plenary creature, not a muddle of well-meaning pieces. Through this medium, the NYC-based artist is able to speak to larger thoughts and tie us in to a bigger vision. His use of space and his wish to spend time on moments that require patience provides for an experience that is linked by the threads of each passing minute.
---
MICHEL REIS - Point of No Return Trailer
---
"I'm really attracted to scores for film and musical theatre, anything where there's a real story," Reis says. "It's sad that so many people aren't into CDs anymore, because it's a chance to develop and interrelated body of work."
Along with bassist Tal Gamlieli, drummer Adam Cruz, saxophonist Aaron Kruziki, and flugelhorn player Vivik Patel, Reis draws us in to that "interrelated body of work" and doesn't let go until the moments have played themselves out.
The recording opens with light chording from Reis. "The Power of Beauty" unfolds like a flower, with the pianist weaving in a vivid procession of orchestral colours and bringing in all five band members for the first and only time on the recording. The rest of the time, he uses the instruments with canny spirit.
"Folk Song" is stunning in its simplicity. Here Reis lays things bare, using a trio setting to play through the song's meditative paces. Cruz's provides a set of barely-there percussion, dropping like soft rain. It is very nearly a disservice to divide such a complete vision up into its parts, even if it is for the purposes of a review.
Reis is insistent in painting the sonic landscape as a continued entity stretching arms outstretched toward the horizon. Still, there are moments to shine a light on individually.
The airy, classical flourishes of "Riverside Drive" are compelling in the way they draw attention to the space in the piece, while the ever-so-subtle swing of "The Sad Clown" closes the album with surprising beauty.
Point of No Return is less a cycle and more a driven road. Reis and Co. have a destination in mind when the music begins at the onset and they see it through, communicating with one another richly and warmly welcoming the listener to the entire campaign.
There isn't an ounce of patronizing fluff to be found and Reis really does satisfy the notion of an artist playing out the songs as they are meant to be. A complete work, Point of No Return is immensely satisfying.