Peter Fessler
Fessler gets around. Fessler, of Canadian-Polish-German descent, was born in Cologne, Germany. At the age of twelve, he began studying jazz guitar and Brazilian music. At the age of 20 he crossed the Atlantic for the first time, embarking on a musical journey that would take him into the world of sessions in clubs, bars and hotels in New York and San Francisco. During this time he began composing his own music.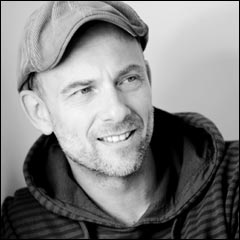 Peter Fessler
Upon his return to Europe, Fessler began a concentrated study of jazz vocal technique at the renowned Cologne Music Conservatory. Soon after, Fessler became the front man and voice of the latin jazz oriented TRIO RIO. Once Fessler realized that his own musical style as a solo artist merited more attention, he made a fresh start in New York City where he began building his reputation as a virtuoso interpreter of the jazz repertoire.
Later in his travels, back in San Francisco, he brought the various shades of his own compositions into sharp focus, pulling material from both the bright and subdued colors of his life. Fessler had found the voice he wanted to hear. After this intensely creative time in the USA, Fessler found his way back to Germany where he recorded "My Songs", his first solo album.
Since his return to Europe he has continued to tour, performing live on the concert stage and logging numerous television and radio productions along the way. Fessler's voice can be heard by children all over Germany in the title role of the Walt Disney film "Aladdin", the German version. Following the release of his recording "Don't Tell Me", Fessler dedicated his next four recordings to jazz and latin-jazz repertoire while simultaneously exploring the territory covered by his own compositions.
Fessler's percussive vocal style is often playful, sometimes deceptively light, especially when one considers the difficulty of the musical challenges he tackles with such ease. His high level of skill as a vocalist likens him to the most seasoned instrumentalists. "Breathtaking" is the word often used to describe his unique interpretations of standard jazz ballads or one of his own exquisite compositions. These moments are considered by many to be the high points of his concerts. "...his effortless four octave range, sometimes restrained, sometimes expressively playful, doesn't require any lavish accompaniment; the guitar playing Fessler accompanies the singing Fessler better than anyone..." wrote one enthusiastic critic.
AL JARREAU was so impressed by Fessler's ability that he invited Fessler with his guitar on the stage for duets at the Montreux Jazz Festival. In the same year, while being featured as "Multi Voice", Fessler was a special guest on the RANDY CRAWFORD tour. In 1999, following a double concert with BOBBY MC FERRIN at the Stuttgart Jazz Open, Mc Ferrin and Fessler did a radio interview. The topic: The opposing forces at play for virtuoso vocalists; the enormous exitement and stress of balancing the intensity of their voices with their emotions.
Both Mc Ferrin and Fessler are consumed by theire desire to constantly push their vocal abilities to the edge of what is musically possible. This creative risk taking is well worth the effort when one considers the magical effect they have on theire respective audiences. On his newest recording LANDSCAPE TAPESTRY, Fessler puts his relaxed virtuosity to good use; singing his own compositions as well as creatively several standards from both the American and Brazilian Songbooks. He combines his voice, guitar, vocalise improvisations, and familiarity with the jazz vocabulary to paint an intimate picture of his unique musical world. Sometimes his music is simple and beautiful, sometimes orchestral and grand and with an edge of danger.
Fessler takes the fabric of the classic European art song, and weaves threads of American music and Brazilian rhythms through ist substantial cloth. This individual style of music, pioneerd by Peter Fessler, is now referred to as the "European Jazz-Lied".

Fessler & Weniger
"Two in One"