Avishai Cohen: press voices
"He's a genius musician . . . a great composer with a really
solid vision of the music he wants to make.
Working with him has been very refreshing."
Chick Corea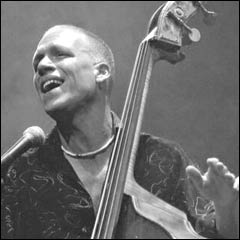 Avishai Cohen
---
"... Avishai Cohen by contrast gained recoginition for his own music through his musical engagements with Alicia Keys and some of Jazz' greatest .With his piano trio Cohen senusally mixes middle-Eastern and classical elements with Latin and Jazz. His ingenious compositions attest to a high degree of compositional skills and wit (see for example "The Ever evolving Etude"). And yet this music is far from being all too intellectual. In the best Jewish tradition, Cohen's highly buoyant songs want to entertain, and the romantic-melancholic passages are being punctuated with ironic tones. To listen to this is mere fun."
Financial Times Deutschland, Aug. 22, 2008
"It is as if piano players could only count to three: whereever one turns his ears these days – nothing but piano trios. According to the press release, this is truely a dynamic three-some, emancipated from Evans and Jarrett, and outperforming Stenson and Svensson, Hancock and Simcock, Kühn and Kuhn, Mehldau and Moran, thus vitalizing the genre, revolutionizing, even re-defining it. As it is: if you want to be recognized in the host of triumvirates you need to come up with something original. Fortunately, it is not up to a press release to say if this is the case. The Avishai Cohen Trio is different than all the others..."
Jazz Thing # 75 (full page feature, p. S. 50)
"Although fast paced all the way through, the eleven compositions never cross the line to appear hectic, not least because of Cohen's intensely singing style to play the bass." *****
Stereo 09/2009
"Anyone who caught him playing live knows what a tremendously expressive bass player Cohen is. As a composer likewise adept when it comes to melodies, the Israeli shines brightly with eleven gripping tracks on this album. Dense and intensive in a harmonic triangle with Shai Maestro (piano) und Mark Giuliana (drums), he develops arresting soundscapes that touch deeply through their subtle elegance. Even if some of the material resembles the e.s.t. style, this brilliantly swinging trio satisfies with its delightful freshness."
Stereoplay 09/2008
---

"[...] Piano and Arab oud interweave over Cohen's sinous bass sounding like the Svedish group EST on an exotic vacation [...]"
John Bungey, The Times, July 2006


"[...] with Continuo, Cohen-the-gifted is back. The set has some parallels with the Esbjörn Svensson Trio in it's use of catchy repeating hooks as anchors to the improvising [...] memorable themes and much fine, spontaneous playing from Cohen and his partners, [...]"
John Fordham, The Guardian (UK), July 2006


"Jazz Album of the week [...] wonderfully subtle and inventive bassist. But his work since has demonstrated that there is much more to him [...]"
Roger Trapp, The Independent, July 2006
"... one of the most gifted bassists of his generation is finding his own voice as a composer."
The New Yorker
".. one of the best double-bassists in the world."
Kerstan Mackness, Time Out London
"True to its title, Avishai Cohen's new disc At Home (RazDaz), is the bassist-composer's way of showing that he's comfortable with everything from postbop to drum 'n' bass."
K. Leander Williams, Time Out New York
" . . . on another plane of innovation . . . Cohen continues to carve out an important place in music history as a composer whose works are characterized by his solid contrapuntal and instrumental elaboration. Brace yourself for Avishai Cohen's latest offering because he's coming on strong."
Paula Edelstein, Allaboutjazz.com
"No bassist on the contemporary jazz scene is more technically able than Avishai Cohen, nor more immediately recognizable on a recording: his muscular, singing tone and richly melodic lines are unique. He's also got one of the tightest trios on earth, and the countless gigs pianist Sam Barsh and drummer Mark Guiliana have played with Cohen are immediately audible on Continuo."
Paul Olson, Allaboutjazz.com
"Cohen's bass playing is exemplary; his intonation is superb and he has a full, round tone even when articulating the most complex of lines."
Stuart Nicholson, Jazzwise Magazine
"There's no way to reduce bassist Avishai Cohen's music into tidy categories. Seamlessly blending Middle Eastern, folk, funk, fusion, and straight-ahead jazz – often on the same song – Cohen has fashioned a singular vision, and it's a joy to experience."
Jazziz
" . . . the playing is always visceral and often restlessly mercurial."
Tad Hendrickson, JazzWeek
" ... nobody'll kvetch about getting an extra helping of Cohen's deep, ermine-edged bass, which he strokes with a subtlety hardly anyone matches."
Greg Burk, L.A. Weekly
"Cohen, pianist Sam Barsh and drummer Mark Guiliana were clearly in sync, interacting with technical precision reaching across the written and improvised portions of music [...] A virtuosic player ."
Don Heckman, The Los Angeles Times
" . . . a transcendent example of the capacity of music . . . to reach beyond geographical and political boundaries . . ."
Don Heckman, The Los Angeles Times
" ... strong-toned, agile, melodic [...] a powerful bandleader."
Ben Ratliff, The New York Times
"The gentle flows with melodic bounce were complemented by fast, rhythmic gallops, with Cohen singing on his bass as well as plucking with intensity and propulsive attack. [...] the house exploded at the exciting end of the set."
Down Beat
" . . . the kind of virtuosic soloing and portentous writing that marked Pastorius' career outside Weather Report . . . technical facility on the bass and in your face attitude . . ."
Down Beat
"Running the genre blender on puree without making a mess, this world/jazz/fusion is so involving and so over the top in it's range that you can't help but be blown away from start to finish. [...] High octane, high energy and high style throughout adding up into one killer tour de force that you wonder how he can possibly top the next time around."
Midwest Record Recap
"... a bandleader with a big picture point of view and an exceptionally well-rounded musician. His songs pull from any number of sources: the Mediterranean, South Africa, the Midddle East, funk and any number of folk forms. It all dances and it's all tied up with jazz."
Kirk Silsbee, L.A. City Beat
"This CD is a showcase for both Cohen's composing as well as his playing. He knocked out the audience in his last performance here, and his return engagement should not be missed."
Martin Kasdan, Jr., Louisville Music News
"It's a strong disc and a serious reminder that Cohen should indeed be taken seriously."
Norman Provizer, The Rocky Mountain News
"'At Home' is an accomplishment of quiet intensity, principally based on the successful melding of Cohen's fluid bass with Mark Guiliana's sympathetic drumming and the subtle contemporary keyboard work of Sam Barsh."
Brett Saunders, The Denver Post
"An immensely listenable indie-jazz delight."
The Lexington Herald Leader
"The mood on the new, elegantly produced album by Israel-born bassist/composer Avishai Cohen is altogether cool . . ."
Paul Weideman, The Sante Fe New Mexican
" Avishai's secret isn't just his virtuosity, but his ability to turn any piece into a story, a song, whether you take Tchernichovsky's 'Sachki, Sachki' or Avishai's very own 'Emotional Storm' or the gentle 'Night', every piece is a work of art."
Yossi Khersonsky
"...the music is consistently riveting, but without eclipsing the ingenuity of the improvisers."
John Fordham, The Guardian (UK)
" . . . renowned jazz musician Avishai Cohen, his amazing double bass and his even more amazing young band, returned to wow the crowd with the world premiere of his new album, At Home."
Gemma Hempson, Western Gazette (UK)
"His trio: drummer Mark Guiliana and pianist Sam Barsh, played two amazing sets that held the house spellbound by their extraordinary musicality and brilliant individual solos. Cohen, a master on both acoustic and electric basses, and mostly known for his time in the Chick Corea New Trio and with his International Vamp Band, brought the house down . . . Cohen's pizzicato/slap/snap technique has such depth and technical dexterity that it has become an interesting subject of conversation among musicologists and serious students of the jazz bass. Among the many other great things about Avishai Cohen's music are the unexpected and ingenious beats that showcase his deep relationship with his basses. Whether on acoustic or electric, he exudes the fun, imagination and creativity that he receives from his passionate musical loves and thoughtfully gives it back to his audiences."
Sounds of Timeless Jazz
"Cohen's technical sleight of hand ranges from fiendishly complex, as on the scalar workout "Renouf's Last Tooth" and off-time filigrees gracing the nervous "Punk (DJN)," to languid and relaxed post-bop chordal sentences on the buoyant "Feediop" and a supple, folk-inspired line through the gorgeous "Madrid." . . . an elegant and fluent expression of whimsy in a language strangely familiar."
Dave Kirby, Boulder Weekly
" . . . Cohen's trio, with Mark Guiliana (drums) and Sam Barsh (piano) received a standing ovation in Cork last year for their neat, well-tailored work. Doubtless their fans will love their latest release . . ."
The Irish Times
---
Translated from the "Culture" Section of Ma'ariv, April 2, 2006
REVIEW: Performance / Yossi Khersonsky
CONTRABASS, NOT WHAT YOU THOUGHT
AVISHAI COHEN TRIO – CAMELOT, TEL AVIV MARCH 27TH 2006.
From the moment Avishai places the bass in the middle of the stage, it's obvious he's going to show us much more than we ever thought possible from this mysterious instrument, which usually does all the dirty work when it comes to improvisation. Avishai can produce almost anything with the instrument, virtuoso and melodic improvisations, brilliant and sophisticated. And to vary the program even more, he also uses the body of his bass as a percussion instrument. There is no shortage of creative jazz musicians who put the bass in the middle of the stage, but I don't recall a bass player who can put on a performance like Avishai. It isn't only virtuosity.
This time I sat very close to the stage. You can see it in his facial expressions, the way he moves his body. The guy gives his soul, lots of soul, and that's rare for jazz, which is considered to be the art of intellectual improvisation. The sound he produces has a wonderfully succulent intonation, rounded tones, as if he were dying to have the bass sing like a piano.
This creative dynamic he produces while playing would not be possible without the two musicians standing next to him. I am already familiar with the creative and fluid piano-playing of Sam Barsh, and this time it was Mark Guiliana's turn on the drums, which was an astounding combination of concentration and soul. Avishai talks to them in a language that has them, as if to be swimming with small strokes, and after hundreds of performances of their "At Home" program, the music flows between them in mutual delight. Everything has already been perfectly timed, carefully played. Despite their professionalism that helps to reduce the tension, they didn't come only to work. They came to recharge themselves, and primarily – to have fun.
Avishai's secret isn't just his virtuosity, but his ability to turn any piece into a story, a song, whether you take Tchernichovsky's "Sachki, Sachki" or Avishai's very own "Emotional Storm" or the gentle "Night," every piece is a "work of art."
The Trio also showed off their funky-groovy mode with an encore that went into high gear, as the pianist threw away his chair and continued playing standing up.
Each one of them alone, and all of them together, create distinctive music of color and atmosphere, melody and improvisation, with Avishai beaming over the entire ensemble, using his bass as a leading instrument, but wonderfully open and communicating. It's a pleasure listening to them.
---
Tue 14 Mar 2006
Aberdeen Jazz Festival
KENNY MATHIESON, The Scotsman
THE final weekend of the third Aberdeen Jazz Festival featured headline gigs for two musicians associated with Chick Corea's bands: Israeli bassist Avishai Cohen and English saxophonist Tim Garland. Both reflected the influence of the pianist's musical approach in their different ways.
The Avishai Cohen Trio turned in a very impressive performance at the Lemon Tree on Saturday. The Corea influence was palpable in the big rolling melodies and gradually building vamps that ran through Cohen's compositions but, as with Garland, the bassist stamped his own distinctive character on the music.
This was a more impressive outing than the trio's appearance in Glasgow two years ago, largely because this was a more suitable venue. The high level of musical empathy between the virtuoso bassist and his collaborators - pianist Sam Bar-Sheshet and drummer Marco Guiliana - was always in evidence. All three produced dazzling soloing, and each was razor-sharp in response to the unexpected deviations of his colleagues.
They played a mixture of music from the trio's current recording and entirely new material introduced into the set for this tour, with the next recording in mind. It would have been difficult without prior knowledge to tell what was familiar and what new, such was the level of understanding and interaction.
Cohen's virtuoso double-bass playing and gorgeously projected sound (he switched to electric bass guitar only for their funkier encore) lay at the heart of the music, but this was genuine group playing at a very high level.
---
Avishai Cohen @ Newport Jazz Festival - August 13, 2006
Matthew S. Robinson
Back after eight years (and this time with no Chick), Israeli bass-master Avishai Cohen came loaded for bear with "amazing" keyboardist Sam Barsh and the "fresh new voice" of drummer Mark Guiliana. Opening with the tight upright loops and pearly trap splashes of "Feediop" Cohen and his impressive rhythm section wiggled into the lush Latinate lines of "Samuel," before opening flower-like into a beautiful jam.
After the unified poly-rhythmic brooding of "Emotional Storm," the trio received their first standing ovation. "We're not done yet!" Cohen assured as the upright fans continued to shout and cheer. In an effort to calm his wild supporters, Cohen changed the set list, offering the spare and beautiful dance of "Remembering."
After that, Cohen opened the floor to the appreciative audience, asking them if they wanted another upright tune or an electric number. When the former prevailed, the trio let go for "Smash" a powerful, pulsing, primarily pianoless rhythm dance filled with open strings and bass-ic body beatings that ended with repetetivie trio turns and wild contained runs. For the grand finale, Cohen strapped on his E-Bass for a funky and flexible take on "Caravan," featuring a boogie-ing Barsh on Melodica and the four-stringed frontman doing tricks with his bass that most had never seen before. When it was finally over, the crowd erupted to their feet, offering an ovation that could be heard back on the mainland.
---
COHEN IN WARSAW - July, 2006
Journalist: Piotr Iwicki
Virtuosity of the jazz players and their enjoyment of playing the music dominated at the Old Town on Saturday. Avishai Cohen Trio's concert attracted thousands of listeners to the "Jazz in the Old Town" festival.
Avishai Cohen – a citizen of Israel with Polish roots, for years living in New York – is an exquisite bass player. On Saturday he presented his virtuosity and a very good sense of humour. Since the first notes of Nu Nu Cohen won the audience's hearts. The introduction beautifully played by Sam Barsh (piano) and supported rhythmically by Mark Guiliana (drums) evoked enjoyment in the audience and appreciation for their virtuosity.
After the first composition, the audience's reaction confirmed the fact that Cohen's fans had been waiting for the music, on the edge of jazz and Middle East folk, with a pinch of Arabian culture and Jewish rhythms. During One For Mark composition, a thrilling solo of a drummer Mark Guiliana provoked an overwhelming applause of the audience, characteristic for pop stars. The listeners had a lot of fun while listening to either jazz compositions like Ani Maamin or the inspired by the Bible, Shalom and then the final "Continuo" – a title composition of Cohen's latest album who for a change played the electric bass.
While playing the encore the artists presented their various talents. Sam Barsh changed the instrument into melodica, a simple brass instrument, which sound reminds that of the accordion, the leader played like Marcus Miller and Mark Guiliana carried us for a moment in the area of Kazimierz district in Cracow, where the Jewish Culture Festival is held at Szeroka Street every summer. What is more, suddenly Cohen changed the harmony of the composition and the band played Queen's Another One Bites The Dust. The audience went mad.
Does it mean that it was the climax of the International Outdoor Jazz Festival Jazz in the Old Town? Surely Avishai Cohen's trio was one of the best concerts among all editions of the festival. However, I was a bit unsatisfied not hearing a beautiful ballad Calm in their repertoire. But the musician surprised some of his devoted fans, who were waiting for him in front of the dressing room and had a chance to listen to the bass player playing the solo piano Calm. At the end Cohen thanked the organisers for inviting him and their exceptional care.
---
DOUBLE BASSIST MAGAZINE. NO 32., Spring 2005.
At Home review by JK.
Avishai Cohen Trio & Ensemble.
Razdaz Recordz SSC4602
At Home is Israeli double bassist Avishai Cohen's second album under his own record label and his sixth release as leader to date. Like its predecessor, Lyla , At Home brings together some of Cohen's many musical influences, and experiences as bandleader, collaborator and composer in the jazz, pop and world music spheres. The result is an album that is simultaneously intelligent, technically impressive and 'grooveable' – and positively brimming with fresh ideas.
The album's 11 original compositions reference the varied and diverse worlds of jazz, soul, funk and even progressive rock (think Rush and Yes). Latin jazz influences are revealed in the pieces, abrupt interludes, section changes and breakaways. The result is an album that stimulates the mind from all directions. Cohen's fascination with polyrhythms, all- band stop-time figures and other complex time meters is evident on almost every track. However, he's not afraid to break the rhythm down to a vamp with a simple bass figure when he so desires, giving rise to some breathtaking solos and earthy, soulful moments which are uncommon in such academically well trained and technically superior groups.
Cohen,s playing lives up to his fantastic, right in the pocket standard, although this time with a good helping of grease. At Home is gratifying on just about every artistic level and is a master musician's new and energetic rendering of what improvised music can be. JK.
---
DOWNBEAT MAGAZINE Avishai Cohen <Continuo>
Review **** 4/5 November 2006
This is a superbly controlled record, balancing the booming ego in Avishai Cohen's bass lines with the diligent niceties of Sam Barsh's baroque-infused piano and Amos Hoffman's oud added for dramatic effect on half the tracks. The group is locked in that some may look in vain for seams, but the preplanning and immaculate playing doesn't choke the sense of risk. This is sustained by rhythmical tension built into the compositions and acute role-play. On 'One for Mark' Barsh introduces the off beat and has a distinct metronomic function that remains throughout his counterpoint release passages, allowing Hoffman and Cohen to attack their instruments with contrasting aggression.
The dramatic sleeve art depicts Cohen running in a desert landscape. Where from? To where? Clearly, however, he has found a musical heaven. Thus a track called 'Emotional storm' misfires as such, though it is an intriguing mixture of impeccable equilibrium and a gear-shifting groove. The Oud lines seem to have more connection with West Africa Kora lines than Arabic music.
The exciting 'Smash' boasts rock bottomed but unpredictable time, with Cohen flashing Jaco Pastorius chops on electric bass, Barsh mirroring acoustic piano with keyboard lines and drummer Mark Guiliana getting a chance to kick up some desert dust. Cohen wanted a programmatic feel redolent of classical music strategies with this album, and he has succeeded without snuffing the spark.
Michael Jackson, Downbeat Magazine
---
Martorell, Festival International de Jazz, Sala Oriol
Monday, 13th November 2006 Jazz Review
BEAUTY AND FORCE
By Mingus B. Formentor
I remember vividly the terrific concert performed by Avishai Cohen Trio at the Injuve Festival in Eivissa in August last year. Overwhelming in their power and wisdom, they were a volcano of creativity and interaction, of beauty and force. An hour later after the gig, with the Atomics on stage, Cohen, Giuliana and Sam Barsh (the trios former pianist) were still signing CDs in front with oud player Amos Hoffman. Tunes like Nu un, One for Mark o Smash deserve to be consider as gems and classics of the jazz trio category.
In their album, Avishai thanks an eclectic list of musicians for their inspiration: Rachmaninov, Mozart, Bach, Beethoven, Satie, Led Zeppelin, Beatles, Paco de Lucia, Charles Mingus or Jaco Pastorius. And he really lives up to his spiritual mentors as is from that sublime mix where he had taken the leitmotiv to create, together with his colleagues, a chamber jazz that brings a lump to your throat and delivers it to your eyes, overwhelmed by happiness. A real miracle.
What happened in the auditorium during Freediop, with Maestro and Giuliana taking the part of the lion, was just indescribable, a sort of extrasensory rhythmic experience. Breathtaking. Keith Jarrett Trio would have to do their best in order to prove that they still can compete with wonders as convincing and modern as Avishai Cohen.
---
Barcelona, Festival International de Jazz , Auditori de Barcelona
EL PERIODICO, Jueves, 16th November 2006
AVISHAI COHEN TRIO feat. BRAD MEHLDAU,
A NIGHT OF CONTRASTS AND QUALITY
The Jazz Festival of Barcelona took up the auditorium. In the afternoon, at the Oriol Martorell venue, the trio of the Israeli double-bassist Avishai Cohen presented their album Continuo.
Avishai Cohen is, as Mehldau, a virtuoso that uses the classic tradition, in his particular case Satie and Debussy but his meanings are different from the American pianists. Cohens music is warm, close and moving. It sounds popular in the best possible meaning of the word. His pieces are catchy and, at the same time, serious, complex but appealing to the ear. The melody rules while your mind surrenders captivated by those rhythmical caprices coming from drum and bass and also from his Jewish roots, with scores of folk inspiration. It was difficult to restrain a smile of pleasure during his show. Contrast and quality.
---
Ottawa International Jazz Festival, June 30, 2006
by John Kellan - excerpt from All About Jazz
This year's Connoisseur Series at the Library and Archives Canada theatre has been widely regarded as one of the best—if not the best—series in recent years. With nary a weak spot to be found, it was also a diverse mix, from the Indo fusion of Rez Abbasi and the incredible explorations of Sonny Fortune and Rashied Ali to the outstanding performances by Brad Mehldau's trio. The final show of the series featured Israeli bassist Avishai Cohen, who first leapt into the spotlight with pianist Chick Corea in the late 1990s, but more recently has been focusing more exclusively on his own projects and label, RazDaz.
Cohen is a virtuosic player with a deep knowledge of the tradition, but in the interview that took place with CBC's Andy Sheppard before the show, he talked about how folk music—"people's music," as he put it—is a stronger source of inspiration. When asked about his broad musical influences and the way in which he blends them together, he saied "I never came to think this way, I just am this way," which dovetailed nicely with the sentiments of Rez Abbasi and Vijay Iyer at the previous two afternoon performances.
Cohen's set list was drawn primarily from his latest record, Continuo (RazDaz, 2006) and At Home (RazDaz, 2005), and brought together the same two musicians who are part of the core group on both discs—pianist Sam Barsh and drummer Mark Guiliana, who has his own record out on Cohen's label with his group Neernt, Locked in a Basement (RazDaz, 2006). Both are young players but not only show significant promise, but feel very simpatico with Cohen's personal cross-genre concept. Cohen, in fact, described the two of them as people who became friends first, then players in his group.
Andy Sheppard's description of Cohen's playing—"he surprises the bass"—is an apt description. While the material was an interesting mix of classical constructs, folkloric melodies and jazz harmony, and there were strong melodies throughout, the solos were what made this a strong closer to this year's Connoisseur Series. Barsh would often take his time developing his solos, building in intensity and dexterity. Swaying backward and forwards as he played, there were definitely some of the magical moments where Barsh made it "into the zone," lithe and lyrical. In some ways his overt melodism compares to the previous days' performance by EST's Esbjörn Svensson, but without the electronics (although he did have a small synthesizer that was not ultimately used).
Guiliana is a drummer who appears to be cut from similar cloth as Rez Abbasi's Danny Weiss. Loose, responsive and with an approach that veered towards backbeat but rarely went all the way there, he was in constant contact with Barsh and Cohen, pushing them while, at the same time reacting to where they were going. The subject of interaction and chemistry has been repeated throughout coverage of the festival, but in many ways it's been a remarkable year for the number of artists that have performed here who have demonstrated the kind of empathic connection that makes for the most inspired and exciting music.
Cohen demonstrated a number of unusual techniques, at one point not so much tapping the bass' neck with both hands as pulling off notes with each one. He's one of the most important bassists to emerge in recent years, and the performance demonstrated why. While he's constantly pushing himself in his solos to go to new places, he's not operating in a vacuum, maintaining constant eye contact with Barsh and Guiliana and absorbing where they are going to determine the direction of his own solo. It is, in fact, this give-and-take that made the trio in some ways comparable to EST. But while EST are unquestionably fine players, the interaction seems to weaker, with Svensson expecting Berglund and Ostrom to follow along rather than be equal participants in the conversation.
One of the most noticeable things about Cohen's playing is how it has matured so rapidly. When he first emerged with Corea, in some ways he was the bold, brash young player with things to prove. He may not be much older now, but his playing has reached a point where he doesn't need to prove a thing. Consequently, while he still burst into lightning-fast lines at time, he was equally attentive to the value of a single note, or a simple repeated phrase.
Cohen's writing masks tricky time changes and harmonic foundations with such elegant melodies that one really doesn't notice just how involved they are, although "One for Mark" was based around a choppy, irregular meter that featured some impressive (and humorous) stop/starts where it was clear just how much fun the trio was having. In brief conversation with Cohen he explained that this band has been touring a lot, across North America, Europe and elsewhere, and it shows. Sometimes a nervous energy that results in musical magic can occur when you put a group of players together for the first time; but equally, chemistry is something that develops best over time, and with so many artists having to spread their time amongst a variety of projects in order to keep working, it's great to see a group that's committed to a longer-term relationship.
---
Uppsala nya Tidning / 30 October 2006
Great Avishai Cohen Trio in Uppsala
By Andreas Jakobsson
I´m thinking; it will break. Avishai Cohen snatches, pulls and slaps his base, as if he were mad. Mark Guiliana plays his drums as if he was possessed and Shai Maestros piano adds a classical contrast in the background. Its the end of Nu Nu, one of the highlights of the concert, but far from the only one.
Cohens compositions are a mixture of mainly jazz, but also classical music and kletzmer. Most musicians who are mixing different music styles are trying to do it as smoothly as possible. Avishai Cohen does the opposite. He lets the contrasts bump into each other. At times, they collide head-on. The result is shockingly beautiful and the response is accordingly.
The enthusiasm from the audience after the most powerful outbursts would even make Darin (a famous Swedish pop-star (KT)) envious. It is with much more caution he sings and plays the traditional songs, which he learnt from his mother and grandfather. It is modern and playful, but yet he doesn't loose the original atmosphere of the tunes.
The titles of his own material are simple, and so are his comments in between songs. Emotional storm is a result of a break up from a woman, Cohen explains; He does not need to say any more. The complexity of his music captures every shade of the conflicting feelings. It is music, which tells stories.
And as the song tells a story of an episode, the concert tells the story of a man. Origin, influences, feelings. Maybe not a complete picture, but probably as close as you can get in two hours time.
---
Sydsvenska Dagbladet / Mejeriet, Lund, 2 November 2006
Music as pioneering as exciting
Ecstasy jaz of Avishai Cohen Trio.
By Alexander Agrell
So you believe jazz is always boring? Introvert and only something for the brain? Then watch for Avishai Cohen. He knows the answer.
The Israeli Bassist Avishai Cohen is making ecstasy Jazz. Music that is vibrating non-stop from a remarkable charge, through faster and slower tunes, and within each song builds up to become higher and more powerful. The musicians have a strong desire to reach out to the listeners and to fill the music with emotion and engagement. The fact is, that after half an hour, I felt so full of impressions that I could have been satisfied with that.
But Im glad I stayed. Avishai Cohens musical vision is as new and pioneering as it is exciting and seductive. Those who have listened to this years briliant new trio album 'Continuo' know pretty well what took place at 'Mejeriet'. The Oud player Amos Hoffman was of course not there, but apart from that, we got the same striking melodious compositions, imbued with piano greetings from Bach and Beethoven and played with a rhythmical push which almost tore down the rails on the balcony.Cohen plays the Bass with a lightness and exactness of which there is hardly the like. The enormous tone makes its way through, as clear as glass, wherever the fingers press on the neck of the Bass. Cohen was slapping the edge of the Bass, charming overtones from the instrument, and communicated this with his personal charisma. Cohen was focused, absorbed by the music, but in the momment ready to react on what the other two where doing.
19-year old piano player Shai Maestro was here giving his fourth concert with the group. Imagine that someone could replace Sam Barsh and have the same control of the classical piano playing and the same hunger for imrovisation, and to enter the jazz domain and in addition to that also to cultivate the jewish musical heritage. The drummer Mark Guiliana contributed in a more quiet way to the whole, and exploded finally, just as on 'Continuo' and 'Emotional Storm'.
Avishai Cohens trio carries a kind of mysterious melancolly beauty, which resembles the tangos, but which comes from the Mediterranean area. By the end Cohen made us sing along to a Jewish melody and the encore was a beduin song he learnt from his Grandfather. Beautiful and straight, just like the backbone of the Bassists own music.