Avishai Cohen: Seven Seas
On his last trio album, "Gently Disturbed", the ultimate work released on the label he founded (Razdaz Recordz) prior to signing with Blue Note, Avishai Cohen wrapped up, as it were, the musical banquet with a piece called "Structure in Emotion" – a melody he is especially fond of since it already featured on his first record released by his own outfit in 2003, "Lyla".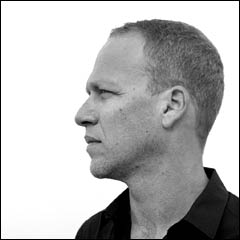 Avishai Cohen
Avishai Cohen's music delivers a torrent of emotion(s), the structure of the pieces, their intimate architecture, springs surprises, taking unexpected turns, rather like a melodious, pacific, salutary time bomb. His compositions keep emotion in check to let it blossom, to avoid the energy fizzling out before reaching the listener. With Seven Seas, this native of Jerusalem now established in Tel Aviv, now one of the most popular jazz players of the past decade, takes his artistic approach to its zenith.
OUT OF THE MAGICIAN'S HAT
Last year, we left Avishai Cohen with Aurora, his first record with Blue Note. On this opus brimming with heady charm, the double-bass player, composer, pianist and arranger added yet another string to his bow: vocals, a talent he had discreetly deployed on some previous recordings, now asserted loud and clear. Aurora showcased Avishai Cohen's talent in a new light: the composer with wandering lyrics, the phenomenal musician, the astounding stage performer, the one Chick Corea called a genius, the musician that Down Beat defined as a jazz visionary, all stepped aside to reveal a vocalist with a gentle voice and cosmopolitan tone, with Hebrew and Arab-Andalusian overtones.
With Aurora, he had formed his stage family, a unique quintet. Together, they travelled the world, playing to consistently warm applause in all four corners of the globe. And Seven Seas effortlessly comes across as the consequence, ricochet and natural fruit of these many hundreds of concerts. This experience prompted him to give birth to a team effort, to the point of making the young percussion virtuoso Itamar Doari as joint producer of the project.
CITIZEN KANE
It was in this frame of mind that the musicians got together for a few weeks in autumn 2010 in the haven of peace, technology and creation, aka Nilento, the Swedish studio set up by Lars Nilsson. As if getting back to his roots with a promise for the future, Avishai Cohen once again found himself working with a sound engineer with whom his relations were not strictly professional – yet another member of his musical family. Lars Nilsson architect of Continuo and Gently Disturbed, touchstones in Cohen's discography, did a lot to showcase the double bass players' pristine compositions. With Nilsson, Cohen not only found someone to record his music, but an ear and the technical prowess to match his artistic perfectionism.
Truffaut said of Orson Welles' Citizen Kane it was "THE film, the one which sums up and prefigures all of the others". It is tempting to apply the same to Seven Seas when considered as part of Avishai Cohen's body of work, as it blends all paths and voices explored by the artist since the early 1990s when he first burst on the New York scene. But above all, he announces and puts forward an (ever more) ambitious, subtle and refined art in composition, without jettisoning his hallmark energy, frenzy and emotion. Just listen to the labyrinthine sounds of "Two Roses" and you'll get the picture. Featuring nursery rhymes, lullabies and suites in which heroic inspiration and symphonics abound. Seven Seas plunges us into a fabulous sound voyage, in which understatement and magnitude play a never-ending game of ping-pong, a trip that easily transposes to the silver screen. Once you get past the opening credits dripping in joyful nostalgia, you steer past isles of rhythm and continents of sound, winding up with a traditional piano ladino with Cohen's intense vocals.
With Seven Seas, Cohen has reached a new pinnacle as an artist. It could be classified as a mature work, if that were not too heavy a connotation. It's more of a fusion album, perhaps bringing us closer to reality of an odyssey, with its title that transports us into nautical legend: Seven Seas' many twists and turns make it the most exciting of albums in Cohen's discography.

>>> Website
>>> MySpace