Ernie Watts Quartet
Two-time Grammy Award winner Ernie Watts is one of the most versatile and prolific saxophone players on the music scene. In a diverse career that has spanned more than thirty years, he has been featured on more than 500 recordings by artists ranging from Cannonball Adderley to Frank Zappa, always exhibiting his unforgettable trademark sound.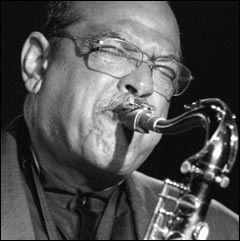 Ernie Watts
Ernie Watts – Saxophon, Flöte
Christoph Sänger - Piano
Heinrich Koebberling - Schlagzeug
Rudi Engel – Bass
After 18 solo records for a variety of labels, large and small, Watts started Flying Dolphin Records, a company he runs with his wife Patricia. Flying Dolphin (distributed by Burnside Distribution Corp.) begins a new chapter for the artist's creative expression. "I've been touring and recording for over 30 years in every kind of musical setting. I've reached a place in my life and careerwhere I need to make music on my terms. Starting my own label provided me with a new sense of freedom."
After hearing saxophonist Ernie Watts, it's easy to imagine that he possesses superhuman talents similar to those held by members of the fictional Fantastic Four. He breathes fire, can cool with ice, whip up a storm, and shape his sax sound in ways otherworldly. This is a powerful, yet sensitive, technically Herculean, yet human, complex yet elegantly beautiful player--no, a marvel. Nicholas F. Mondello / All About Jazz
"Analog Man" (2007) is his newest release, recorded with his European quartet, a cohesive group of outstanding players who have been touring together since 1999. The artist's passion for and commitment to acoustic jazz is clear on this release. Watts and his quartet explore new ground through the strength of their individual voices, while consistently demonstrating the group's musical unity. From the funky hard-bop groove of the title track to the melodic soprano of "Paseando," Watts' broad-spectrum talent is fully realized. Watts contributes many original songs to the session and also shows his aptitude for finding covers that his quartet can impressively interpret. The quartet's take on Victor Feldman's classic "Joshua" demonstrates the ongoing dialog among the musicians. The CD closes with another original Morning Prayer, a meditative piece melding tenor and Burmese Temple Bell, the sole instruments on the track.
"Spirit Song", (2005) which preceded "Analog Man", was Watts' first studio recording as a leader since the release of "Classic Moods" (JVC) in 1999. On the title track, he starts the song's story on the handmade wooden Spirit Flute, and takes the haunting theme further on tenor saxophone, deeper and more richly into jazz, then leads it back to the gentle flute at the close.
"The title Spirit Song refers to more than just the Spirit Flute used to frame track 9," reflects Watts. "It means a wider, higher Spirit, that is expressed in music and in all aspects of ourselves, that connects us all indelibly, whatever birthplace we have or life we may have lived."
Prior to "Spirit Song," Flying Dolphin released Ernie Watts Quartet ALIVE (2004) recorded live in Germany. Throughout his long and fruitful career, he has not previously made a live recording of his own, capturing a stage performance with no editing or overdubs. The chance to hear Watts at immediate heat in the midst of his own music is a special occasion, only available before to his concert audiences.
Watts started playing saxophone at age 13. He accompanied a friend who was enrolling in the local school music program, and found himself carrying home an instrument as well. "I was a self-starter; no one ever had to tell me to practice," remembers Watts. His discipline combined with natural talent began to shape his life. He won a scholarship to the Wilmington Music School in Delaware, where he studied classical music and technique. Though they had no jazz program, his mother provided the spark by giving him his own record player for Christmas and enrolling him in a record club. That first record club promotional selection turned out to be the brand-new Miles Davis album Kind of Blue.
"When I first heard John Coltrane play, it was like someone put my hand into a light socket," Watts says.
He started to learn jazz by ear, often falling asleep at night listening to a stack of Coltrane records. Although he would enroll briefly at West Chester University in music education, he soon won a Downbeat Scholarship to the Berklee College of Music in Boston, renowned for jazz.
When Gene Quill left Buddy Rich's Big Band, trombonist Phil Wilson (an educator at Berklee), was asked to recommend a replacement; a young Ernie Watts got the job. He left Berklee for that important spot, staying with Rich from 1966-1968 and touring the world. Watts then moved to Los Angeles and began working in the big bands of Gerald Wilson and Oliver Nelson. With the Nelson band, Watts visited Africa on a U.S. State Department tour in 1969. They played in Chad, Niger, Mali, Senegal, and the Republic of the Congo, which included the opportunity to meet and jam with the local African musicians. Remembering the experience, Watts recalls Africa as "a timeless land":
"It was amazing to play a government sponsored concert in the evening, then take a walk the next morning and see a camel caravan coming in from the desert, laden with giant salt blocks. That had been happening for thousands of years! Walking out into the desert at night, I felt the tremendous quiet there, something I had never experienced before, or since."
It was also with Oliver Nelson that Watts had the occasion to record with the legendary Thelonious Monk on Monk's Blues (Columbia).
During the 1970s and '80s, Watts was immersed in the busy production scene of Los Angeles. Watts' signature sound was heard on countless TV shows and movie scores, almost all the early West Coast Motown sessions, and with pop stars such as Aretha Franklin and Steely Dan. Though the pop music genre placed narrow confines on his performance, the studio sessions allowed Watts the chance to constantly hone and refine his tone. After years in the studios, Watts' passion for acoustic jazz never left him. At the end of a long day of sessions, he could frequently be heard playing fiery jazz in late-night clubs around Los Angeles.
In 1983, the film composer Michel Colombier wrote an orchestral piece entitled "Nightbird" for Watts. At the work's inaugural performance at the Dorothy Chandler Pavilion in Los Angeles, Charlie Haden came backstage to introduce himself. The meeting led to Watts performing with Haden's Liberation Music Orchestra, and to tours with Pat Metheny's Special Quartet, which included Haden.
Watts' tour with Metheny's group in the late 1980s found him on a triple bill with Sun Ra and the Miles Davis Band (on Davis' final tour), a turning point for the artist.
"The serious energy of Pat's music convinced me to make the commitment to this level of performance. Every night I also absorbed Sun Ra and Miles and could not deny the power I was feeling in the music."
Watts' charter membership in Haden's critically acclaimed Quartet West, (with whom he has toured and recorded for nearly twenty years), and his body of work for the audiophile Japanese label JVC Music continued to demonstrate his talent and commitment to the jazz world.
His four recordings for JVC Music are some of the finest of his extensive career. For these projects, he surrounded himself with several of his favorite players; Jack DeJohnette, Arturo Sandoval, Kenny Barron, Mulgrew Miller, Eddie Gomez, Jimmy Cobb, and Marc Whitfield. The music encompassed both jazz classics and new pieces by Watts. Between his stint with JVC and starting his own label Flying Dolphin, Watts recorded Reflections, a side-project with friend and fellow musician Ron Feuer. This 2003 duet release features serene ballads for saxophone and piano and exemplifies Watts' fluid tone.
Watts' eclectic mix of career activities has included Jazz at the Kennedy Center for Billy Taylor, as well as touring with Gene Harris and appearing on his last recording, Alley Cats (live at the Jazz Alley in Seattle). A typical year finds Watts touring Europe with his own quartet, in Asia as a featured guest artist and performing at summer festivals throughout North America and Europe. A skilled educator, he continues his commitment to music education by conducting student workshops and has compiled a collection of orchestral arrangements for guest soloist appearances with symphonies. And there is the occasional "hometown gig" with the Ernie Watts Quartet in Los Angeles, where he is still based. The joy he found in jazz as a youth, now enriched by experience, still is his today. Watts sums it up:
"I see music as the common bond having potential to bring all people together in peace and harmony. All things in the physical world have vibration; the music I choose to play is the energy vibration that touches the common bond in people. I believe that music is God singing through me, an energy to be used for good."
---
"The European Quartet"
Grammy winning saxophonist Ernie Watts has spent his career performing in the far corners of the world, sharing his music with various cultures and meeting fellow musicians along the way. While on tour in the mid-'90s, Watts had the opportunity to play with pianist Christof Saenger and a bond was created. After that meeting, Watts formed a quartet with Saenger at its heart.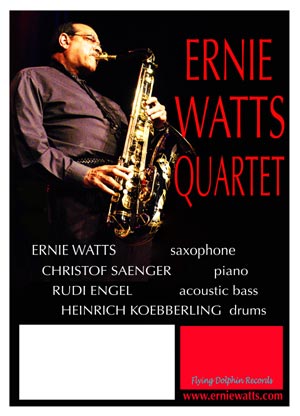 This group has consistently toured Europe on a semi-annual basis and has developed a fan base of jazz aficionados which continues to expand. With Rudi Engel on acoustic bass and Heinrich Koebberling on drums, these four musicians have merged into a cohesive unit, creating a solid platform for Watts' creative force.
"Our history together has helped evolve the music we perform," says Watts, "We communicate effortlessly, and instead of four voices we have created a group voice."
The Quartet has toured Germany extensively and has performed in Zurich, Vienna, Istanbul, Kiev and Moscow. In 2004 Watts released Ernie Watts Quartet: ALIVE (recorded live in concert) documenting the union of these four masters.
CHRISTOF SAENGER - piano
has developed a distinguished history, touring the world as a featured soloist and releasing nine recordings as a leader. Two of those CDs are duet recordings with Ernie Watts; Pa Chuly and Blue Topaz, released on Laika Records. His performance schedule is highlighted by concerts throughout South America, the U.S. and Canada, and tours of Japan with the Christof Saenger Trio. Saenger's work includes musical affiliations with Branford Marsalis, Richie Cole, Bob Mintzer, George Mraz and Al Foster. A classically trained pianist, Christof Saenger adds a unique quality to Ernie Watts Quartet.
HEINRICH KOEBBERLING - drums
studied jazz drums at The New School in New York City and spent another three years freelancing around Manhattan. His solid and lyrical rhythms have supported many classic jazz artists on stage: Lee Konitz, Tom Harrell, Gary Peacock, Clark Terry, Dee Dee Bridgewater, James Moody, Lew Tabackin, Walter Norris and Herb Geller, to name a few. Koebberling is a busy sideman and educator and has recorded several projects with his own groups.
RUDI ENGEL - bass
studied with jazz legends Ron Carter, Rufus Reid, Ron McClure and Barre Phillips. Engel has toured India, North Africa and the United States. Known for his distinctive melodic style and leading his own jazz trio, his double bass technique grew out of his early classical training. Engel is a professor of jazz double bass at the Hochschule Für Musik in Würzburg.