Aki Rissanen
Pianist Aki Rissanen (b. 1980 in Kuopio, Finland) has been quickly rising among the few top forces of the instrument in Finnish Jazz. Although originally classically trained he has always had a heart for improvised music.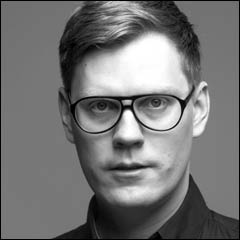 Aki Rissanen
>>> Pressefotos
Aki Rissanen Trio
Aki Rissanen - piano
Antti Lötjönen - bass
Teppo Mäkynen - drums
---
In addition to his high merits in the Solo Piano Competition at the Montreux Jazz Festival in Switzerland and La Defense competition in France, Rissanen is best known for his works with Dave Liebman on German Ozella Music and Verneri Pohjola on British Edition Records and on ACT Music in Germany.
He has released 7 albums under his own name and gaining growing attention in the European jazz scene. His latest album "Amorandom" for Edition Records has been critically acclaimed all around the world and the pianist is gaining a growing reputation on the European scene.
He has shared the stage with UMO Jazz Orchestra, Dave Liebman, Rick Margitza, Randy Brecker, Mats Gustafsson, Sten Sandell, Ingrid Jensen, Michael Gibbs, Barry Guy, Daniel Humair, Bill Watrous, Jukka Perko, Jukkis Uotila, Eero Koivistoinen and Ulf Krokfors.
Aki leads the his trio with Antti Lötjönen (bass) and Teppo Mäkynen (drums) and a side project of this trio featuring Petri Ruikka on visuals. He co-leads the trio Aleatoric with Robin Verheyen (sax) and Markku Ounaskari (drums); the duo with Verheyen, the quartets featuring sax greats Dave Liebman and Rick Margitza, Plastic Island with Johanna Sulkunen and Joonas Leppänen, the "Frozen Gainsbourg" quintet with Mikko Innanen (sax) featuring Swedish Emil Strandberg (trumpet), Norwegian Per Zanussi (bass) and Danish Stefan Pasborg (drums).
With his projects Aki has performed on numerous international festival stages, such as the jazz festivals in London, Hamburg (Elbjazz), Sofia, Tallin (Estonia), the renowned Finnish festivals in Helsinki, Espoo, Tampere und Pori as well as in Germany at JazzGAP Garmisch-Partenkirchen und in jazz clubs such as Unterfahrt in Munich and A-Trane in Berlin.