Anna Lauvergnac: Info
A protegee of Jazz legends Mark Murphy and Sheila Jordan, Anna has been exposed to a wide jazz audience worldwide as vocalist of the Vienna Art Orchestra, and in 2009 she founded her current Pan-European Quartet. Their music draws power and fire from the Afro American jazz tradition, and blends original compositions and new arrangements of jazz classics in a breathtaking music journey.
In November 2014 Anna Lauvergnac was awarded the German Record Critics´ Award for her newly released album "Coming Back Home" (Alessa Records).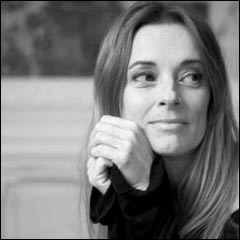 Anna Lauvergnac
She arranged and sang the opener for the Orchestra on the programs Nine Immortal Non Evergreens For Eric Dolphy (for two voices and electronics, with the late Monica Trotz) and she appeared as a solo performer, both as actress and singer, in her humorous and poignant eight-minute introduction on the «A Centenary Journey» tour.
>>> Press photos
"She's all the expression you need and want from a beautiful singer"
Mark Murphy
"ANNA SINGS FROM HER HEART"
Sheila Jordan
"Not only she sings perfectly in tune but her voice is full of pathos, energy, poetry and emotion."
Paolo Fresu
Born in Trieste, Italy, Anna Lauvergnac started studying jazz singing with Bob Stoloff in 1989 at the Berklee College Summer Clinics in Perugia, Italy, where she was offered a scholarship and received a special Artistic Mention.
The same year she enrolled at the Art University for Music and Performing Arts of Graz, Austria where she studied for the following four years with Jazz Greats Jay Clayton, Mark Murphy, Andy Bey and Sheila Jordan and attended master classes with Reggie Workman and Barry Harris in New York City.
Line-Up ANNA LAUVERGNAC QUARTET:

Anna Lauvergnac (I) - vocal
Claus Raible (D) – piano
Giorgos Antoniou (GR) – bass
Steve Brown (GB) - drums
---
Collaborations include extraordinary musicians such as Bojan Zulfikarpasic, Fritz Pauer, Andy Bey, Francesco Bearzatti, Paolo Fresu, Bumi Fian, Andy Scherrer, Marc Buronfosse, Till Martin, Steve Kirby, Wolfgang Puschnig, the Upper Austria Jazz Orchestra, Mauro Negri and Bruno Cesselli.
From 1999 to 2008 she was the vocalist of Europe´s leading international big band, the Vienna Art Orchestra.
Anna was a featured guest artist at events such as the opening of the Wiener Festwochen (which counts 5 million television viewers) and at Ruhr Triennale, as well at numerous radio broadcastings in Austria, Italy and Germany. She has given different workshops and master classes, and from 2000 to 2002 she was teaching jazz repertoire and body work at Bruckner Konservatorium Linz, Austria
She wrote six soundtracks (music and songs) for the Austrian director Xaver Schwarzenberger. As a lyricist she has written for different bands and projects, including the Vienna Art Orchestra and the Big Apple Circus New York.