Anna Lauvergnac - "Coming Back Home"
Anna Lauvergnac never sounded so beautiful and fully expressive as with her own quartet, and her newly released album "Coming back home", the second recording of the band, is simply superb.
WINNER OF GERMAN RECORD CRITICS´ AWARD
(NOV. 2014)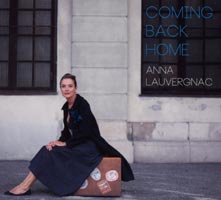 "Coming Back Home"
1. Lullaby Of The Leaves
2. Be Still, My Soul
3. Get Out Of Town
4. Soft Winds
5. Music Is
6. You're My Thrill
7. Let's Face The Music And Dance
8. I Know A Song
9. For Heaven's Sake
10. Nobody Else But Me
11. Coming Back Home
ALESSA Records, ALR 1032
Recorded, mixed and mastered by Christoph Kapfer at Soundesign Recording Studio, Hagenberg, Austria Nov 2013. Distributed by Sounddesign Austria, Peter Guschelbauer.
---
Line-Up:
Anna Lauvergnac (I) - vocal
Claus Raible (D) - piano
Giorgos Antoniou (GR) - bass
Steve Brown (GB) - drums
---
Anna Lauvergnac reaffirms her elegance in phrasing, excellence in rhythmic interpretation and uncommon sensitivity, the album is remarkable, a marriage of well-known and rarely-explored jazz standards, and four original songs. A pleasant peculiarity here is the judicious choice of extraordinarily modern-sounding compositions selected from the bursting jazz catalog of the 30's and 40's
If the art of writing a song lies in the respect of a fragile balance between lyrics and melody but most of all in the emotional and musical authenticity that a song needs to be expressive and sincere, the four originals on this album fullfill this tasks.
The quartet performs with flawless unity, yet each musician maintains a marked individuality that celebrates the strength and spirit of jazz. They transcend any lick or cliché and dive into the heart and essence of music.
Claus Raible has something approaching telepathy with Anna Lauvergnac. Their synchronicity in unpredictable music movements is astounding as he breaks the rules of classic `comping` to create a freer and fuller interdependence between melody, lyrics and harmony. As always, Raible proves to be able to draw power from the roots of modern jazz to flourish into his own personal musical language, delivering a serial of spectacular solos in which he takes risks and music phrases to the limits. Like an aerialist defying gravity, he creates unforeseen lines which soar with beauty and danger in a perfect balance between rhythmic urging and harmonic tension.
From the first bar, bassist Giorgos Antoniou provides a platform for the music to glide with a warm depth and groove. His fabulous bass lines and distinctive harmonic sense melt elegance and a rootsy pulse. His solos are jewels.
Drummer Steve Brown's dynamic drive is truly impressive. He swings on the cymbals, his beat is strong and he anticipates and supports the wide range of variations and moods. Brilliant on the up-tempos and intense on the ballads, he is a first-rate drummer – tasteful, imaginative and effective.
Leroy Windwood