Geir Lysne Listening Ensemble:
"BOAHJENÁSTI - THE NORTH STAR"
Raffinierte Big-Band-Kompositionen und der kehlige Gesang des Nordens: Die neue CD des Geir Lysne Listening Ensembles
Und wieder stellt man fest: Die Klangfarben, zu denen diese Big Band fähig ist, überraschen in jedem Stück aufs Neue. Unkonventionell, packend und eindeutig identifizierbar ist ihre Musik. Denn Kompromisse macht ihr Leader nicht. Der Norweger Geir Lysne, geboren 1965, schafft es, eine radikal eigene Klangästhetik zu formen und dabei mit seinen Stücken auch noch hinreißend unterhaltsam zu sein. Das ist fast eine Quadratur des Kreises. Vom differenzierten Elektronik-Einsatz über Maultrommel-Töne bis hin zu traditionellen nordischen Gesängen hört man auch in der jüngsten CD "Boahjenásti – The North Star" durchgehend Unerwartetes und Spannendes. Lysne geht darin in puncto Intensität noch über seine – mit begeistertem Presse-Echo aufgenommenen – bisherigen ACT-CDs "Aurora Borealis" (ACT 9406-2) und "Korall" (ACT 9236-2) hinaus.
Geir Lysne Listening Ensemble:
"BOAHJENÁSTI - THE NORTH STAR" (CD - ACT 9441-2)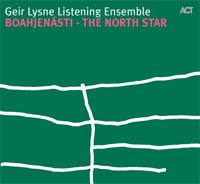 Track List:
1. Old / New House - 14:41 (Lysne, Geir)
2. The Zoo Ballet - 09:08 (Lysne, Geir)
3. Nor Id Suite Part I - 12:10 (Lysne, Geir)
4. Nor Id Suite Part II - 09:30 (Lysne, Geir)
5. Nor Id Suite Part III - 05:59 (Lysne, Geir)
6. GeirG - 02:53 (Lysne, Geir)
7. Boahjenásti - 06:02 (Lysne, Geir)
8. Kaa - 11:02 (Lysne, Geir)
---
Recorded live in concert at Cosmopolite, Oslo, Norway on October 8, 2005 by Jan Erik Kongshaug
Mixed and Mastered by Jan Erik Kongshaug
Produced by Geir Lysne
"Eindringlich, unabweisbar, ein einziges nordisches Wintermärchen" (FONOFORUM)

Jahrespreis 2006 der deutschen Schallplattenkritik
Geir Lysne Listening Ensemble, conducted by Geir Lysne:
Ketil Einarsen - alto flute, flute, piccolo flute
Morten Halle – alto saxophone, soprano saxophone, flute
Klaus Holm - alto saxophone, flute
Tore Brunborg - tenor saxophone, flute
Fredrik Ø. Jensen - tenor saxophone, accordion
Bernhard Seland - baritone saxophone, bass clarinet
Frank Brodahl - trumpet, flugelhorn
Marius Haltli - trumpet, flugelhorn
Ole Jørn Myklebust - trumpet, flugelhorn
Eckhard Baur - trumpet, flugelhorn, ensemble vocals
Helge Sunde - trombone
Christian Jaksjø - trombone
Jørgen Gjerde – trombone
Anders Wiborg -bass trombone
Jørn Øien - keyboards
Hallgrim Bratberg - guitar
Jan Olav Renvåg - double bass, electric bass
Knut Aalefjær – drums
Terje Isungset - percussion, voice, jew's harp
Stein Andre Hovden - live sound engineer
Johan Sara - yoik (traditional folk singing from Sami in the north)