Paul Brody: Biographie
Biographie deutsch | Biography english | Short Facts: played with... | Studies | Concerts & Tours | CDs | Prizes & Projects | Teaching Work
Paul Brody stammt ursprünglich aus San Francisco, wo er in einer jüdischen Musikerfamilie aufwuchs. Von seinem Vater, der von russischen Einwanderern abstammte, wurde ihm die Begeisterung für die Klarinette nahegebracht; seine Mutter hingegen, die vor den Nazis aus Österreich in die U.S.A. geflohen war, führte ihren Sohn an die Klassik heran. So erhielt Brody schon in Kindheit und Jugend einen umfangreichen Kenntnishintergrund in Sachen Musik, der ihn nach seiner Schulzeit die Entscheidung für ein Studium am New England Conservatory in Boston fällen ließ.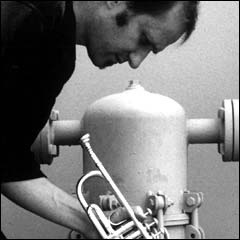 Paul Brody
Hier studierte er nicht nur klassische Trompete, sondern u.a. auch Komposition und Arrangement im Sinne des vom amerikanischen Komponisten Gunther Schuller entwickelten Konzeptes der 'Third Stream Music', einer Art Synthese aus Neuer Musik und Jazz.
Ebenso umfassend wie vielseitig gerüstet beendete Brody also sein Studium Mitte der 1990er Jahre; und es dauerte nicht lang, dass ihn das erste Engagement nach Europa führte. Mit der Duke Ellington Revue tourte er 9 Monate lang kreuz und quer durch die Alte Welt, die ihm während dieser Zeit offenbar so lieb und teuer wurde, dass er sie schon bald nach seiner Rückkehr in die Staaten schmerzlich vermisste. Diese Empfindung verdichtete sich bald zum Entschluss, dass er irgendwo in Europa leben wollte; und Berlin bot ihm letzten Endes die besten Möglichkeiten. Also schnürte er kurz entschlossen sein Bündel und verlegte sein Lebenszentrum in die Bundeshauptstadt, wo er bis heute lebt und arbeitet.
Hier hat er sich mit einheimischen Musikern zu diversen Projekten zusammengetan, u.a. dem DetoNation Orchestra, dem Quartett Tango Toy, und einem eigenen Oktett. Allen Formationen, in denen Paul Brody gestaltend mitwirkte, ist zueigen, dass sie sich zwischen die Stile setzen, Elemente verschiedenster Herkunft zu neuen, ungewohnten Kontexten verbinden – vor allem aber verbinden sie stets höchste Kunstfertigkeit mit sprühendem Witz. Selbes gilt auch für sein Quintett Sadawi, das ebenso spielerisch wie gekonnt mit der traditionellen Musik der osteuropäischen Juden, der Klezmer, umgeht.
Zwar wurde deren Bandbreite Brody schon früh durch seinen familiären Hintergrund vermittelt, doch hatte er lange Zeit zu viel Respekt vor diesem altehrwürdigen Stück Kulturerbe, um selbst damit herumzuexperimentieren. Erst durch seine Begegnung mit Hankus Netsky, in dessen Band er während seiner Zeit am New England Conservatory einige Zeit spielte, fand Brody seinen persönlichen Schaffenszugang zu dieser Musik, einen Ansatz der ihn inspirierte und zur Weiterverfolgung animierte.
Vielleicht tat der Umzug in seine aktuelle Wahlheimat Berlin, die deutsche Umgebung, das ihrige noch dazu, dass die musikalische Auseinandersetzung mit seiner jüdischen Herkunft nach und nach immer weiter ins Zentrum seiner kreativen Aktivitäten rückte. Allerdings betreibt Brody diese erfrischenderweise weder krampfig-progressiv noch nostalgie-verklärt, sondern ganz im Sinne der "Radical Jewish Culture" New Yorker Prägung, wie sie vor allem von Ikone John Zorn und seinem Label Tzadik repräsentiert wird.
---

Brody studied classical trumpet and composition at Boston University and received a Masters from New England Conservatory, where he played with the Klezmer Conservatory Band. Since moving to Berlin ten years ago, Brody has composed for and led a number of groups. Tango Toy features a fusion of traditional Jewish songs and klezmer with odd grooves, impressionistic textures, Charles Ives tonalities, and singing lyrical melodies.
"It`s intersection music-the excited voice of humanity at those places where many cultures come together and share" according to a Klezmershack.com review of their debut CD, Klezmer Stories (Laika Records).
Brody takes a similarly eclectic, post-modern approach to American folk music with his DetoNation Orchestra featuring vocalist David Moss. Their debut CD, Animals and Cowboys (NRW Jazz), has been described as "A true product of American culture organically grown from the music of Captain Beafheart, Charles Mingus, Robert Fripp, Ornette Coleman, Harry Partch, Charles Ives, and Frank Zappa." According to Taggesspiegal, his lyrical trumpet playing "breaks the borders of blues, East European folk music, and modern jazz."
---
Paul Brody - Short Facts
Paul Brody has played with
Cora Frost, Bob Moses, Barry White, The Supremes, Klezmer Conservatory Band, Shirly Bassy, Ran Blake. Ed Schuller, Carlos Bica.
Tours as soloist all over North and South America, and Europe.
Featured on CNN documentary on Berlin and modern Jewish Music,
WDR CD of the Month,
Berlin Arts Council awards for recordings and tours
Performed with own group for President Rau,
Played and composed music for ZDF, ARD, SFB...
Performed in many jazz, Jewish and modern music festivals (Donaueschingen, Krakow Jewish Culture Festival, Berlin Jazz Festival...)
---
Studies
New England Conservatory of Music -Third Stream Music, M.M. (1996)
Boston University -Classical trumpet, composition, poetry B.A. (1994)
San Francisco State University - trumpet (1992)

---
Concerts and Tours
Klezmer Conservatory Band (Concerts in Mass., USA)
Cora Frost Band (Europe Tours)
New York Harlem Opera Ensemble (Europe tour)
Materia (South American Tour)
Paul Brody Octet (England and Germany Tours)
Paul Brody's Tango Toy -Klezmer Stories ( Festivals in Europe)
Bop Harvey (USA, Canada)
Ahava Rava (Berlin Concerts)
Paul Brody's DetoNation Orchestra (Germany Tour)
Barry White (Monte Carlo Concerts)
Shirley Bassy (Monte Carlo Concerts)
Paul Brody´s Sadawi (European Tour)

---
CD Productions
Orchestra of Excited Strings and Winds (Tzadik Records, Prod. John Zorn)
Paul Brody's Tango Toy (Laika Rec. SFB)
Pankow
Juiceful Jazz (Juiceful/EFA)
Paul Brody's Klezmer Horn Jazz (SFB Radio)
Paul Brody's DetoNation Orchestra featuring David Moss (Zoo Rec.)
Paul Brody Octet (99 Records)
Claire Ritter Featuring Dave Holland and Ran Blake (Zoning Rec)
Materia (Hot Wire)
Christof Griese (BIT Publishers)
Paul Brody´s Sadawi, Kaballah Dream (Tzadik Records, Prod. John Zorn)

---
Prizes and Projects
WDR - CD of the Week for Klezmer Stories CD
12 recordings with SFB Radio (live and in studio)
Berlin Senate funding for NY/Berlin Klezmer-jazz Mix Project (plus SFB Radio live concert)
Werkstatt der Kulturen funding for Paul Brody's Honga Longa (Klezmer-Turkish music project)
Concert for President Rau at Schloss Bellevue with Paul Brody's Honga Longa
TV recordings for ZDF, ARD, SFB, etc.
TV documentary about Brody's klezmer course in Berlin
Berlin Senate Studio Prize with various groups
Organizing benefit concert for Red Cross refugee home in Berlin (Jewish music)
---