Shai Maestro Trio: Biography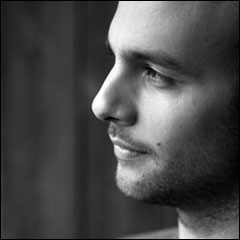 Shai Maestro
Lineup:
Shai Maestro – piano
Jorge Roeder – bass
Ziv Ravitz – drums
---
Shai Maestro
Pianist Shai Maestro was born in Israel on February 5th 1987. He began playing classical piano at the age of 5. His first exposure to jazz music was at the age of 8, listening to Oscar Peterson's "Gershwin Songbook".
He was later accepted to the Thelma – Yellin High School of Performing Arts in Givataim where he completed his studies with honors. While taking extended literature classes, Shai was one of the few students combining a major in the jazz and classical departments along with his regular studies.
While still a sophomore, he received a full tuition scholarship to attend Berklee College of Music's 5 weeks Summer Program for two consecutive years. While on a concert tour in the US he auditioned to Berklee for the 4-year program and also received a full tuition scholarship.
Maestro studied jazz piano and RTC (Real Time Composition) with Opher Brayer for two years and classical piano with Prof. Benjamin Oren of the Music Academy in Jerusalem. In the years 2004-2010 he won scholarships from the America-Israel Cultural Fund for jazz piano. He also won the national jazz ensembles competition "Jazz Signs" twice (2002 and 2003).
Shai studied Indian music and tabla playing with Sanjey Kumar Sharma. Maestro currently resides in New York where he is gaining recognition from his peers and the media, and is performing regularly with the best jazz artists in many jazz clubs and concert halls, alongside classical recitals.
Shai has performed with world known musicians such as Jimmy Green, Jorge Rossy, Myron Walden, Donny McCaslin, Matt Penman, Scott Colley, Clarence Penn, Ari Hoenig, Gilad Hekselman, Nate Smith, Harish Rhagavan, Mark Guiliana, Anthony Hart and Diego Urcola to name a few.
In 2006 Maestro joined world known bass player Avishai Cohen for touring all over the world. Playing in such venues as the Blue Note in NY, Ronnie Scott's in England, The Olympia Hall, Salle Pleyel, and the Bataclan Theater in Paris, Vienne Jazz festival, Marciac Jazz festival, Cork Jazz Festival, Yoshi's (San Francisco), Zaragoza JF, Vienna Concert house and many others. Several shows have been recorded to Mezzo channel and are broadcasted regularly throughout Europe.
Shai Maestro performs throughout four of Avishai Cohen's releases: "Gently Disturbed" (2008) is this trio's first record. The album has received rave reviews all over the world and has been a top seller in a few countries. "Sensitive Hours" (2008) was released in Israel in August and has been a top seller there. "Aurora" (2009) was released under EMI Blue Note Records. "Seven Seas" (2011) was also released under EMI Blue Note Records.
In May 2011 Maestro departed from Avishai Cohen's band to pursue his way as a band leader, composer and arranger. Shai Maestro Trio was formed in July 2010 after a session in studio in Brooklyn. The other two members of the trio, Israeli drummer Ziv Ravitz and Peruvian bassist Jorge Roeder reside in NY as well.
"The connection between the 3 of us was so strong that we naturally became a band. It was very obvious" says Maestro.
Since then, the trio has been touring worldwide, playing in festivals, concerts halls and jazz clubs receiving incredible response from audiences all over. Their debut album, simply named "Shai Maestro Trio" was released under the French label Laborie and immediately found its place in iTunes top 5 jazz chart in France.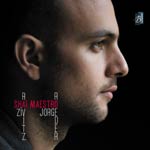 Shai Maestro Trio (Laborie Records)
"This is just our beginning as a band... there is so much to do and the options are endless. I'm very curious to see where all this is going to", says Maestro.
---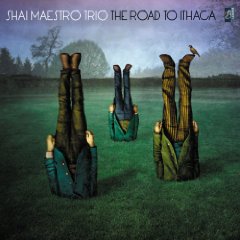 Shai Maestro Trio - "The Road To Ithaka"
« The Road to Ithaca, the title of my new album, refers to a poem (reproduced in the libretto) by Constantin Cavafy, a Greek author, who was inspired by Homer's The Odyssey. After the Trojan War, Ulysses came back to Ithaca and saved his wife Penelope and his son Telemachus from the suitors, by being the only one able to draw the bow he had left in his country a decade before. During his journey, he saw Ithaca many times from the deck of his ship, but every time, as he got closer to it, Ithaca disappeared. Cavafy retrospectively advised Ulysses to wish for his journey to be long, and not to rush to get back to Ithaca - his "goal". »
« My father handed me this poem before I left for my very first tour. It was his way to tell me that life is a long journey, and that rather than setting oneself a destination, an ambition, the most important is the richness of the journey. This notion became a part of who I am. »
Shai Maestro, who is now in his mid-twenties, has already come a long way, and his second album as a band leader (after the eponymous Shai Maestro Trio in 2012 ) is already the album of a well-attended/followed musician. It marks a big success in the field of the modern jazz trio as defined by E.S.T. or Brad Mehldau.
Like his forerunners, Shai Maestro composes his own themes and prefers the unknown to repetition of known grounds. On this new recording, his music bridges the gap between the immediacy of pop, the freedom of jazz and a neat lyric exposure inherited from his learning of classical music since he was five years old. Therefore, a new generation of listeners can relate to his both accessible and complex writing.
« Simplicity is probably the most difficult thing to attain. What I enjoy the most is finding a clear phrase, a simple melodic line. This is the most immediate thing I relate to - a simple melody. I feel that is what communicates the most. Sometimes it's hard for me to enjoy music that is very complexed (which is not a bad thing of course) but lacks a melodic line. At one point, you can't go on without a melody, it is a respiration. »
Since 2010, Israeli drummer Ziv Ravitz and Peruvian bassist Jorge Roeder, have shared with Maestro a complicity that is more than just aesthetic.
« One can make good music with people who are not necessarily friends, but when band mates share a certain philosophy of life and a true friendship, it helps. And this is the strength and obviousness of this trio. »
Shai Maestro Trio's music is lulled by a form of permanent movement.
« I like to create a theme, place it, work on it and then break it to better rebuild it afterwards. »
In The Road to Ithaca, the piano, the bass and the drums answer each other in a continuous interplay, a real backwash that generates new phases. This swell follows the waves, a little stronger each time, in crescendoes of a gripping intensity; Not an easy task in the context of the studio.
« In the studio, there are the headphones, glass walls between the musicians for sound isolation and many other "obstacles" that make the recording experience un-natural. We have to go beyond that and find the energy that prompts us on stage. It's not easy, but we made it one of our highest priorities on this album – to capture the live, risk taking experience that normally occurs on stage. I feel it is essential »
Modernity and a new kind of writing that is both open and collective: these qualities, that explain the ascent of the trio, were discovered by the public in 2006 when Shai Maestro joined Avishai Cohen's group.
« I was young, not yet twenty, and Avishai was my own"Berklee College" … We went on tour, for five intense years and I learnt a lot. With time, I became more and more aware of the way I can incorporate sounds from my childhood into the music I was creating»
Maestro, born and raised in Israel explains: "Israel is a very young country, a country of immigrants, a pluralist one. There isn't a specific style to embody our musical identity, like salsa for the Cubans, for instance. Our musical culture, particularly all the songs we grew up with, comes from many different places: Central Europe, Eastern Europe, Africa, the Middle East, even south America… In addition, each person is significantly different then any other person in the world, a unique universe. Jazz is a medium that enables us to shape our own language, a free and universal one, from our own experience and our own sources. To create a sound that is personal – that reflects the individuality of the musician"
A composite identity then; He himself is of Bosnian, Romanian, Polish, and Bulgarian(*) descent – but is also shaped by his moving to New York City in December 2009.
« NY is the ideal place to "get your ass kicked " as they say (laughs). Even when we play in big festivals on tour, each time I come back to NYC, I find myself going back to play five sets of jazz standards at night in a restaurant : it is essential if you want to improve. »
Shai Maestro's path, like Ulysses's, is a briskly-made long-distance voyage, marked by the desire to take risks.
« I recently read an interview of Keith Jarrett that made a big impression on me. He mentioned this notion of risk. While playing, there are countless crossroads, junctions, in every moment, every second. One of the most common crossroads is the choice between taking the safe road – to turn to your 'comfort zone'- or taking a risk and going for the unknown; as an improviser, you need to take these decisions very quickly. »
Jarrett said: The day that I will even have a doubt if to go on the safe road or to take a risk and dive into the unknown is they day I will stop playing music!
Shai Maestro's The Road to Ithaca has obviously plenty of surprises in store for us.
* As a kind of wink at his roots, Shai Maestro invites Neli Andreeva, a member of the Bulgarian National Ensemble on the final track.
« I've discovered her on Youtube, and hearing her sing resonated somewhere very deep inside my soul. The world is small today, and I decided to find a way to collaborate with her... It is definitely a dream that came true.»
Maybe an introduction to a whole new universe of an upcoming project?…