Cindy Blackman
Born in Ohio and raised in Connecticut, Cindy Blackman began her musical career as a New York street performer. She spent three semesters at Berklee College of Music in Boston, Massachusetts and also studied with legendary teacher Alan Dawson.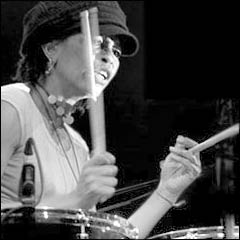 Cindy Blackman
---
Star-Gazette: "One of the hottest drummers in the business!"
---
Cindy moved to New York City in the 80's and since that time, she has been seen and heard by millions of people all over the world performing with her own group and during her 15 year stint with retro funk rocker Lenny Kravitz, since 1993.
---
Tour line-up 2008:
Cindy Blackman - drums, JD Allen - saxophone,
Carlton Holmes - piano, George Mitchell - bass
---
In 1998, Cindy released her first drumming instructional video entitled, "Multiplicity" through Warner Brothers publications.
Cindy Blackman has been touted as "one of the hottest drummers in the business" by the Star-Gazette and is regarded as one of the top drummers in the world. She is a solid, dependable and inventive drummer who can easily move from straight-ahead jazz to rock to funk and back again.
She's upheld the backbeat and created texture for a veritable "Who's Who" in jazz: Jackie McLean, Joe Henderson, Wallace Roney, Don Pullen, Hugh Masekela, Pharaoh Sanders, Sam Rivers, Cassandra Wilson, Angela Bofill, Bill Laswell, Buckethead, Jean-Paul Bourelly Ron Carter and many more.
And, during her stint with Kravitz, she has also performed with rock & funk greats like James Brown, John-Paul Jones (bassist from Led Zeppelin), Iggy Pop, Prince and Mick Jagger, to name just a few.
In early 2000, Cindy released one of her several highly acclaimed solo albums entitled "Works on Canvas." She released her seventh solo release "Someday" in 2004. And, in 2005 under her own production, released her first independent album entitled "Music For The New Millennium."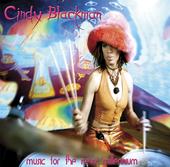 Music For The New Millenium
"Some drummers act, some react. Some keep time, others create it. Cindy Blackman is among the few who can [...] One listen to her latest release, "Music For The New Millennium" (featuring J.D. Allen-Tenor Saxophone, Carlton Holmes-Piano/Fender Rhodes, George Mitchell-Bass) and you'll agree! " says Mike Zwerin of the International Herald Tribune
www.myspace.com/cindyblackmanmusic
And Talking Drum says, "You can be assured that Ms. Blackman will be around for a long time to come..." She is thunder. She is fire. She is energy. She is passion. She is Cindy Blackman. According to Cindy herself, ´The life of music is bigger than all of us`."