Klaro! - Karolina Strassmayer & Drori Mondlak
This compelling quartet is a close collaboration between Austrian alto saxophonist Karolina Strassmayer and her long-time musical partner, New York drummer Drori Mondlak. These two very distinct musical personalities have merged their musical visions into one.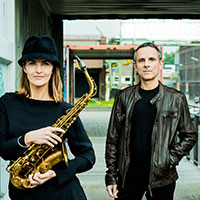 Klaro!
>>> Pressefotos
---
"KLARO! is one of the most interesting small groups at work today."
Doug Ramsey
Performing Karolina Strassmayer's original compositions, KLARO! fuses the romanticism of European classical and folk music with the rhythmic fire and swing of American jazz and the harmonic sophistication of contemporary improvised music.
Strassmayer and Drori Mondlak say: "We believe in the strength of our music to communicate the essential—from the heart and soul. We always strive to deepen our connection with our audiences and the present moment. This brings a strong sense of purpose and great joy."
KLARO! ['klaro?] (adj., dial, Ger.; 1. clear, lucid, obvious 2. right, true, real) started in Karolina's youth as a play on words with her nickname "Karo."
"Ever since I was a child, 'Klaro-Karo' was a word of encouragement used by family and friends. So it was only natural to name my band after it—simply KLARO!"
The band has performed at prestigious venues such as The Kennedy Center, Jazz@Lincoln Center, Dizzy's Club Coca-Cola, Birdland, Salzburger Jazzherbst, Jazzfest Vienna, Grazer Jazzsommer, Düsseldorf Jazzrally, Bingen swingt, Hildener Jazztage, WDR Jazznight, Europhonics Festival Domicil Dortmund, Jazzforum Arts NYC, Outreach Festival Tirol, Enschede Jazzfestival, Jazz Arts West Palm Beach, BurgJazz, Blues 'n Jazz Rallye Luxembourg, Jazz Maastricht, Jazzclub Unterfahrt Munich, Jazzland Vienna, Graz Meeting, The Jazz Cruise, Jazz an der Ruhr, Rheine Jazzfestival, Schelde Jazz, Jazztime at Amphion Festival, Saarbrücker Jazzfestival, and many more.