Julie Campiche Quartet - Info
After 8 years with her group Orioxy, Julie has begun a unique musical adventure in a purely instrumental form.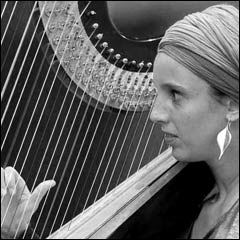 Julie Campiche
>>> Pressefotos
Harpist Julie Campiche's work is an on-going process of musical innovation. Through research and experimentation she has developed the use of electronic effects that enhance the scope of her improvisational work. She has a very personnel technique and her own musical language.
---
The new project evolves in a strangely melancholic atmosphere with out-of-sync cinematic grooves. The electronic effects intertwine in a delicate yet powerful acoustic space. This uncluttered electro-acoustical experience leaves a lot of room for a wide range of improvisation.
Julie's compositions are inspired by some of her generation's most urgent concerns. Her music induces reverie or it focuses on current events, such as in Onkalo that derives its name from a stockpile of radioactive waste. We also find Flash Info, which evokes the media's incessant flow of news.
---
Line-Up:

Leo Fumagalli - saxophone & FX
Julie Campiche - harp & FX
Manu Hagmann - double bass & FX
Clemens Kuratle - drums & FX