Transhistria ensemble - Canto Amoroso
The album was recorded in one go at the first rate Artesuono studio in Udine, Italy. The new musical material tells a new musical tale, it is a yet another exciting and passionate jazz journey through Istria and the Mediterranean with sounds of interesting dialects.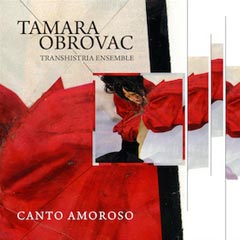 Canto amoroso
Label: Alessa Records, Austria, release date April 10th 2016
| | | |
| --- | --- | --- |
| 1. | Se mera morta privari | 6:54 |
| 2. | Canto amoroso (Love song) | 6:16 |
| 3. | Bez tebe (Without you) | 6:26 |
| 4. | Kazeta (Little house) | 5:52 |
| 5. | Carisa (Caress) | 5:55 |
| 6. | Istrarmenia (Homesick) | 5:29 |
| 7. | Tango istrando | 3:47 |
| 8. | Sama (Alone) | 8:50 |
| 9. | Farabuti (Rascals) | 4:39 |
| 10. | Tomizziana | 6:03 |
Tamara Obrovac / voice, composer
Uroš Rakovec / guitar, mandola
Fausto Beccalossi / acordion
Žiga Golob / double bass
Krunoslav Levacic / drums
recorded / mixed / mastered by Stefano Amerio, sArteSuono studio, Udine, Italy produced by Stefano Amerio and Tamara Obrovac
---
Canto amoroso
How many times can an artist surprise during his creative lifetime? How many times can he redefine his artistic expression and still remain true to his personal inner impulse, remain totally honest, uncompromising, and distinct and maintain, again and again, a high level of artistic creativity? Only the greatest manage this, those whose works remain for future generations as a reflection of the excellence of human achievement.
From Tamara we always expect something new, but as always, we get so much more. Again, this album reserves for its listener plenty of surprises. New compositional achievements, new messages, new rhythms, new sensibility, a new communicativeness... Art without borders!
Her music is authentic, genuine and modern, personal and universal, regional and global. In her performances she gently quivers above each song, lives it completely, fuses with it and transforms into a different spiritual being ... she becomes the song and her music completely overtakes both listeners and musicians alike.
In order to achieve the absolute harmony of expression, which makes Tamara such a distinctive author, she surrenders her Canto amoroso (Love songs) into the embrace of her core band, the Transhistria Ensemble that has accompanied her on her many successful (and triumphant) studio and concert performances in both Croatia and abroad.
These versatile, superb and open minded instrumentalists with whom Tamara has developed, through their long-standing cooperation, an almost telepathic understanding, put all her ideas into practice on several levels: musically, spiritually, sonically and atmospherically, and their performances, during which they jointly engage in unpredictable extravagancies of instantaneous musical creation, give life to yet another Tamara's new dialectal and musical adventure.
Canto amoroso brings us new compositions in which, with love and with ease, Tamara and her band blend a genuine, personal feeling for the poetics of tradition with the contemporary and universal freedom of improvisation.
Davor Hrvoj