Tamara Obrovac
Ethnically inspired Mediterranean jazz, influenced by the particular musical and dialectal traditions of her homeland, the Croatian coastal region of Istria.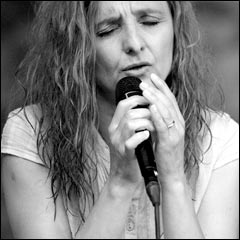 Tamara Obrovac
>>> Press Photos
Tamara Obrovac Quartet
Tamara Obrovac (CRO) - voice, composer
Matija Dedic (CRO) - piano
Žiga Golob (SLO) - double bass
Krunoslav Levacic (CRO) - drums
---
Her unique music reflects the historical and cultural background of her homeland, at the crossroads between the East and the West, the Mediterranean and the Balkans. With her specific and original compositions, excellent musicians and expressive voice, Tamara creates a unique artistic form in which she effortlessly and logically unites melody and improvisation, sensitivity and passion, formal demands and freedom, ethnic music and jazz, tradition and modernity, serious approach and humor.
"For many, Croatian singer Tamara Obrovac is still "a new voice", even though "Ulika revival" is her ninth record - and what a record it is! One of exceptionally creative and picturesque sound. Excellent!" (Jazzthetik)
"Tamara Obrovac has quietly and secretly grown into one of Europe's greatest ethnic jazz singers … Basically melancholic, her music simultaneously impresses with inner strength and passion that brings with it the story of the mentality of an entire region." (V. Doberstein, Jazz Podium)