Tamara Obrovac - Transhistria Ensemble
The music of Tamara's international Transhistria Ensemble is a unique combination of jazz with the elements of Istrian and Mediterranean folk music and many elements of modern music.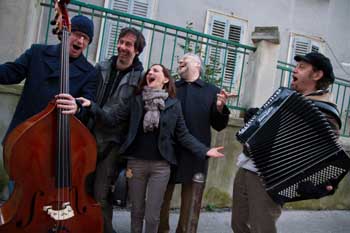 Line up
Tamara Obrovac, voice, flute, composer (CRO)
Uroš Rakovec, guitar, mandolin (SLO)
Žiga Golob, double bass ( SLO)
Fausto Beccalossi, accordion ( IT)
Kunoslav Levacic, drums (CRO)
---
The success of this merger is certainly due to Tamara's incredibly fine-tuned sense of the istrian melody and dialect, combined with jazz craft, but also due the artistic expression of this group of top-ranking musicians which does not rely on existing jazz cliches, but on their acute sense of intuition for eaach particular composition.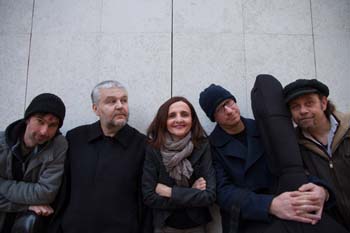 This exceptionally musical and creative band which is remarkable for the obvious alchemy between all its members shows its best side at live performances when it plays in a spontaneous and relaxed way their interpretations of Tamara's unique music are suffused with spontaneity, inventive improvisation, freedom, humour and the ability to communicate with the audience, while Tamara's voice is equally impressive when she sings lyrics and when she performs vocalizes...
Thanks to their experience and enviable musical skills, every member of the band is always ready for shifts and unexpected changes inspired by the atmosphere and by the mood of the moment.
---
Base of their music is Istrian national heritage, arranged through moments of jazz, classical music and even tango, but also through long fragments of completely unusual sound that can hardly fit in standard genre classification.
Dynamic and melodious. Loud as much as gentle, warm and sophisticated. Not pathetic whatsoever. Occasionally ferocious but not aggressive.
Workmanship of the band members, their attractive solo jaunts and, among all, vast vocal capacity of Tamara Obrovac, her charm and untrammeled, honest, facetious and seductive performance, will be memorized for a long time.
D. Domanovic, Gradjanski, Novi Sad, May 25th 2004., Serbia
"Slavic and Roman Sea touch in an unrepeatable way"
Tamara's new album is better than the previous one, the one that earned the nomination for the BBC Radio 3 World music Awards 2004. «Is Faraway...» is equable, melodious, emotional album that echoes centuries-old tradition of Istrian convivenza, in which Slavic and Roman Sea touch in an unrepeatable way.
Draško Celing, Glas Slavonije, 20. 01. 2006.