Tamara Obrovac - Pressestimmen
The composer singer and flutist Tamara Obrovac from the Croatian city of Pula is one of the most impressive artists on the Croatian music scene.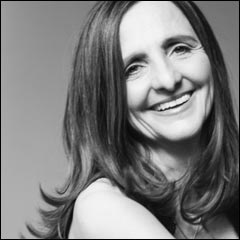 Tamara Obrovac
>>> Pressefotos
---
Tamara Obrovac Quartet - Porgy & Bess Vienna
"In Tamara Obrovac's music you can hear the deep connection she holds with her native country and birthplace, Croatia and Istria.
With her amazing interpretation of often traditional musical components, Obrovac opens the door to a wide range of international jazz expressions and she does it with exceptional ease and great charm.
The highly talented singer is accompanied by a quartet of brilliant musicians who with great sensibility manage to refine the expressiveness of her songs and together they bring the musical experience to a superior level."
Ernst Weiss / Concerto Magazine, 7.12.2014
Tamara Obrovac Quartet - Jazz au Chellah concert review
"She is an audience-captivating phenomenon.
With her trio she brought a different kind of energy and soon had the crowd pleading for more.
Obrovac has a phenomenal stylistic range and has the temerity to want to take her trio into any number of moods."
Sebastian Scotney / London Jazz News, Sept. 2013
Tamara Obrovac Quartet - Jazz au Chellah concert review
"Obrovac indigenous music found attentive ears in the audience. Her charismatic voice and moves captured quickly the audience..."
Mehdi El Mouden, All About Jazz, Sept. 2013
Tamara Obrovac Quartet - Jazzahead Bremen Showcase 2013.
I was most impressed by Tamara Obrovac's performance at the Jazzahead showcase.
Tamara draws on the folk traditions of Istria but puts them in the context of a jazz trio and the resulting music is a very original and attractive blend of jazz and traditional music.
Tony Duddley Evans, April 2013, Jazzahead jury
Tamara Obrovac at Lisinski Hall
Undoubtedly the greatest personality among Croatian female jazz vocalists, charismatic Tamara Obrovac, gave us an extremely successful concert, not only because of the packed house and the applause which lasted forever… (her eyes filled up and she said "this is one of the things in life worth living for"), but also because of her interpretation and spontaneity, her honesty and utter exposing in front of the audience to which she gave herself to the full, through the music which should no longer be put into any slot – it is world jazz, period!
Several encores, happy audience, happy Tamara… the concert worth of every praise.
Such amount of inspiration, improvisation, "conversation" and interaction between the artists on the stage is rarely seen.
"Ulika Revival" relives to the full and is right on target. A win-win situation for all parties.
Dinko Husadžic Sansky, February 16, 2012
Tamara Obrovac quartet: The unique synergy of music and emotion
Freedom and improvisation
"Yesterday, the Lisinski Hall enjoyed jazz to the full. It was a love at first sight. The rarely seen synergy of musical virtuosos and relaxed Tamara was completed by the whole-hearted energy they got in return from the grateful audience. To quote the second number performed at the concert, "without a word" a micro-cosmos of music and pleasure was created, which is impossible to put into words.
Beautiful musical experience
As often at Tamara's concerts, "Crno zlo" ("Black Evil") threw the audience into ecstasies. … What gives an additional quality to this song is Tamara's very own approach to jazz: through "Crno zlo", her fascinating ability of improvisation manifests itself in all its beauty , enrapturing the audience,making it laugh and thrilling it completely.
Each Tamara's concert is a story for itself and no matter how many times you listen to her songs, they always sound fresh and different.
Lisinski yesterday witnessed a rarely seen synergy of musicians and their audience, which will be difficult to repeat."
Z. Jagodic, Index.hr , February 16, 2012
Tamara Obrovac transhistria ensemble & epoque quartet
Valamar Jazz Festival 2011
"While we were still guessing what Tamara Obrovac was saying in her speech in Croatian at the beginning of the second Valamar Jazz Festival, there came a brief summary in English: "We are great - and now you will hear it!" Self-confidence of the festival's artistic director is more than justified.
With her brilliant performance in the Euphrasian Basilica in the historic old city of Porec, inscribed on the UNESCO World Heritage list, she has presented the best of the Mediterranean; the melancholy of fado, the lightness of tarantella and the lyrics in Croatian have melted with the fury of the accordion player Fausto Beccalossi so organically that the following concert of Richard Galliano Piazzolla Forever Septet seemed nothing but perfectly boring."
Josef Engels, Jazzthing, September 2011
Tamara Obrovac Enchanted the Audience
Valamar Jazz Festival 2011
Tamara Obrovac with her Transhistria ensemble and the string virtuosos of Epoque Quartet has once again given an unforgettable concert interwoven with jazz, classical music and a pronounced Mediterranean spirit… the live performance offered a great dialogue of the Czech string players and Transhistria ensemble musicians and enchanted the audience in the Euphrasian Basilica, the same way that the album Madirosa enchants its listeners.
Tibor Toromanovic, Glas Istre, 08.07.2011
Jazz is back!
Tamara Obrovac and Matija Dedi in Grožnjan
Their music represents the very essence of jazz ...
It was this new encounter with Matija that inspired Tamara to a new creativity.
Namely, apart from the fact that the concert interpretations were totally different from those on the album, Matija and Tamara surprised each other by bravely embarking onto musical "tomfoolery" which was fully justified by the accomplishments of all band members. They all showed it by their virtuoso approach, full control over the instruments (and the voice) and by the ability for fast shifting into different styles.
Inspired by the setting and her willing colleagues, Tamara was absolutely brilliant in stunning improvisations which included scat, vocalises and narrative approach, ranging from the archaic tradition of Istrian music, through baroque and classical music to jazz, funk and rock.
Their music combines the very essence of jazz with the need to "expand the acquired knowledge", the importance to know the history and theory of music, to be familiar with different musical idioms, to have stage manners and the ability to create dynamics and communication both with the colleagues and with the audience, to take risks, to plunge into the unfamiliar and new, to elevate music onto a higher level...
D.Hrvoj, Novi list, September 02. 2011